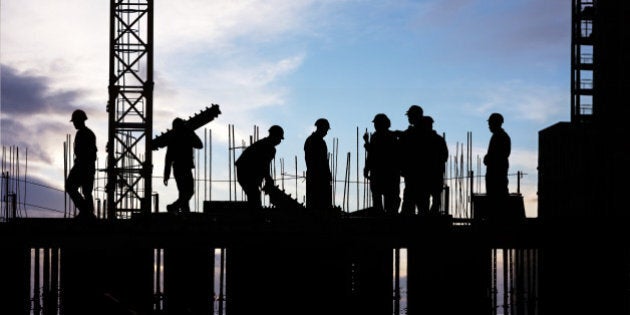 More temporary foreign workers are gravitating towards Canada while many citizens still struggle to secure a job, and the Conference Board of Canada doesn't really know why.
In the last installment of a three-part study on unemployment in the country, titled "The Good, the Bad, and the Ugly: Looking at Canada's Post-Recession Job Market," the Board reveals that the number of temporary foreign workers in the country reached 360,000 in December 2012, more than double the 150,000 figure of 2006.
But since 2006, the Canadian labour market has changed, the unemployment rate has increased — 6.3 per cent in 2006, currently at 7.1 per cent — and the country, along with the rest of the world, went through the 2008 recession. So, the Board asks, why are more temporary foreign workers coming in when "Canadian youth are struggling to secure employment"?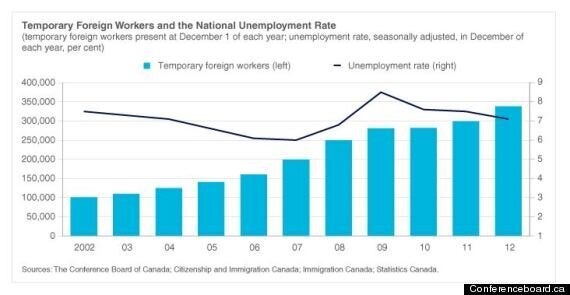 Instead, the study lists three possible reasons for the jump in temporary foreign workers: a skills mismatch, certain areas offering better jobless benefits (which limits relocation choices) or the "perception" that Canadian workers just cost more than their foreign counterparts.
But that changed in 2002 when the federal government, due to pressure from employers, began expanding the TFW program to more jobs in the food and beverage industry, construction and retail, according to Jason Foster, an academic co-ordinator at Athabasca University who has researched the program's transformation.
"It was simply a matter of trying to provide these employers with other labour supply options in terms of how to address their labour concerns."
The second part of the Conference Board of Canada's study says that, since 2008, the Canadian economy has created about 574,000 jobs, but employment for those aged 15-24 is "down significantly."
Since 2008, more than 100,000 temporary foreign workers came into Canada, according to the board.
To address concerns of rising youth unemployment and simmer the swirling controversy around the program, the federal government imposed new regulations and restrictions on how employers hire temporary foreign workers, such as increasing permit fees and eliminating "wage flexibility" so that non-Canadian workers are paid the prevailing wage rates.
The government took an even more drastic approach in early June, when changes to immigration and refugee protection regulations gave some federal officials the power to walk into Canadian workplaces without a warrant to ensure employers are using TFWs in accordance with the rules. Places of employment that are also private residences are exempt, according to the Globe and Mail.
Officials are now able to "examine anything on the premises" and ask employers whatever is necessary to determine whether the employees are meeting the conditions of the temporary foreign worker program.