CBC UPDATE:

One of two soldiers wounded in a hit-and-run involving a "radicalized" 25-year-old man in Saint-Jean-sur-Richelieu, Que., has died, Quebec provincial police say.

Martin Rouleau, Quebec driver shot by police, 'radicalized': RCMP

Martin Rouleau, the 25-year-old suspect, was fatally shot on Monday after hitting two soldiers in Saint-Jean-sur-Richelieu, a city about 40 kilometres southeast of Montreal.

The RCMP said Rouleau was known to provincial and federal law enforcement agencies.

Rouleau died of his injuries Monday evening, several hours after he was transported to hospital after being shot by municipal police officers at the end of a high-speed chase. Since the shooting involved municipal officers, provincial police are investigating.

The soldiers' names have not yet been released.
Prime Minister Stephen Harper has acknowledged unconfirmed reports of a terrorist attack in Quebec.
In question period on Monday, Harper received a question from a member of his own party about a possible attack on members of the Canadian armed forces in Saint-Jean-sur-Richelieu.
Prince Albert MP Randy Hoback mentioned "unconfirmed reports of a possible terror attack against two members of the Canadian Armed Forces near Saint-Jean-sur-Richelieu" and then asked Harper "update the House on this matter."
"We are aware of these reports and they are obviously extremely troubling. First and foremost, our thoughts and prayers are with the victims and their families" Harper responded. "We're closely monitoring the situation and obviously we will make available all of the resources of the federal government.""
A statement from the Royal Canadian Mounted Police (RCMP) on Monday evening confirmed the suspect was known to authorities, adding the Integrated National Security Investigations team had concerns he had become radicalized.
The Prime Minister's Office also issued a similarly-worded statement, reiterating the RCMP's comments on the ongoing investigation and "clear indications" radicalization.
Earlier, authorities confirmed attack in question saw two member of the Canadian forces struck down by a vehicle in Saint-Jean-sur-Richelieu near Montreal. Police later said terrorism is "one of the hypotheses" they are considering, according to Allan Woods of the Toronto Star.
The members of the military were hit by a motorist in a strip mall parking lot around noon. According to CJAD Montreal, the strip mall contains a Department of National Defence office (DND). When police arrived on the scene, the suspect fled in his car but lost control of the vehicle. According to police the man exited the vehicle and came at officers with a knife. He was shot by the authorities.
Police said one of the soldiers is seriously injured, while the other's wounds are less serious.
They said the 25-year-old suspect in the hit-and-run died a few hours after being shot.
Several news outlets published photos showing a vehicle overturned in a ditch.
CBC published this photo of parking lot where the hit-and-run took place.
No news outlets have yet made a definitive link between the incident in St-Jean-sur-Richelieu and terrorism, but CJAD Montreal reports that a police source told them that an "ISIS sympathizer" may have been involved in the incident. According to the radio station's source, the suspect was inside the DND office before the incident and made statements about the Islamic State (also known as ISIS or ISIL).
Police said they are investigating whether the members of the military were specifically targeted.
NDP Leader Thomas Mulcair expressed surprise that Hoback would refer to the incident as an act of terrorism without complete information, according to the Toronto Star.
"I think it's a mistake to start drawing conclusions on such limited information, especially as to motive, so I was a bit surprised by the interplay between the prime minister and one of his backbenchers when we are still waiting for any information from the police," Mulcair said.
With files from The Canadian Press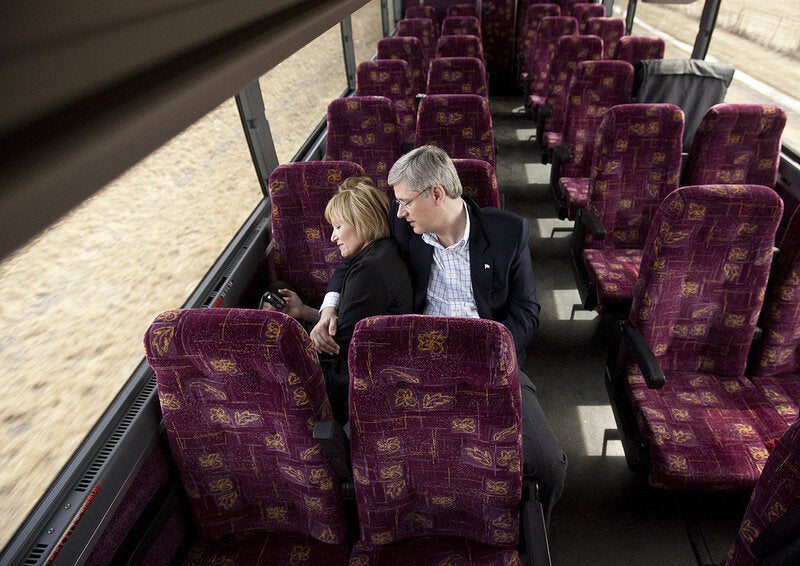 Memorable Stephen Harper Pictures