Tess Holliday is not holding back on her thoughts regarding U.S. president-elect Donald Trump.
The size 22 model took to her social media accounts to express her distaste for America's incoming president, posting an image that said, "Donald Trump didn't win today. Hate won. Fear won. Racism won. Sexism won. Homophobia won. Prejudice won. Self-interest won."
"To everyone telling me 'I thought you supported individuality' - the actual lives of women, people of color, the LGBTQI community, and those with disabilities is more important than your feelings. To YOU things may not drastically change - but for the many of us who are disenfranchised things seem pretty bad," the mother of two captioned the image.
She continued, "These are the people I call friends, my family, the people I love. #notmypresident."
Holliday shared similar sentiments on her Twitter page, tweeting out the #NotMyPresident hashtag once again.
She used the hashtag a third time where she proclaimed America "is a country of racist, sexist, classist, ableist, xenophobic jerks."
And let's not forget this meme she posted earlier in the night:
The #EffYourBeautyStandards advocate has been vocal throughout the election campaign. Last week, she posted an image of herself wearing a T-shirt that said, "Respect Women. #Dump Trump."
"Our bodies are not for you to stare at or touch without our consent. Women are not just sexual objects, women are not here for your consumption. So many of us have a sexual assault story, myself included. To endorse someone who not just condones this behavior but actively engages in it would be an awful step backwards for women not just in the US but across the world."
She continued, "Also might I add I'm NOT telling you who to vote for. Trump is a pig & that's a fact."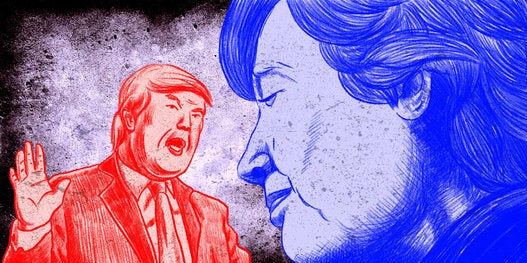 U.S. Election 2016