Prepare to fear waterslides forever.
A viral video shows a Texas man getting launched into a rocky hill after riding a slippery tube of horror over the weekend. David Salmon posted the slow-motion clip of his ordeal to his Facebook page on Monday, and it is horrifying.
"Too dang old to be going down waterslides," he wrote in his video post. Miraculously, even though he broke an arm and fractured his ribs, Salmon said he won't need any surgery.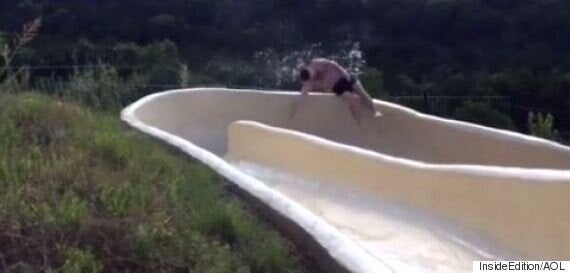 A screengrab from a video showing David Salmon flying off a waterslide in Texas.
"For a split second, I was like, 'Oh no,'" he told Fox 4. "And then it was like a hard crash, and the rest was all just blurry."
Salmon's video has two million views, but he doesn't want it to define him.
"I'm not one of those people who loves attention. So I don't want to be famous because of this freak accident," he told the outlet.
"I could have easily broken my neck or my back," he said. "And this could have been way worse."
Moral of the story: Just say no to waterslides.