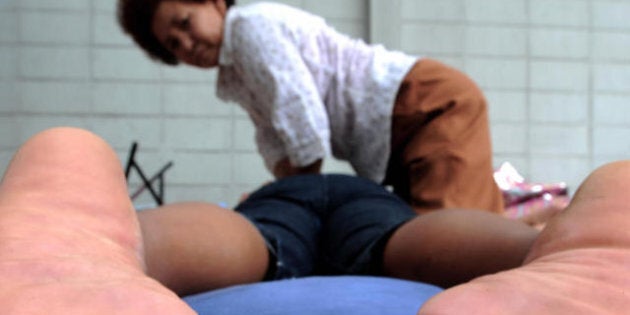 Whether you're behind the lense of a self-profile pic, unsuspectingly 'tagged' in a picture from a friend's b-day, or appearing on live TV, no one wants a double chin. Most people in the fashion or media industry have likely been told to elongate their neck and push their chin forward and down to avoid a double chin and create the illusion of a stronger jaw line in photos.
This theory reminds me of a trip I took many years ago to northern Thailand to visit the long neck tribe, where the length of a woman's neck is proportionate to how beautiful she is thought to be. I was more than amazed by this country's customs, people and beauty -- all of which made my trip so enjoyable. Surprisingly, I could relate to many of the Thai beauty practices and began to apply them to my work at home.
When it comes to Thai actresses and role models like Panwad Hemmanee (Peiy) and Khemnij Jamikorn (Pancake), though you may not know their names (much less how to spell them), you have to know they're doing something right on the beauty front.
One important difference in Thai beauty is that it comes from the inside, out. It is their belief that a restful body and spirit shows on one's face. Makes sense. There's a reason all-night parties, overtime and stress do not result in a pretty glow.
To start working out the stress, the first resort is a Thai massage, which is not the typical massage we Westerners turn to. Thai massage combines techniques including trigger point treatments, myofascial techniques, neuro muscular therapy, and manual therapy among others. The 2000-year-old combination of energetic and physical aspects is aimed at harmonizing the body to maintain health and well-being. Remember Lucy Liu in Charlie's Angels, working reconnaissance while walking on an unsuspecting man's back? Same idea, since feet and elbows are used as well as the hands to free tension in the body. Yes, it hurts a bit, but you can relax, knowing you could benefit from:
-Increased blood circulation
-Detoxification of the body
-Increased energy and vitality
These Thai massage parlors are all the rage in LA and seem to be more popular than the third Kardashian, so they're pretty easy to find. Once you've been stretched, kneaded and revitalized, there are other traditional beauty secrets that are less pain, and more gain. Thai women are renowned for their long, shiny hair, creamy clear skin, lithe bodies and strong nails. Though they use Western beauty products today, there's something to be said about the beauty of tradition. For some ingredients that are as delicious as they are effective, I think you should look no further than your grocery store.
1. Papaya: The magical fruit
Tempting as it is to eat it, when mixed with lemon and used as a face mask, it's so refreshing. Plus, I believe the antioxidants work double duty to leave a glow and fend off wrinkles.
2. Herbal Detox: The splendour is in the lemongrass
You like it in soup and oh so yummy curries for its bold, zingy flavours, but you'll love it as a detoxifying drink. Boil it with ginger, basil and jasmine (about 10 mins). Once cool, add lemon or lime and sip it throughout the day. Amazing for radiant skin and as a digestive aid.
3. Turmeric: Take the spice route
Don't let the orange color scare you off, because Turmeric is an unbelievable facial scrub. Dried or fresh, pour a little turmeric and water in your hand until it makes a paste. Spread it all over your face, avoiding your eyes, nose and mouth, and rub it in well for 3-5 minutes, then wash off. Your skin will be instantly glowified and tingly, and fine lines will be less noticeable.
Thai people eat a diet rich in rice, vegetables, seafood and lots of herbs and spices. Red meat is only eaten in very small amounts. I would suggest adopting similar habits to enjoy more energy.
5. Thai Beverages: You are what you drink
I believe that the key to looking great is drinking a lot of water and fruit juice. Alcohol and coffee are not a part of routine, as green tea is still king -- and for good reason. Loaded with antioxidants and cancer-fighting properties, it's good on its own or jazzed up a bit in a shake. Blend green tea with vanilla yogurt and a scoop of lemon sherbet, a fresh fruit juice or a fruit shake (three or four of your favorite fruits mixed with yogourt and ice and blended). Delicious and beauty-licious!
For your own beautiful results, start with a relaxed body and free spirit and a few of my home-grown tips:
Try a warm sunkissed skin tone (Mineral bronzing powders and sunless tanning products help build warm, illuminated, sun-kissed skin
Look for gel blush for the most natural colour and texture
Define your eyes with neutral earth tones
Go for conditioning lipsticks and glosses for a natural, clean finish
Finish with a spritz of La Mer's "The Mist" all over the face for added hydration and a special sheen. (It's a little pricey but you'll have to trust me on this one).

Combine these freshening favorites with more traditional rituals and you'll have all the help you need to successfully "pad" your Thai techniques.