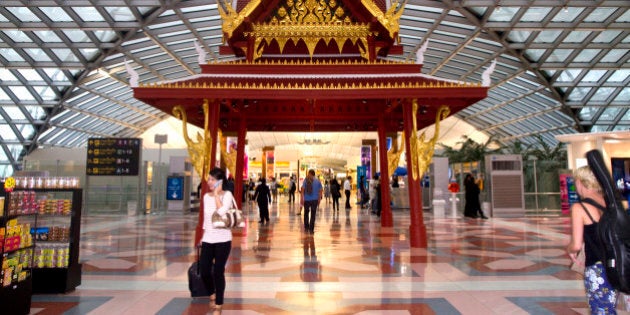 If you're planning a trip to Thailand, sooner might be better than later if a group of politicians have their way.
Ministers inside the country's Ministry of Tourism and Sports, Ministry of Public Health and members of the Royal Thai Police announced on Sunday plans to charge tourists an entrance fee to enter the Southeast Asian country.
It's all part of a proposed bill which, if passed, could kick in as soon as Jan. 1, 2014.
The bill also looks to charge tourists coming in by land a 30 Thai Baht tax -- the cost of less than a cup of coffee here. The fee is a part of a proposed bill to curtail the number of foreigners in the country with expired visas.
It would also help fund the country's Immigration Bureau and ministries of tourism, health and foreign affairs, Public Health Minister Pradit Sintavanarong told the Bangkok Post. Sintavanarong added the fee wouldn't deter tour groups but rather, bring in a better class of visitors.
Other government officials say the extra cash from the fees would go back in the form of "additional care" for tourists and locals alike, according to Kajohnsak Kaewjarus, the director of Public Health in Phuket.
In September, Thailand unveiled the country's first "tourist court", specifically aimed at protecting tourists victimized during their stay abroad.
But workers in Thailand's tourism industry say the fee could do more harm than good.
Though the fee is set to kick in come the start of the new year, there is some good news for travellers. The government plans on withholding the fees until mid-January to avoid confusing tourists during one of Thailand's busiest travel seasons.