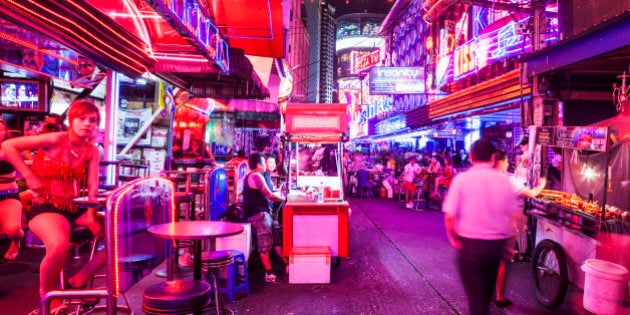 Ever seen The Hangover Part II? If not, you're missing out, because critics have called it one of the top three films in the Hangover trilogy. The premise: a couple of years after their Vegas bachelor party, Stu, Alan, Phil and Doug fly down to Thailand for Stu's wedding. Then things go seriously awry, because Alan drugs them once again (oh, that Alan!), which leads to the disappearance of Stu's soon-to-be brother in law, Teddy. So yeah, a seriously stressful and unpleasant situation had by all.
In fact, the film comes across as a cautionary tale about travelling to Thailand, suggesting things will get awful frantic the moment you step off the plane. It's a shame this is the takeaway, because Thailand is a pretty wondrous place -- one rich in culture and natural beauty. A few years back, I was fortunate enough to spend a couple of weeks there, and it was a truly memorable experience. (Since Alan didn't drug me, my recollections remain completely intact.)
Here are some of my random Thailand memories, all of which bear zero resemblance to the Hangover sequel:
Oh, the temples. So many temples. Do you like temples? Maybe you do, maybe you don't -- maybe you have no opinion. But ready or not, Thailand has an impossible amount of them spread out across its vast acreage. And spoiler alert: they're gorgeous. By the way, when I say "Thailand has an impossible amount of them," I'm not giving way to exaggeration or lofty hyperbole. Looking for something a tad more challenging than Pokemon Go? Try snapping a pic of every single one of Thailand's 40,000 (!) Buddhist temples. Yep -- the Thai people are not messing around when it comes to these iconic structures, and I applaud them for it.
Speaking of the wonderful residents of Thailand -- here's an interesting fact: they're some of the most stylish people in the world. Yes, the fashion capitals of the world may still be London, Paris, New York and Milan, but when it comes to a population that always looks incredibly put together, Thailand wins hands down. Thai folks take great pride in their appearance, placing high value on personal grooming and sharp clothing. In fact, the worst-dressed peeps walking the streets are almost always tourists.
Bangkok's infamous Red Light District is actually quite family friendly. OK, let me take a second to immediately clarify that. Sure, there's a whole bunch of "adults only" stuff that takes place inside the nefarious establishments along the strip. But those who opt not to venture inside can enjoy an outdoor market with some of Bangkok's best shopping. Clothing, music, jewelry, paintings -- all sorts of fantastic stuff to satisfy your non-prurient spending urges. And the best part: you get to partake in the fine art of haggling. It's intimidating at first, but once you get the hang of it, those prices will drop faster than Sonny Liston in the ring with Muhammad Ali. (Keeping with the boxing theme, I dubbed myself 'Marvin Haggler' whenever I set foot in that market.)
Admittedly, merchants can be a bit persistent on occasion, but it's all part of the fun. One time on the street I was pestered by a man who kept insisting I visit his "exotic club." "My women are very special, sir!" he kept repeating. "Very special!" He wouldn't stop. Fed up, I stopped in my tracks, stared the dude in the eyes, and gritted my teeth. "Do you have a woman with three breasts?" I asked sarcastically. Without missing a beat, the man replied, "Yes. Yes I do!" To this day, I regret not finding out if he was telling the truth.
Another pleasant surprise? Thailand is quite safe. I'll put it this way: if you travel there to engage in illegal -- or at the very least morally questionable -- activities, there's certainly the chance your safety won't be guaranteed. That's pretty much how it works in any country. But if you're looking for an honest-to-goodness above-board vacation, Thailand is a pitch-perfect travel spot. During my brief stay, I came across countless globetrotters visiting there alone -- many of them young women. No fuss, no muss. Vigilance is obviously key whenever you leave the comfort of your own country, but not unlike most other high-profile travel destinations, Thailand is all sorts of welcoming.
Bottom line: there are plenty of pretty darn cool things to do in Thailand. And pretty much none of them should have to involve tracking down lost friends after Zach Galifianakis slipped a handful of barbiturates in your drink. I'm looking forward to going back -- I've got me some unfinished haggling business to tend to. (After all these years, those damn skinny jeans will finally be mine.)
Follow HuffPost Canada Blogs on Facebook