On my official visit to Canada this week, I want to thank Canadians for all that you have done to support the sovereignty and security of the youngest state in Europe and a new member of the worldwide family of multi-ethnic democracies.
Shortly after Kosovo declared independence on February 17, 2008, Canada recognized Kosovo on March 18, and now our nations have full diplomatic relations. Earlier, Canada sent some 1,300 troops to NATO's Kosovo Force peacekeeping mission, and 20 Canadians gave their lives in the former Yugoslavia. Additionally, Canada contributed $135-million in development assistance to Kosovo from 1992 through 2010.
My visit coincides with an important anniversary: On July 22, 2010, the International Court of Justice (ICJ) ruled in an advisory opinion that Kosovo's declaration of independence did not violate international law. Later that year, the UN General Assembly confirmed the ICJ's legal finding and the established fact of Kosovo's statehood. This momentum from the ICJ ruling marked a groundbreaking international legal recognition of Kosovo's right to statehood and sovereignty and our quest for recognition by other countries and membership in international bodies.
While some scholars raised questions about the narrow interpretation of the issue, the ICJ ruling provided clarity to the perennial disagreement about the creation of a state in law and practice. The ICJ ruling not only contributed to the confirmation of the legality of Kosovo's independence. It also documented and clarified extensively the variety of opinions of different states that strongly argued in favour of Kosovo and its path to a well-deserved moral, political, and legal right to statehood. Thus, the ICJ ruling eliminated tendentious analogies of Kosovo with other cases and strongly reconfirmed that Kosovo is a unique and incomparable case and as such does not constitute a precedent for other cases that claim self-determination.
This ruling cleared the way for great and groundbreaking events, including Kosovo's state-building, international recognition of Kosovo, and the dialogue with Serbia, mediated by the European Union (EU), that produced the first-ever agreement between our countries.
The ICJ ruling has been a crucial argument for international recognition of Kosovo. Indeed, as Foreign Minister, I have constantly referred to the ruling as a crucial landmark in legitimizing Kosovo's quest for full participation in the family of nations.
Overall, Kosovo has been recognized by 101 of 193 member states of the UN, 23 of 28 member states of the EU, and 24 of 28 member states of NATO. Of the 31 States that have recognized Kosovo since July 2010, the majority have referred to the ICJ ruling as a reason. For instance, the 100th country to recognize Kosovo's independence - Egypt - explicitly based its justification for this action on the ICJ's advisory opinion.
In the quest for international recognition, the keys to our success have included our strategic cooperation and efforts to strengthen bilateral relations with nations in the Euro-Atlantic zone and beyond, as well as our outreach to small nations across the globe. Our goal: universal recognition and membership in the United Nations.
From Guyana to Fiji Islands and from Norway to Tanzania, the recognition of Kosovo independence by 101 states is a recognition of the people of Kosovo and of our institutions, with the support of the international community who have rightly seen Kosovo as a unique, incomparable and unprecedented case that has managed to enhance democratic governance internally, contribute to regional peace and stability, and not create any negative chain reactions internationally.
Most recently, the ICJ ruling opened the door for the dialogue between Serbia and Kosovo, facilitated by the EU. This process produced an agreement resolving many of the most difficult issues between our countries and bringing reconciliation to a region where the wars of the 1990s caused more than 10,000 deaths in Kosovo alone.
With this historic accord to normalize relations between Serbia and Kosovo, Serbia has de facto accepted the political existence of Kosovo and Kosovo's sovereignty and territorial integrity, as well as Kosovo's Constitution and laws. Under the agreement, neither Serbia nor Kosovo will block the other country's path to integration into the European Union (EU).
This chain of events recently has resulted in negotiations for a Stabilization and Association Agreement between the EU and Kosovo. This enables the establishment of contractual relations between Kosovo and the EU as a precondition to achieving the conditions necessary to submit a credible application for membership in the EU. Two decades ago, for Kosovars and Serbs alike, such progress would have seemed impossible. Indeed, some of these hopeful developments could not have come to pass without the ICJ's decision.
The ICJ ruling has removed some of the most problematic barriers to lasting peace and stability in the Balkans, but more needs to be done. Today, there are few if any excuses for countries not to recognize Kosovo's statehood. We ask that they do so to cement our region's Euro-Atlantic integration on a durable foundation of peace and democracy.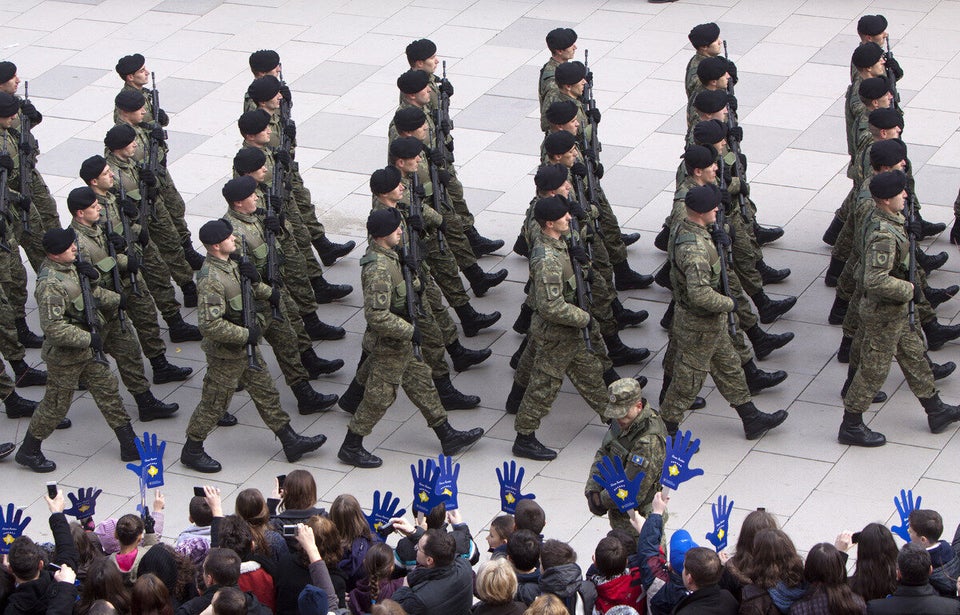 Kosovo Independence Day
Popular in the Community