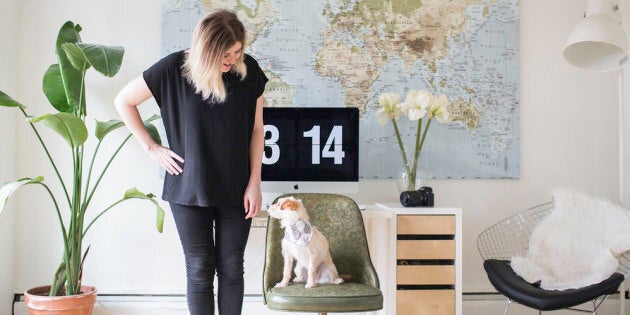 Two years ago, my manager came to my desk on a Friday morning and asked if I had a couple of minutes. Caught off guard, because there wasn't anything on my calendar, I got up and wondered which meeting room we were going to take. Except my manager didn't stop at the first, second or third empty meeting room. We kept walking, straight to the HR office. "WHAT THE F*CK, am I getting fired!?" I thought to myself in sheer panic.
The company I worked for rarely did layoffs and when they did, it was because you were performing poorly in your role. Management would give you ample warning and a period of time to get your act together before getting the boot. I couldn't think of anything I had done wrong. There were no "talks" or action plans. I was a hard worker, got along with my co-workers and had been a part of the team for 3.5 years.
It's not rocket science to figure out why you're in a meeting room on a Friday morning with the head of HR, your manager and a couple brown envelopes on the table. I instantly started shaking and bawling my eyes out. I just didn't get it. Why, why, why?! Well, because they were eliminating my role and boom, just like that, Sarah Boland was jobless.
I can't help but feel grateful that I was given the push I needed to get out of the comfortable bubble I was living in.
I remember calling my mom and now-fiancé in the parking garage in utter humiliation, embarrassment, and uncertainty that my career at said company was over. I was so hysterical that my friend had to drive me to my fiancé's work. You're probably thinking, 'geez woman, get a grip, it's just a job!' To give you context, I created video content for an e-commerce company in Vancouver and at the time, the role was niche. This was my first serious job out of school, the job that was paying my mortgage, the job where I made all my friends in Vancouver — this job was all I knew.
It's been two years since the layoff and I know for certain I wouldn't be where I am today if that didn't happen. Would I still be in my comfy bubble? Most likely. Three months after getting laid off, I landed a better-paying job, in a similar position, working one less day a week at a company where my boss believed in me and pushed me outside of my comfort zone. She gave me opportunities and growth for my career that my previous employer didn't. I cannot emphasize enough how much this impacted my confidence levels.
All while working my new full-time job, I was hustling on the side doing freelance filmmaking work for brands and brides and crafting together an idea for a video app. I had always been hustling on the side but after learning the hard way that your job can be taken away from you just like that, it was always my plan B with goal of making it my plan A. After my father suddenly passed away in the February of this year, I had this suffocating feeling to not waste a single second in the day. The hustle was turned up about 10 notches until I was completely burnt out. I knew it was time to take a leap of faith, believe in myself and go after my dreams of being a full-time entrepreneur.
I left my job in June of this year, my choice this time, and successfully launched my first video app, Life Lapse. In the one and a half months it's been live, it has gotten over 16,000 downloads and has been featured by Apple in the App store.
When I look back and reflect on the two years post layoff, I can't help but feel grateful that I was given the push I needed to get out of the comfortable bubble I was living in. So thank you, former boss. Thank you for laying me off.