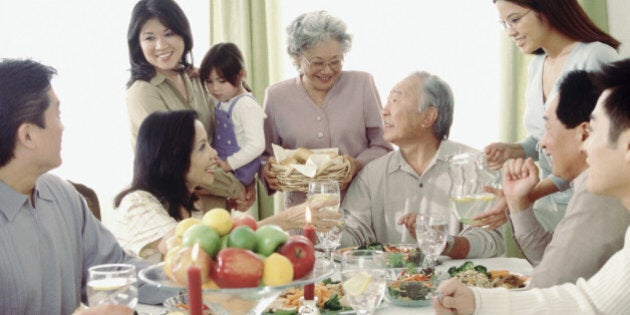 Sitting down to a beautiful Thanksgiving meal is wonderful, but there is more to do together than just eating!
Sure, Thanksgiving is mostly lauded for the classic feast of turkey and cranberry sauce, mashed potatoes and gravy, and an array of pies that will make our inner piggies grunt with overfed satisfaction. But before you get lulled into that turkey coma, try doing something a little more active together as a family this long weekend.
Take advantage of the last of the good weather by heading out for a nature walk. All ages can enjoy the fresh air and gorgeous fall colours, and children can gather pinecones, acorns and pretty leaves to use as decorations for your Thanksgiving table.
Orchards are bursting with delicious apples this time of year, so bundle the family up for an afternoon picking the crisp, fresh fruit. There are lots of fabulous fall recipes that use apples, so try making your own apple cider, apple sauce or bake some into a warm and spicy cake or pie.
Hay rides, corn mazes, and a field of orange to play in... What's not to love about hitting the local pumpkin patch? If you're lucky they may have a market stall that sells fresh baked goods and you can grab a "homemade" (just not by you!) pumpkin pie for your Thanksgiving feast.
If the weather outside is frightful, keep guests happy with a mini scavenger hunt, or set up a card table where the older guests can teach the younger ones games like Hearts or Crazy Eights. Dominoes can be fun for smaller children. Make crafts, tell family stories, or settle in with a family-friendly movie - a perfect opportunity for the adults to sneak in a post-turkey snooze.
If you really want to take your party away from the dining table and out of the house, there are a few fun places to go in and around Toronto. You could check out the Oktoberfest activities and parade in Kitchener-Waterloo, bring your little ones in costume to visit Camp Spooky at Canada's Wonderland, or check out the newest Wild Weather exhibit at the Ontario Science Centre.
What are your favourite ways to spend Thanksgiving weekend?
Follow HuffPost Canada Blogs on Facebook