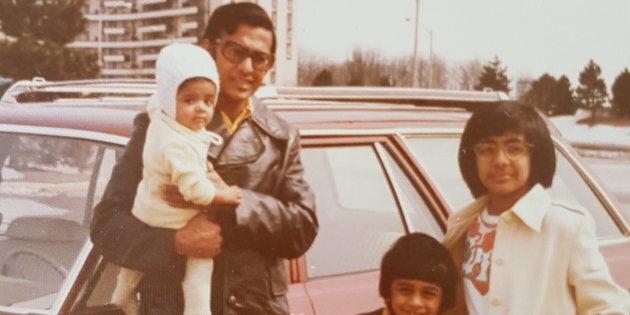 It was a blustery 10th of October. A light dusting of snow laid out a typically Canadian welcome mat for my family. Disembarked from a long flight, we were bleary-eyed and ill-prepared for an early winter. Or winter in general, really.
Arriving in Toronto from Kenya, the Noronha clan was more accustomed to removing layers to deal with oppressive heat than layering up to deflect the chill. But layers would become our new norm.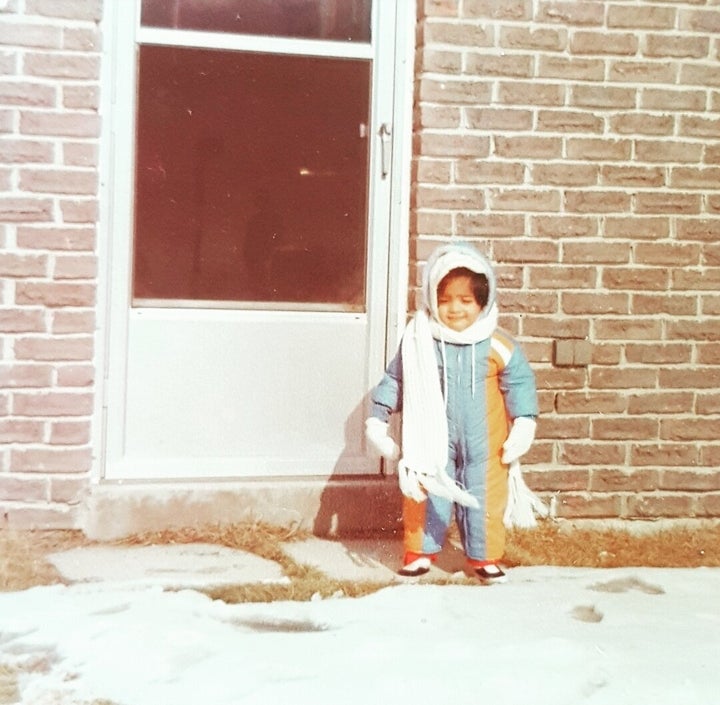 It was the 1970s, and dictator Idi Amin had seized control of Uganda. My Ugandan-born mom was living in Nairobi with my Tanzanian-born father. They had a quiet life in Kabete, a small Eastern suburb, raising my older sister and brother, when unrest in neighbouring Uganda broke out. Their friends and family were scrambling to flee. It was their first real indication that they may not be wanted on a continent that was all they had known until that point.
The expulsion took place against a backdrop of Indophobia, with Amin accusing the Asian population of disloyalty, non-integration and commercial malpractice, claims that were disputed by Indians. Amin defended the expulsion by arguing that he was giving Uganda back to ethnic Ugandans (sound eerily familiar folks?).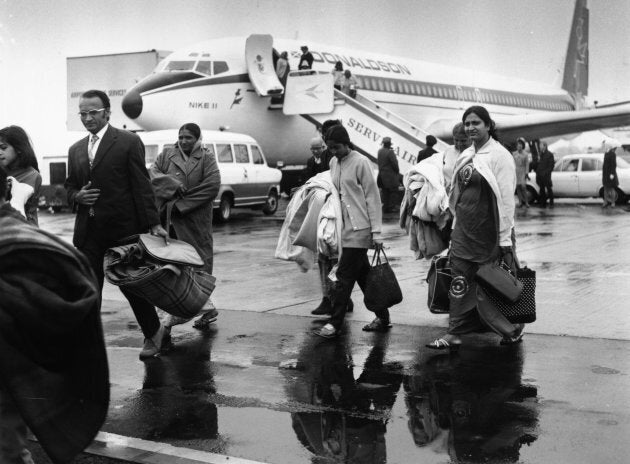 My parents knew little of Canada, aside from its snowy winters and that they had a potential chance of emigrating here, thanks to then-Prime Minister Pierre Trudeau's new open immigration policy (Until the 1960s, Canada granted entry to immigrants based on racial and ethnic preferences, rather than the individual merits of the applicant, until the Trudeau government reformed the Immigration Act in 1976).
Mama and Pops Noronha had no family in Canada, but a friend offered hope for their predicament: risk their security in East Africa or relocate to a country on the other side of the globe and trust in the unknown. It's a predicament that makes me feel all the feels — sadness at the fact they were no longer accepted in a place their community helped to build — but also, immense gratitude.
I'm grateful they turned their hardship into opportunity for themselves and more so, for my older sister, brother, and I — a wee newborn — at the time of their emigration.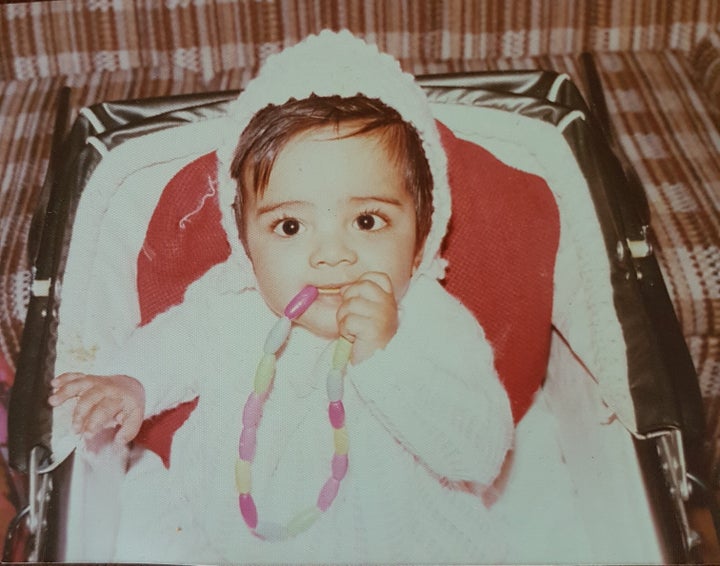 The fact that my parents landed in chilly Toronto on Thanksgiving weekend many, many years ago, with little more than two pieces of ragged luggage and their offspring (all of their assets were frozen by the Kenyan government and they were robbed before fleeing), isn't lost on me.
As a strong-headed woman who grew up with the aspiration to become a worldly journalist — going against my parents' wishes for me to adhere to a more "traditional route" — I so often think about what my life would have been like had we stayed in East Africa.
For a family that left everything they knew to enter the unknown, that unknown became the best of all of their worlds.
In the aftermath of Amin's destructive reign and the subsequent unrest that trickled into its neighbouring countries, would I have had the same access to education, health care and opportunities? Would I have been able to pursue my career dreams? To move to India to work with a women's rights organization as a young woman? To travel and live in other parts of the globe?
Maybe. But so much of who we are is shaped by our environment, and it's something I often muse about. Canada isn't without fault, and our Thanksgiving holiday has a colonial history we all must contend with. But in these current, polarizing times, Canada still feels like a place that welcomes most and provides opportunities often non-existent in other countries.
For a family that left everything they knew to enter the unknown, that unknown became the best of all of their worlds. My dad, a communications engineer, who initially worked menial jobs in Scarborough, Ont., eventually got a job at Bell Canada where he stayed for 35 years. My mom's teaching degree wasn't recognized here (the ongoing immigrant plight in Canada), but she went on to manage a catering company after a few odd jobs.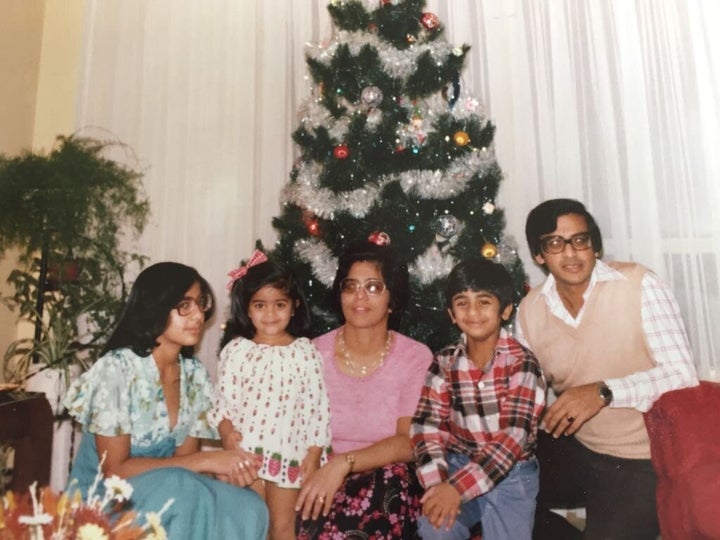 My sis, a nuclear engineer, and my brother, a successful business owner, are raising their own families, which include two nephews at major universities, a 16-year-old niece who owns a vegan catering business and a couple of other cuties who are living their best lives. As the somewhat black sheep of the family, I did become a journalist and got to and am still travelling the world, and I remain as strong-headed as ever.
This year, like most Thanksgiving weekends, we'll break papadum over sorpotel, while trying to keep the curry from the traditional Goan pork-based dish from seeping over onto our turkey and sweet potato mash. There will be feni (a Goan drink made of cashews) and wine.
My very Catholic mom (Goa was colonized by the Portuguese) will urge one of her five grandkids to say grace, but she'll eventually take over anyway, and we'll have to stop her well-intentioned but rambling pre-dinner speech so we can dig in. And my almost 80-year-old dad will be playing his favourite, Shania Twain (she's apparently still a hit in India!).
So, I guess this is all to say: asante, Mom and Pops, for choosing this country to be our country. I am truly grateful for a home base that does feel strong and free, for the most part. For parents, who, in their 30s, uprooted their life with three tykes in tow, to make another life for us all. And for a Thanksgiving table overflowing with pilaf, gluten-free stuffing, and more than my share of pumpkin pie.
Born And Raised is an ongoing series by HuffPost Canada that shares the experiences of second-generation Canadians. Part reflection, part storytelling, this series on the children of immigrants explores what it means to be born and raised in Canada. We want to hear your stories — join the conversation on Twitter at #BornandRaised or send us an email at bornandraised@huffpost.com.