The holiday and the big feast may be over, and if you're lucky enough to have leftovers, it's time to create a new (and equally filling) meal.
For someone who loves to cook, leftover means you get to pull out the pan the next morning and create a tasty breakfast or brunch. From turkey waffles to stuffing muffins to even sweet pie-flavoured cake, the recipes below will not only have you excited for Thanksgiving dinner, but the remnants too.
"Leftover stuffing can be used to soften the texture and enhance the flavour profile of any regular meatball. Serve with leftover cranberry sauce and call all your Swedish friends over for a bite," he says.
For storing, Bowers suggests refrigerating all your food within two hours of serving and cutting up your turkey, and separating it into white meat, dark meat and the bones for broths. Gravy can be frozen once cooled, and always store your turkey separate from your stuffing to avoid cross-contamination.
Check out our favourite recipes below using leftovers, and let us know what will you be making?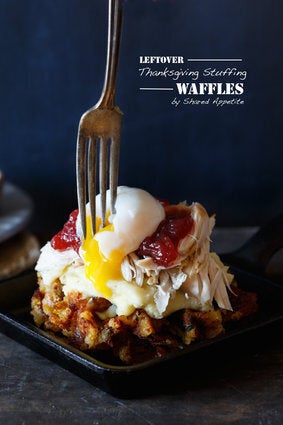 Thanksgiving Leftover Ideas