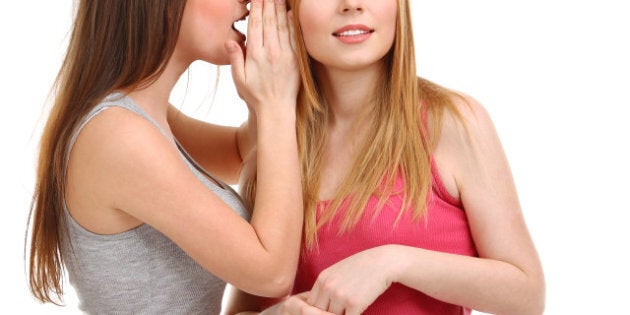 When I became a mother five years ago I naively assumed that having a child meant a woman had grown up. Gone would be the petty insecurities, comparisons and judgements that women so cruelly share during the teenage years and beyond.
Two children, two cities and many play dates and hours at the park later, I've made some wonderful mom friends. I've also been blown away by the cattiness and cruelty of some women who are permanently suspended in a junior high, mean-girls mindset, even with their own children watching and listening.
The sidelong glances, whispers and blatant online bullying I've seen encouraged me to start a conversation with a group of my own mom friends. The stories each woman told me were sometimes hard to believe but they are all true.
That mom you shun at the park because she's single and living with her parents? Don't judge her. She's going to university full-time to create a good life for her son. In the blink of an eye you could be her.
That mom who is losing her patience with a screaming child in the grocery store line-up? She had two hours of sleep last night because her children are sick and teething. Don't roll your eyes at her. Help her out. You will be her one day, guaranteed.
That mom who puts her five-year-old in diapers at night? Don't judge her. Her child has a severe illness. Sleep is far more important than night time potty training. She also has to pour salt on her child's food to help with kidney function so don't judge her for that either.
That mom that picked up McDonald's for her child on the way home? Don't judge her -- 99 per cent of the time she feeds her child good food. She's tired. She's had a long day.
That mom who took a nap when you were visiting and didn't cook you supper? Don't judge her. She's suffering from a postpartum mood disorder and is just trying to cope and care for her children.
That mom who lets her kids sleep in her bed? Don't judge her. She's creating security and comfort that will last a lifetime. She knows little-kid-snuggles only last for a little while.
That mom who stopped breastfeeding too soon? Remember when you told her how sad it was that her child would get sick and die on formula? Remember when you told her that she and her baby wouldn't bond? Are you for real? She had thrush, was on two different meds to increase her milk supply and had multiple lactation consultants. It didn't work. She moved on and you should too.
That mom who is still breastfeeding when her child is two? She's happy. Her child is happy. Leave them alone and stop staring.
That mom who is too rushed to say hello at preschool drop-off? Her son has a life-threatening illness. She is so focused on his care that she doesn't even see you. Don't judge her.
That mom who can't get her children to sleep well? She's tried everything. She's read all the books and gone to the seminars. You may be an expert on your own four children but you know nothing about her two.
That mom you judged because she had a C-section while you had a natural birth? Even though you told her she didn't try hard enough and is a failure, she's pretty grateful that her child is alive.
That mom who is too easy on her kids and lets them get away with too much? She grew up afraid of a parent and refuses to repeat the pattern in her own family.
That mom who had too many kids too close together? Don't judge her. Her children are happy and loved. On the other hand, don't judge the mom who only had one child either. You don't know the reasoning behind it and it's none of your business.
That mom who looks after her children 24/7 and (gasp!) doesn't work outside of the home? Maybe she actually likes it. Maybe she's doing what is best for her kids. She may even blog about it.
That mom who struggled with infertility for years and finally got pregnant with IVF? Don't judge her. You have no idea of the thoughts and pain that go into such an experience.
Things are rarely as they seem. I've grown a pretty thick skin when it comes to being judged by others for my parenting decisions. I do my best to accept that everyone makes different decisions for their families. Could you do the same? Most of us are our own worst critics anyways.
Remember, it's not about us. It's about our children. Let's cut each other some slack. We're supposed to be the grown-ups.
The Purple Fig is a community where women share personal and relatable stories; no ego, no shame. We're about life, love and all of the stuff that makes us yearn, squirm, and giggle. These stories make up the authentic and intriguing journey of a woman.