We're in the dead of winter but good news: spring is on the horizon (we swear) and with that comes all the 2015 spring fashion trends we can't wait to jump into.
Even better news? Many of these trends are actually revamped versions of styles we've worn before, meaning we don't have to go out and buy a whole new wardrobe.
So, what are you waiting for? Check out the spring fashion trends we're most excited about (get outta the way, winter—no one likes your style!):
Story continues below slideshow: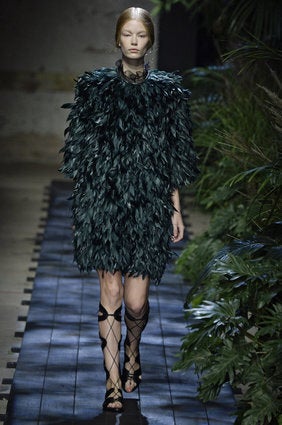 2015 Spring Fashion Trends
That's right: feathers are back in a big way, baby! Seen on the runways at Erdem and Simone Rocha (for starters), feathers can make a bold statement via a fabulous two-piece outfit or make a subtle entrance via an accessory such as shoes or a shawl. Either way, you're bound to turn heads with their vibrant colours.
Basically, leather is never going away (thank goodness), but it was especially present on the spring/summer 2015 runways at Saint Laurent and Isabel Marant. Wear a leather shirt, skirt, bag, hat, shoes, whatever. Leather looks good on everyone, so go forth and sing its praises from the rooftops (in a fabulous pair of leather shorts, natch).
You're not going to be able to escape stripes' clutches this spring (we can all thank Coco Chanel for starting the trend way back in the '20s). This time around though, designers such as Tibi had fun with the print, playing with placement and colours. Stripes: they really are for everyone.
4. Welcome To The Jungle!
We've got fun 'n' games! (Sorry, we had to.) Designers such as Ralph Lauren and Acne featured clothes that were heavily influenced by safari chic. Think green belted mini-dresses that invoked safari guides and fitted khaki trousers that would fit right in at an upscale event. You guys, green isn't just for the jungle anymore.
New York Fashion Week is the epicenter of sportswear and for the spring/summer 2015 collections, designers didn't disappoint. This time, however, the looks were toned down, rather than in-your-face. Lace-up details, stripes and tennis whites were used in subtle ways that brought a modern elegance to the clothes.
Fact: parkas aren't just for winter anymore. For spring, designers re-constructed the parka into something more relaxed, casual and, yes, light. These aren't your typical parkas: slouchy, long, short and in a variety of spring friendly colours, these cool jackets will keep away the spring breeze come evening when you're on the patio downing a few cold ones.
It's no coincidence that wedding season is also the perfect time to wear the monochrome colour. (Something about Labour Day...) White is universally flattering and designers proved it by filling their runways with many shades of the hue on everything from sheer blouses to sweaters. Don't worry though, you won't actually look like a bride (unless you want to): designers such as Erdem and Louis Vuitton breathed new life into the colour with fresh shapes, patterns and silhouettes.
Popular in the Community