December was a stellar month for jobs in Canada, with StatsCan reporting 54,000 net new jobs, including a large jump in full-time positions.
But if you're under 55 years of age, don't start cheering just yet.
Of the 215,000 jobs created in Canada over the past year, about half — 104,000 — went to those aged over 55. A slightly smaller share went to what's called the "prime working-age group," those aged 25 to 54. This group saw growth of about 100,300 jobs over the past year.
That's despite the fact there are many more working-age Canadians (14.6 million) than there are 55-plus Canadians (10.7 million).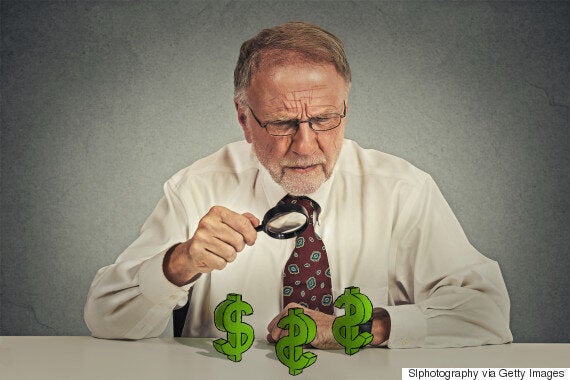 In fact, strip away that suspiciously strong end-of-year jobs report* — which seemed to suggest a sudden and trend-reversing boost in full-time work just as people were heading off for the holidays — and working-age Canadians haven't seen any job growth over the past year.
From November of 2015 to November of 2016, full-time jobs for the 25-to-54 crowd dropped by 31,000. The 55-plus crowd added more than 70,000 full-time jobs in that time.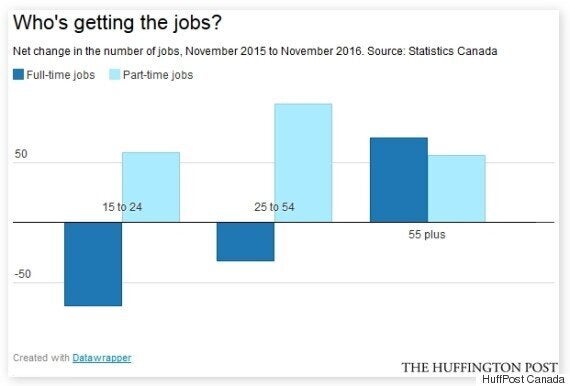 Note in the chart above that young workers aged 15 to 24 don't seem to be doing much better.
So what's going on? Is it that employers don't want to hire Millennials, or even Gen-Xers? Not exactly. Employers are hiring the people the country has available (with the notable exception of temporary foreign workers), and what Canada has is an aging population.
Over the past year, Canada's working-age population grew by a tiny 0.24 per cent. But the 55-plus population grew by nearly 3 per cent, and much faster than Canada's overall population growth rate.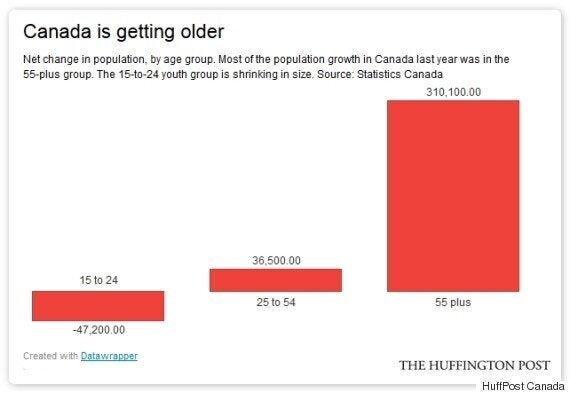 The 15-to-24 youth cohort in Canada is actually shrinking. This group's population declined by about one per cent over the past year.
And this trend will only intensify.
StatsCan's long-term projections show that the working-age population of Canada will start shrinking soon, and will decline to 60 per cent of the total population by 2030, compared to 68.6 per cent in 2013.
In other words, fewer working Canadians will have to support a larger group of elderly people and youth.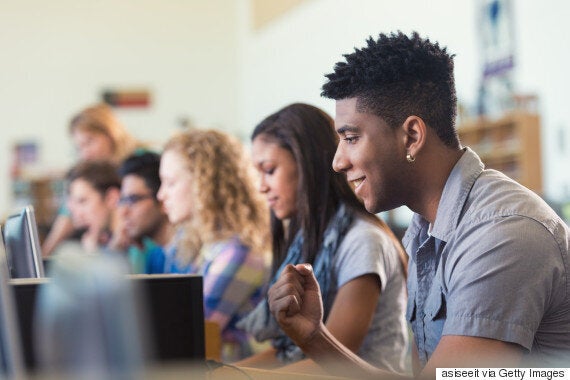 That is, unless aging Canadians decide to stay in the workforce, and that does seem to be happening. With plenty of jobs available to them, the 55-plus crowd is participating in the workforce more than ever. More than 35 per cent of these Canadians are employed today, the highest rate in records going back 40 years.
So maybe in the future, your parents will just keep supporting you.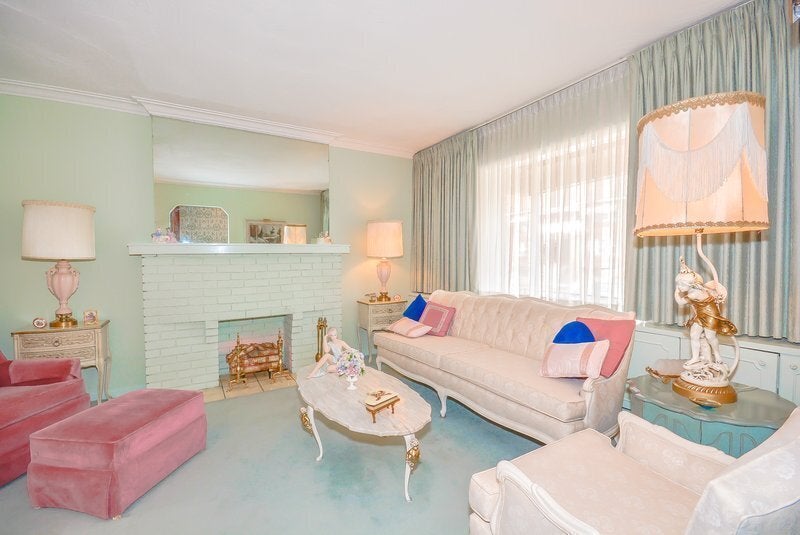 Jobs of the Future