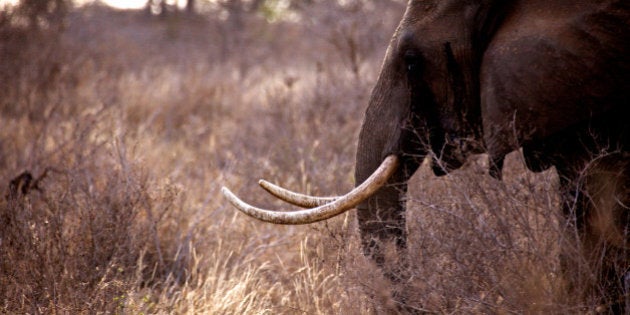 It seems like a never-ending saga for the circus elephant Nosey, who has endured insurmountable pain and suffering for at least a decade. Her story has come into the spotlight after she was found limping and faltering in her gait this summer, as humans enjoyed joyrides on her back. A veterinarian who watched a video in which Nosey was seen balancing the burden on just three legs believes, she's suffering from severe arthritis. Just one wrong move could prove disastrous for the riders and fatal for the poor elephant.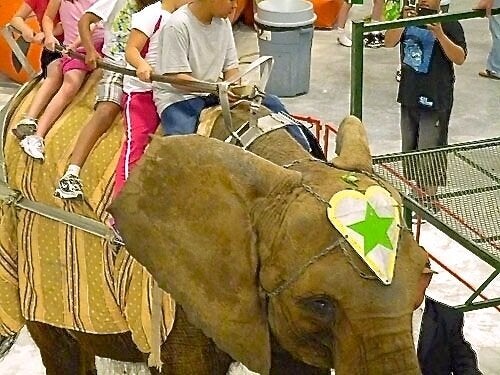 According to PETA, in 2012 Nosey tested positive for TB, which is transmittable to humans. It's unclear if during that time she travelled or came in contact with the public, as the American Association of Zoo Vets suggested, during her 12-15-month treatment period Nosey should have remained isolated.
It has also been alleged that Nosey has been tortured with electric shock, bull hooks, sledgehammers, shovels and starvation. And in 2004 she turned on her trainer in desperation, ramming and tossing him, and causing head injuries that required stitches.
These are just three serious incidents resulting from non-compliance in the past 10 years. According to the Care2 advocacy group, in "trying to fly under the radar", Nosey's owner Hugo "Tommy" Liebel, who also identifies himself as Hugo Bloom, Tom Liebel and Tommy Liebel, and calls Nosey Peanut, Dumbo and Tiny, seems to have a notorious history of violating the Animal Welfare Act (AWA) and U.S. Department of Agriculture regulations.
But sadly, USDA's attempts to prosecute Liebel in March 2013 were unsuccessful. When I contacted Collen Carrol, the USDA Prosecuting Attorney who represented Nosey, she directed me to their Public Affairs Specialist, Tanya Espinosa, who sent me an email stating,
"USDA enforces the Animal Welfare Act as written by the regulations. Under the AWA Section 2149b, the Secretary is required to give notice and opportunity to the licensee to correct the noncompliance prior to assessing a penalty fee, issuing a cease and desist order or a confiscation. If the licensee does not take that opportunity to come to compliance, the licensee is given notice and opportunity for a hearing with respect to the alleged violation (s)."
Explaining the bureaucratic process further, Espinosa said, the complaint filed in 2011 was the first step, which was followed by a Consent Decision in 2013 that was put in place as an enforcement action by a Federal Administrative Law Judge. She reiterated, if Liebel continues to violate the AWA, they will launch another investigation.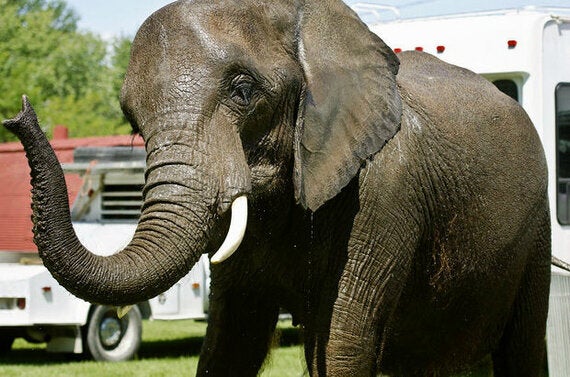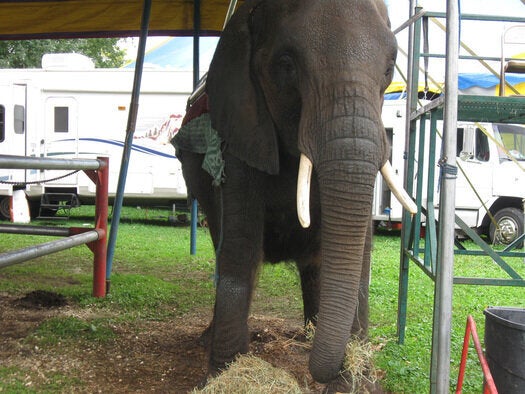 When you think about it, people who consistently violate traffic rules are first ticketed, and when they exceed a certain number of infractions their license is automatically suspended. So why should it be any different in Liebel's case, especially given that he has been cited nearly 200 times for violating the federal AWA?
Karen Ess, an elephant activist wonders how many violations would it take for the USDA to revoke Liebel's license? As such, her main concern is that, Nosey's deteriorating health could trigger unpredictable behaviours, placing humans in harm's way. Ess says, Liebel is carrying on with business as usual after paying "out of court settlements" and will continue to use the ailing elephant as a "money making machine," exacerbating Nosey's physical and emotional suffering. "If the Endangered Species Act makes it illegal to simply possess a bald eagle feather, how can it be acceptable to ride, beat and neglect an already injured endangered species?"
Meantime Ess says, although Americans are stepping up to the plate in supporting related causes to alleviate the plight of elephants around the world, they remain oblivious to the pain and suffering of these gentle giants in their own country.
"In the U.S., elephants, like many animals, have suffered greatly because of the image circuses have portrayed. Circuses would have you believe that elephants are powerful, lumbering, mindless and in need of human domination. Nothing could be farther from the truth. The way we have treated elephants for me represents an egregious violation of our responsibility as stewards for the earth and the beings that share it."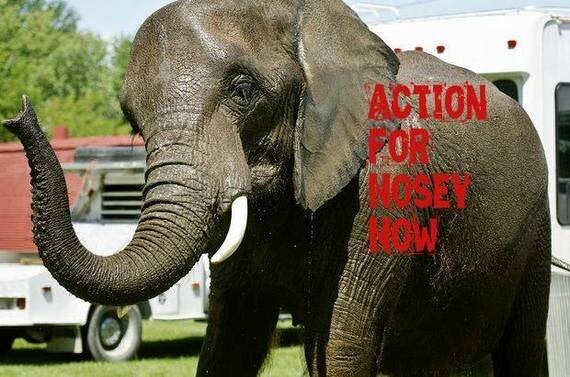 In doing her part, Ess is giving voice to Nosey's silent suffering by launching a Facebook campaign called "Action for Nosey Now." She is working on engaging celebrities and politicians in her efforts to create public awareness and end Nosey's suffering before it is too late. If you'd like to learn more and support the cause you can click here.
Popular in the Community