Note: Contains spoilers. Do not read on if you haven't seen Episode 2 of "Amazing Race Canada"
For an episode that boasted a tour of "one of the most liveable cities in the world," the Vancouver-centric leg of The Amazing Race Canada was actually quite lifeless.
Was it the tasks? Surely there's something more attention-grabbing to do in Vancity, a "Supermodel of North American cities," than draw a Chinese character of the Zodiac, use binoculars, or speed-skate at a comically slow pace in front of an overly excitable audience.
Was it the cheese? Host Jon Montgomery sure means business -- and proves it by dressing appropriately for the introduction of each task. Speedskating morphsuit? Check. Reflective construction gear? Check. "Casual" white v-neck with ambiguous design for generic announcements? Check. If nothing else, it shows more range than the leather-clad pseudo-mock neck attire of The Amazing Race's Phil Keoghan.
It's certainly not the teams, which provide more than enough reasons to keep tuning in. Tension is building between the pairs; already, we've seen the bordering-on-Type-A hippies Kristen and Darren snap at each other, with Darren starkly telling his partner to "chill out." Plus, sisters Vanessa and Celina clearly panic way too easily, and are quick to beat themselves up when frustrated over a simple detour. Let's also not forget this highlight: when Jody and Cory were working on the Roadblock, and Cory said to Jody, his double-amputee war veteran brother, "You have no idea how much it hurts to walk in these things [speedskates]." To which Jody replied, "I have no idea how much it hurts to walk?"
And! Both Jet and Dave and Tim Sr. and Tim Jr. have shown excessive hesitation while completing a task -- switching Detours. After all, one of the keys to the race is being decisive. With conflict between some duos brewing, the congenial atmosphere among the teams is also breaking down. In the episode, we saw Tim Sr. and Tim Jr. taunt Vanessa and Celina while commuting, waving to them and knocking on the glass mockingly while riding the SkyTrain. Plus, in next week's sneak peek, we see Brett and Holly swapping out the guide maps in a local general store. Looks juicy.
So what made this leg of the race so boring? It could have been the pre-determined west coast monotony, or the sheer distance between teams, but I have faith. The production values remain crisp and impressive, and the pairs all provide great dynamics, and possible conflict amongst each other and others, which, as we know, is reality TV gold.
Starting in Kelowna, B.C., the teams had to catch a flight to Vancouver, and Jet and Dave, Kristen and Darren, and Holly and Brett all made the 7 a.m. Air Canada flight. Ever the sweet talkers, BodyBreak's Hal and Joanne managed to finagle their way into standby tickets for the early flight, leaving Vanessa and Celina, Tim Sr. and Tim Jr. and Jody and Cory on the 8:20 a.m. trip out. However, this left the lovable self-proclaimed "gay cowboys," Jamie and Pierre, on the dreaded 10:55 a.m. flight, due, in part, to an ironic debit card mix-up, which will be addressed shortly. It was instantly clear, from this point on, that it was highly unlikely the Calgary twosome would gain any ground on this leg, or move beyond dead last. Naturally, it was no surprise when the duo were eliminated.
Soon, the pairs faced a speedskating Roadblock at Richmond Olympic Oval, before moving on to a hilariously-unbalanced detour of "Draw It" or "Dance It," set in Vancouver's Chinatown. "Draw It" involved drinking tea, memorizing a Chinese Zodiac character, and then walking across the street to write it out, and submit their interpretation before a local calligraphy expert, before moving on to the next task. On the other hand, "Dance It" was needlessly complicated, and involved following, or deciphering instructions in Mandarin, before obtaining the four items necessary to perform a traditional lion dance at the Chinese Cultural Centre. Upon completing the detour, the teams had to climb a 76-metre crane, and spot the Pit Stop atop the Vancouver Convention Centre ... with binoculars. Yawn, right?
Until next week, here are the five best watercooler moments of the episode, in no particular order, in the form of a hashtag.
1. #JonMontgomeryEveryman... #InEveryOutfit
Jon Montgomery, you've already won us over with your obvious enthusiasm for the race, and seemingly-endless (and hilarious) wardrobe changes. But, we'd love to see more from you! Perhaps you can demonstrate how to properly down a giant pitcher of beer? Or set up a Roadblock that requires the maintenance of perfect skeleton helmet-head? Just a thought.
Brett and Holly credited an advantage in the race to reading En Route Magazine, the in-flight magazine of show sponsor Air Canada. Saying, "We actually looked at the En Route Magazine," and, "There's always time for strategy," shows these married doctors know how to navigate the race with camera-savvy, by playing to the corporate funders, and leaving no prop unturned. They're definitely a team to watch.
But, on the other hand ... talk about a #SponsorFail, Interac! Jamie and Pierre missed the 8:20 a.m. flight from Kelowna to Vancouver because they were busy looking for a debit machine to use their race-provided card, and pay for their cab. Poor planning? Perhaps, but you can't deny that a two-and-a-half-hour flight delay was a result of this wild ATM chase. This was made all the more humourous by the ad which kicked off the commercial break, for Interac, which had the slogan, "Pay in a flash." Sure, pay in a flash, and miss your flight. #Amazing.
Sadly, there was no Soup Nazi present in this episode (a Seinfeld fanatic can dream...), but the calligraphy expert who presided over the "Draw It" detour provided a similarly-ruthless approach to the task. When Vanessa and Celina, who were trying to create a Chinese Zodiac character with a "tongue coming out of a snake," that is "taking a little pee," failed, the expert unceremoniously ripped their pages in half. She later did the same for Jet and Dave, when they displayed similar artistic ineptitude. There were no words, and none were necessary. She was the perfect, silent foil for The Amazing Race Canada, but it's a shame her hilarious no-nonsense presence could not be played for more laughs, or more conflict, due to this overly-simplistic task.
Every episode is sure to have its "Yes, we're Canadian!" moment, but picture this: Kristen and Darren are running in Vancouver to find a cab, and instead of yelling, as they are in a rush, the racers sprint past a Tim Hortons, and other cars, and say, "Excuse us." #SoAmazing.
"The Amazing Race Canada" airs every Monday night at 9 p.m. ET on CTV.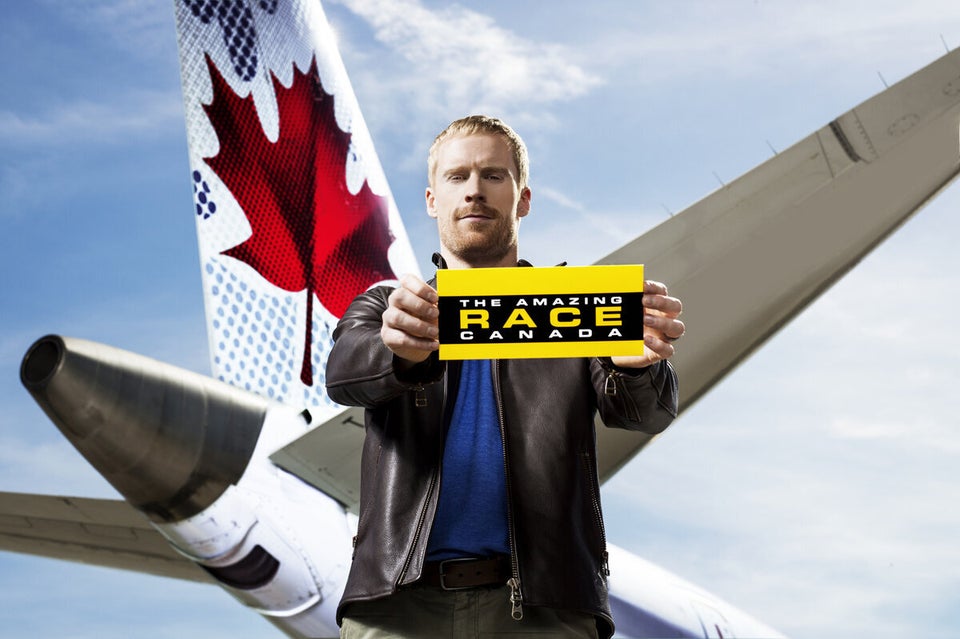 'Amazing Race Canada' Teams
Popular in the Community