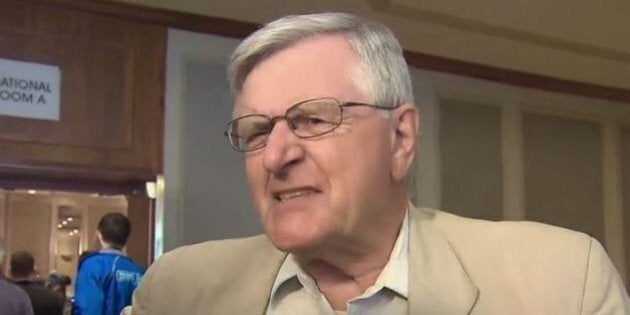 Canada's marathon federal election campaign has apologized for its ridiculous length with a gift to the internet: a rambling, furious and swearing man.
On Tuesday, at a Conservative Party event in Toronto, Stephen Harper was being bombarded with questions about the Mike Duffy scandal. Some of the audience members, vexed at the dogged reporters who were doing their job, began heckling the journalists.
Soon, an angry old man would emerge.
After the event wrapped up, the man — the human embodiment of the phrase "get off my lawn" — appeared to engage the reporters in meaningful conversation:
Just kidding, he just started shouting and swearing.
The man, who became time and rage incarnate, called the reporters "lying pieces of shit," a categorically uncool thing to do. It was an act, however, that vaulted him into the hallowed halls of temporary internet notoriety.
On Wednesday, Justin Trudeau alluded to the hecklers at the Tory event, Global News reports. After saying he would take a "whole bunch of questions from media," the Liberal leader told his audience to be "respectful, even if they ask tough questions."
The election is two months away.