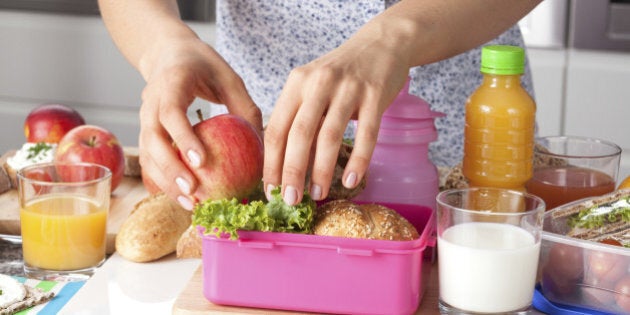 It's just a few weeks into the school year...how's your lunch game?
If you are new to packing nut free lunches, it can be a challenge. PB & J is one of the most reliable kid foods in existence; what do you do when your star player has been benched?
As a vegetarian mom, it took me a while to wrap my head around packing a nutrient-dense lunch without the nuts. With a bit of planning, however, you can find great foods that your kids love to eat.
When shopping for nut free picks, there are a couple of options. If your child is not allergic, you can opt for foods free of both nut-based ingredients and allergen warnings stating that the food 'may contain' nuts. However, if your child is allergic to nuts, the safest bet is 'peanut - or nut-free' foods. With more schools becoming totally nut-free, companies are starting to go the extra mile of creating certified nut free products. EnviroKidz Nut-Free Granola Bars are a great choice that are also organic and gluten free.
You will also probably want to find replacements for your favourite nut-based foods. This means navigating alternative butters. You have a lot to choose from: WowButter is made from roasted soybeans and Sunbutter comes from sunflower seeds. Tahini -- sesame butter - is another great option. These butters may take some getting used to as they can be slightly bitter. To counter that, add a touch of sweetness with your favourite fruit jams or honey.
You can also find trail mixes made exclusively with seeds - or you can make your own. However, be aware that bulk bins are not a great choice for allergen-friendly foods. This is because they are rarely cleaned and may be cross-contaminated with nut residues. Instead, look for packaged seeds and roasted beans that are free of allergen warnings.
Packing a nutritious lunch means ensuring a good balance of foods. Whole grains - whether bread, wraps or crackers - and healthy fats provide slow burn energy for busy brains. Fruits and veggies keep their bodies operating in tip top condition; protein is critical for supporting the immune system and growth. If your child eats meat or fish, going nut free doesn't change things too much. However, for kids that are vegetarian or simply meat-averse, you need to figure out nut free options for this essential nutrient.
Roasted chickpeas are a favourite snack in my house; they provide valuable protein for kids missing their nuts and they are so easy to make. Egg salad is a classic; doing a snack-style lunch with cheese and crackers is another fun option. Mashed white beans or chickpea 'tuna' make a great wrap filling with your kid's favourite veggies. Filling a thermos with a Greek yogurt parfait is another fun way to up your lunch game.
Packing lunches can feel like a thankless task - but your kids need real energy to make it through their day. Don't get stuck: plan your grocery list each week with your kids and get their input to help ensure they will eat what you pack. You don't have to reinvent the wheel every day; sometimes, just switching from wrap to sandwich is enough to keep it interesting.
Navigating nut-free school lunches can take some getting used to...but before you know it, you'll be packing like a pro.
Disclosure: I am a paid spokesperson for Nature's Path Organic Foods, owner of EnviroKidz. I fully stand behind my yummy recommendations and only share brands I use in my own kitchen!
Follow HuffPost Canada Blogs on Facebook
Popular in the Community