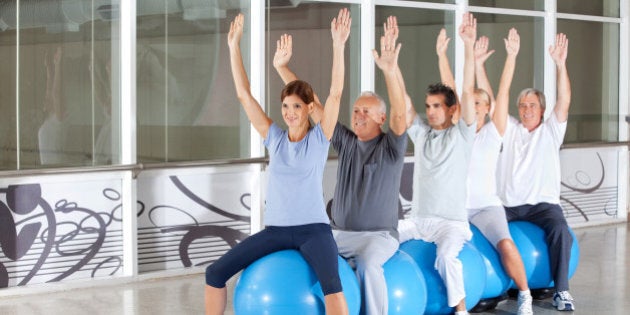 Given that May is National Physiotherapy Month I wanted to share three separate, yet connected, topics about physiotherapy to help you understand the incredible benefits it can provide, including: how to prevent injury using a technique known as "prehabilitation," what exactly is physiotherapy and what it can do for you and lastly, why I got into physiotherapy and why you should consider it too!
As a licensed physiotherapist there are many common injuries like pain in the lower back, pulled hamstrings, and sprained ankles that we regularly treat people for. Seeing so many similar injuries makes me wonder why most of us brush our teeth to prevent oral health complications like cavities and gingivitis but we don't take the same type of preventative care with the rest of our bodies?
A commonly used term in the physio and fitness industry for this is, prehabilitation or the idea of using techniques and exercises to, when possible, prevent injuries before they happen.
While physiotherapy may be more commonly known for rehabilitation, prehabilitation is becoming an increasingly popular reason for physio visits. The term prehabilitation, commonly referred to as "prehab," was coined to describe proactive injury or illness prevention.
Prehab exercises are designed to be beneficial for building fitness as well as function. Also, if you do happen to injure yourself these preventative measures will help shorten the recovery process. It works to make people more resilient and therefore they will likely bounce back at whatever hardships life throws your way. Many people choose to prehab before going through a major surgery to get their body it peak physical condition, in order to decrease recovery time .
Prehab can also assist in correcting or improving problems created from a sedentary lifestyle, like poor posture from sitting at a desk all day. Prehab will help correct some of the tension in your shoulders There are various programs that are offered that do exactly this, working out to prevent injury. Of course, I'm shamelessly a touch bias to the programs I created that aim to prevent injury, like: Awesome Abdominals, Better Backs and NEWBODY to name a few. All of these programs focus on preventative measures and strengthening the body to make you your most resilient self.
Prehab exercises: I always incorporate the following seven prehab exercises into my regular training program:
Abdominal brace
Hip hinge
Single leg squat
Plank
Arm and leg lift -- alternating or both
Isometric squats
By partaking in these basic preventative measures you are preparing yourself for the future. Let's use National Physiotherapy Month as a platform to raise awareness of prehabilitation and all the health benefits that come with it.
Part 2: Defining Physiotherapy
Physiotherapy uses specially designed exercises and equipment to help improve physical abilities in either a rehabilitative or pre-habilitative fashion. This is a treatment commonly used by health care professionals in the treatment of injury, disease or prevention.
A physiotherapist combines their knowledge of the body and how it works with specific hands-on clinical skills. They assess diagnose and treat symptoms of injury or illness. Each case is extensively researched and tailored for each individual's specific needs.
Physiotherapy treatments can include the following but are not limited to:
•Exercise programs designed to improve muscle strength
•Improving joint ability and range of motion
•Improving overall functional mobility and balance
•Airway clearance methods to treat breathing difficulties
Part 3: Why I Wanted to Be a Physiotherapist
This might sound surprising, but I was only seven years old when I decided I wanted to be a physiotherapist. This has always been a field I am passionate about as I am captivated by the human body, how it moves and what it's capable of. At seven years old I loved the idea of being able to help people. Physiotherapists are able to spend their days doing just that; helping people. This is an industry where caring and compassion come first and foremost and that's something that has always resonated with me.
As a kid, I was very active and constantly on the go. As you can imagine, my active lifestyle left me with my fair share of bumps, bruises and broken bones. Needless to say, in my younger years I had a few trips to the hospital. Funny enough, some of my fondest memories are of being in the hospital. This is where my love for physiotherapy was ignited. How the body moves and how it can heal was and still is fascinating to me.
Fast forward 19 years, after some hard work and dedication, my dream came true and I graduated from Western University as a licensed physiotherapist. It's been a very rewarding and exciting to career so far and I'd recommend it to anyone who loves helping others!
Popular in the Community