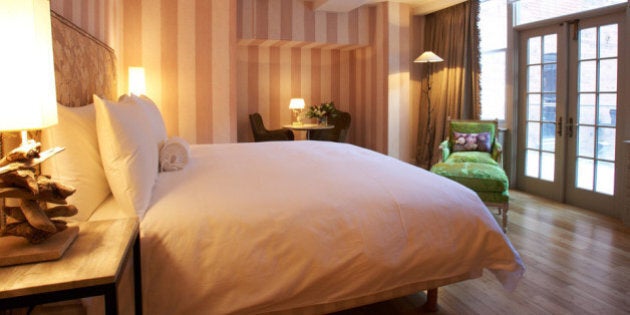 A trip away is sometimes just what we all need to relax. But even when you've left behind the stress of normal life, it can be tough getting some shut-eye in a hotel — the room just isn't your own. The bed feels off. The pillows are a bit too hard. And you're not used to hearing the creak of an ice maker.
Sleep is key in enjoying yourself while travelling, and there's a slew of hotels across Canada that want to make sure you rest well. From designer mattresses and blackout curtains to technology intervention and pillow menus, these hotels are focused on helping you get some much needed shut eye on your travels.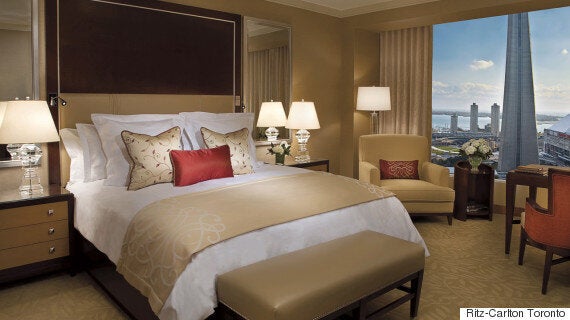 You may not want to cause a fuss asking for something in particular, but the Ritz seems up to the challenge when guests have special requests. Travelling with young kids? They can get their own special door hanger to use during naptime. Sensitive to the air quality? Humidifiers are onsite. Whether it's running up with a fan or even adjusting the height and angle of your bed to help you keep your head elevated -- all you have to do is ask.
Their standard offers include blackout curtains, 400-thread count Italian linens and a pillow menu with options galore: shock-absorbing memory foam pillows, anti-allergen pillows, full body pillows, gel pillows, neck rolls. You may just want to request them all and engulf yourself in cushy comfort. They offer a sleep you won't forget, and can even recreate at home. Their mattresses, bedding and boxsprings are available for purchase online.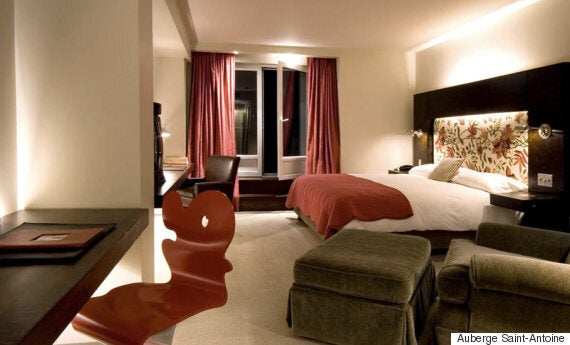 No worries if you spent the whole day walking the town -- when you get back, your bed will be turned down for you, as well as the rest of the room. You'll find the curtains drawn, soft jazz music playing, a bucket of ice if you'd like a cold drink and a kettle with coffee and tea if you'd prefer something hot. They have blackout drapes, as well as windows that can open fully if you'd like some fresh air in the summertime. If you're someone who prefers a quieter room, let the staff know ahead of time. You'll likely get lucky and land a spot overlooking the courtyard instead of the noisy street. Every room has their own temperature control unit as well. Auberge Saint-Antoine has covered the details from the Egyptian cotton bedding and down pillows, to heated bathroom floors.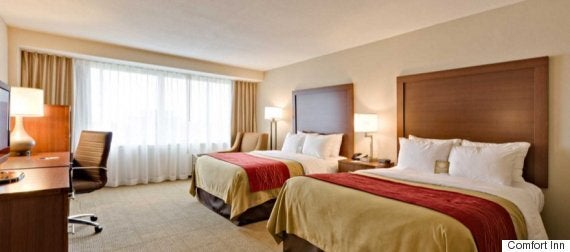 Where: Various across Canada
This chain is one of the more affordable options, and they still put R and R on their priority list. They operate on the mantra "relax, restore, renew" and maintain a warm exterior and neutral colour palette to bring guests into a relaxed frame of mind. In 2014, they updated their bedding package to feature layers of soft 100 per cent cotton sheets, a filled blanket, coverlet, a colourful bed scarf and a mix of firm and soft pillows so guests can have selection of cozy options.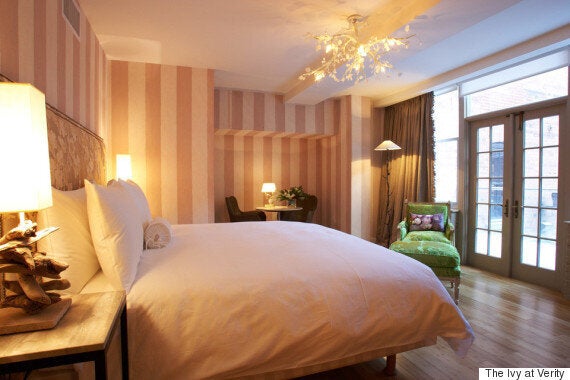 For starters, this place is housed in a renovated chocolate factory. Your childhood vacation fantasies are already coming true. But on top of that, each room is equipped with a Hästens bed, known to be one of the highest quality beds in the world. These Swedish-made mattresses are stuffed with hypoallergenic horsehair and run for up to $60,000 USD a pop, and this is the only hotel in Canada where you'll have the chance to test out their' comfort. The tiny hotel (it has just four guestrooms) offers a balcony with each room, and female guests can take advantage of the neighbouring amenities at the private women's club, Verity, that shares space in the building. Head there for a gourmet meal and spa treatments, then retreat to your room in the evening where slippers, a light snack and Italian linens will be waiting.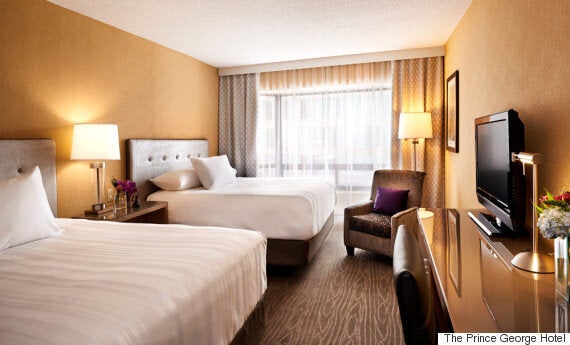 They renovated their hotel last year and the revamp features changes to help you sleep more soundly. They upgraded their blackout drapes so every set is now the exact same as the window dimensions to keep out all traces of light. Half of the hotel has double-paned sealed glass windows, so street noise doesn't disturb your rest. And all of their connecting rooms are now two-room suites, so that guests don't have to run the risk of noisy neighbours in the adjoining suites.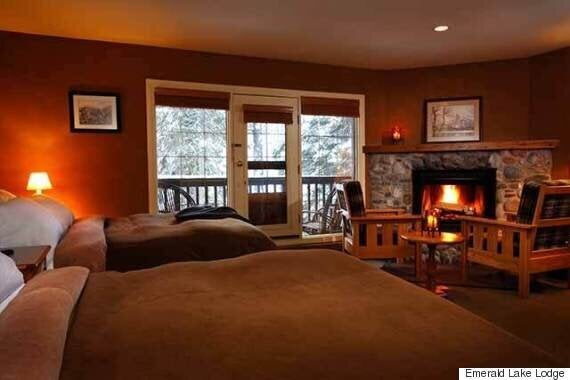 Where: Yoho National Park, Field, B.C.
A digital detox may be just the thing you need to help you sleep. Light promotes wakefulness, so the light shining at you from the your devices may be getting in the way of a good night's sleep. At Emerald Lake Lodge, there is zero cell service on the property and Wi-Fi is only available in the lobby. It may sound terrifying, but your rooms will be technology-free and free from the distractions that can impact your quality of sleep. This is also the only property on Emerald Lake, so there is no light pollution in the area. (They're coincidentally situated in a town called Field.) The only light that may creep into your space would be from your own personal wood-burning fieldstone fireplace -- there's one in every bedroom. Snuggle up in your feather duvet and drift off to sleep to the sound of the flames crackling.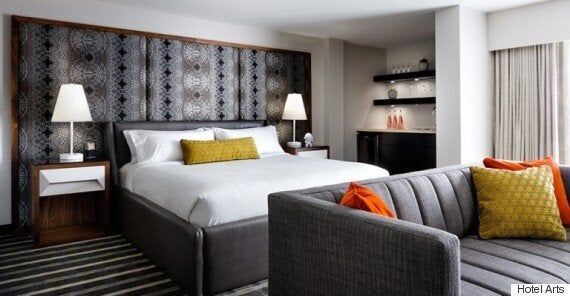 Hotel Arts is heralded as one of Calgary's few boutique hotels with a notably contemporary design. They have a visually pleasing esthetic and the accommodations set their guests up for an easy sleep. Rooms are stocked with bedding washed in hypoallergenic detergent, high-quality triple-sheeted duvets, individual temperature controls, blackout curtains and firm/soft pillows -- that is, a doubled ended pillow that saves you from choosing between firm or soft because it offers both. Cool like the other side of the pillow.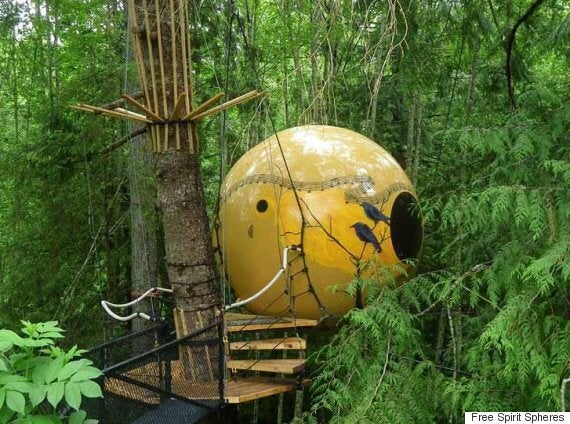 Where: Qualicum Beach, B.C.
Sometimes, a good night's sleep is all about the atmosphere. Free Spirit Spheres offers rooms that are actually hand-made, hollowed out spheres, and instead of being on a particular floor, you'll be suspended in an arbitrary space in the forest (see above).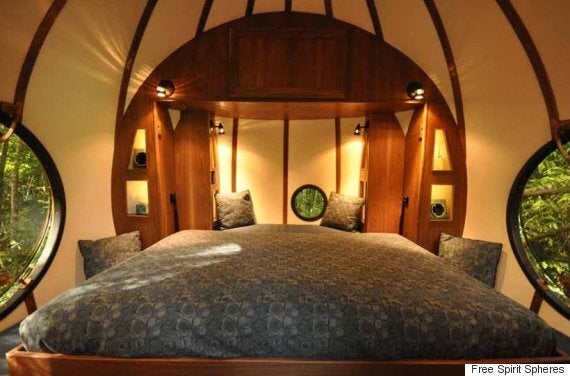 The spheres are vertically tethered to three separate trees, almost like an inverted three-legged stool. This allows the sphere to be stable and near still, just slightly swaying among the trees. The "uni-wall" construction is a change from the linear, angular walls of conventional sleeping spaces. They offer their guests a unique way to "re-inhabit" nature, as all you'll see from your bed out the window is the moon, stars and treetops as you're rocked to bed. Their guests report that it's an experience like no other.
Popular in the Community