Remember that time your mother bathed you, soothed you when you were sick and spoon fed you mashed peas to ensure your survival?
While flowers, sweets and homemade cards are all great ideas, there's nothing like an indulgent spa retreat with mom to show your appreciation. The best thing about this gift is it offers quality time spent with mum.
Canada has an incredible array of spas, offering unparalleled experiences. We sussed out some of the best spas and their signature treatments from across the country to spoil mom because she didn't just give birth to you for a bouquet of flowers.
(Story continues below slideshow.)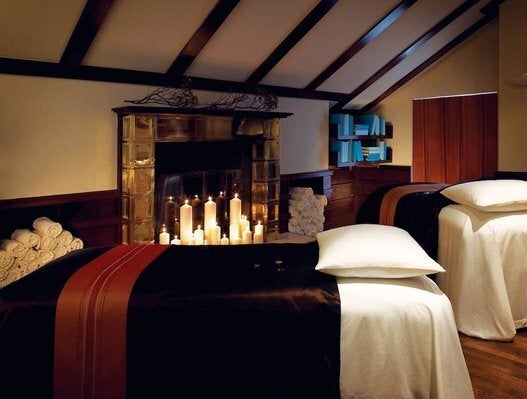 Mother's Day Spa Treatments In Canada
1. Elmwood Spa (Toronto, Ontario)
Located in the heart of downtown Toronto, Elmwood Spa is tucked away on a quiet side street. Consider taking mom for the LI'TYA Binhumarri Body Ritual treatment. She'll be pampered with a 90 minutes full body exfoliation, utilizing mineral salts from ancient riverbeds, in combination with native flowers and plants. She'll also enjoy the Miji Kodo massage using powerful essential oils that will ease any pain in muscles and joints.
2. One Wellness + Spa, (Canmore, Alberta)
One Wellness + Spa resides in the award-winning Solara Resort in Canmore Alberta. The hotel boasts stunning mountain views and allegedly offers one of the best massages around. However, their personalized facials are second to none as well. Treat mom to One's Pathways to Engagement Facial, which focuses on improving mom's chosen pathway, whether it be sleep, release, clearing, transition or joy. It'll also help balance her mind and body.
3. Nordik Spa-Nature (Chelsea, Quebec)
Take mom to the Nordik Spa-Nature in Chelsea, Quebec for the Källa treatment. The spa offers visitors a saltwater experience that rivals a dip in The Dead Sea. Källa is the Nordik Spa's unique underground pool filled with 12 per cent Epsom salt so you feel completely weightless while floating in five metres of healing waters. She'll leave feeling like a brand new person.
4. Miraj Hammam Spa by Caudalie (Toronto, Ontario)
Located in the luxurious Shangri-La Hotel in Toronto lies the Miraj Hammam Spa. Consider treating mom to a Hammam experience, which will see her spend quality time in their high intensity eucalyptus-infused steam chamber, that's as beautiful to look at as it'll make her feel. Combine that with a 60 minute massage of her choice for a day she won't soon forget.
5. Rodd Spa Boutique at Crowbush (Morell, PEI)
Drop dad off for a day of golf while mom relaxes on her special day at the Rodd Spa Boutique in Morell, Prince Edward Island. The Chocolate Body Wrap is a decadent treatment guaranteed to please. She'll enjoy a 75-minute treatment that includes a self-heating cocoa body mask, body brushing and a fondue mask. A rich body butter and a warm blanket caps off the treatment.
6. Temple Gardens Mineral Spa (Moose Jaw, Saskatchewan)
You don't have to travel to Bath, England to experience a luxurious dip in a natural mineral bath. Book mom in at the Temple Gardens Mineral Spa in Moose Jaw, Saskatchewan for a luxurious session in the spa's famed mineral baths. Follow that up with their Sun Tree Tranquility Jade Stone Facial. Jade stones are combined with luxurious ingredients like Amaranth oil and a collagen treatment to help mom look her very best.
7. Willow Stream Spa at the Fairmont Banff Springs Hotel (Banff, Alberta)
One of the signature treatments at the Willow Stream Spa at the renowned Fairmont Banff Springs Hotel is the Ultimate Ascent treatment. The two hour session includes an aromatic footbath and scrub, a gentle dry brush exfoliation, ending with a hydrating massage that will leave mom feeling completely restored.
8. The Hills Health Ranch Spa (Mile Ranch, BC)
This BC spa's claim to fame is their in-house cold pressed rosehip oil. Most of their luxurious spa treatments utilize the oil for its healing benefits. When mom's not indulging in their signature Deep Repair Facial aimed at repairing sun damage and smoothing out wrinkles, she can engage in physical activity, whether it be a jaunt on one of the resort's trusty horses or a scenic hike.
9. Ste. Anne's Spa (Grafton, Ontario)
The Ste. Anne's Spa, located in beautiful Grafton, Ontario offers seasonal spa treatments that will delight mom. For May and June, book her in for their featured treatment, Maple Showers. Her maple-themed spa treatment will include a maple sugar scrub, an insulating wrap and concludes with a body enriching maple elixir.
10. Scandinav Spa Mont-Tremblant (Mont-Tremblant, Quebec)
There's a reason Scandinavian hydrotherapy has been around for thousands of years, and thankfully, you don't have to travel far to experience the Nordic tradition. The Scandinav Spa in Mont-Tremblant, Quebec allows visitors to relax and reenergize in scenic surroundings, enjoying the use of the hot baths, saunas and steam rooms. To ensure optimum relaxation, book a Swedish or hot stone massage prior to entering the hot baths.
Popular in the Community