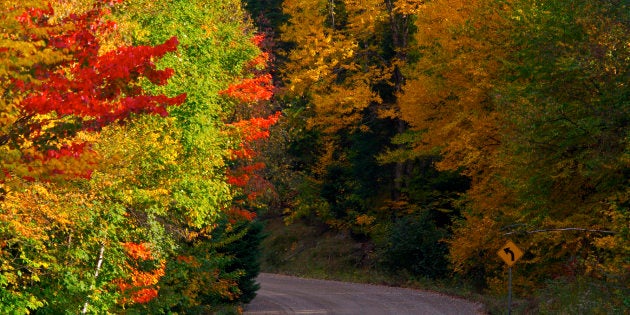 DependnShorter days and dropping temperatures herald the start of fall, a season known for its colourful leaves, crisp air and pumpkin spice. One of the most anticipated travel seasons of the year, autumn brings comfortable temps, shoulder-season savings and brag-worthy photos — no filter needed.
The seasonal colour change can start in early September and continue through October with peak colours emerging at any time and varying from year to year. The change in leaf colour is due to falling temperatures and the decreasing daylight, which triggers trees to prepare for winter. Read on for Cheapflights.ca's guide to planning a leaf-peeping pilgrimage, complete with tips for best viewing and our suggestions for where to get an eyeful of this transformation throughout the season.
Leaf peeping tips
Location, location, location. Your chances of seeing fantastic fall foliage depend on weather conditions and tree species. Fall foliage is most abundant in the eastern United States and southern Canada. Depending on where you live, you may not need to travel far to see fall foliage. See our destination recommendations below.
Timing is everything. It's impossible to know exactly when fall foliage will appear as it can change year to year. However, the colourful leaves are most visible from mid-September to late October. Leaves change colour based on a variety of factors, including light level, temperature and soil conditions, and different varieties of trees change at different times. Red maples are among the first to change, especially those along roadsides and in wet areas. The timing of leaf colour changing and intensity of autumn colours changes year to year as well. The brightest colour changes occur when dry, sunny days are followed by cool, dry nights. It's best to plan travel for as many days as possible and to have a flexible itinerary to increase your chances for timing your travel to coincide with peak colour viewing.
Check activity. Leaf colour-changing activity is tracked by a few different organizations, including the Weather Network, Ontario Parks Fall Colour Report (complete with an interactive map) and Ontario Fall Colour Progression Report.
Rent a car. Since it can be tricky to predict exactly where the leaves will be changing during your trip, renting a car makes it easy to traverse parks and locales to leaf peep. Some of the most majestic fall foliage is located in North America's national parks, which are best accessed via scenic drives from area airports to the parks.
Best places for early September foliage
Aspen, Colo.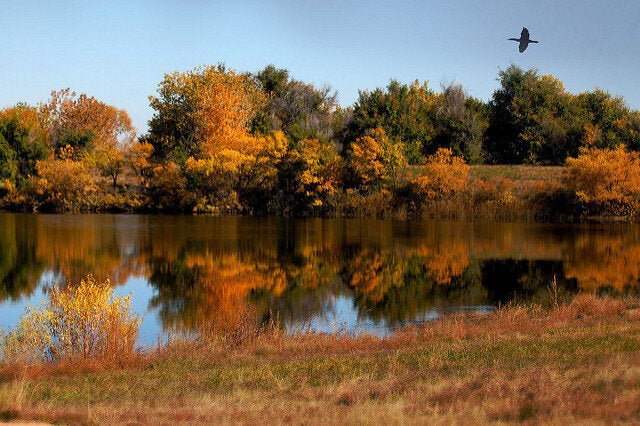 Leaf peepers have to act fast in Aspen, Colo., as the start and end of the changing of leaves from green to yellow, orange and red typically lasts just a week. It's difficult to predict when the leaves will change, but once they arrive, it's easy to get Instagram-worthy pics. Stroll through downtown Aspen, kayak the Roaring Fork and Colorado River, hike Snowmass and ride the Silver Queen Gondola to the top of Aspen Mountain — there are leaf-peeping options for everyone.
Laurentians, Que.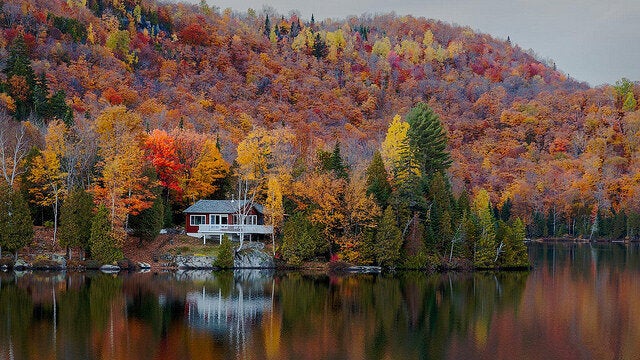 North of Montreal, the 22,000-square-kilometre Laurentians region is populated with thousands of maple trees and pine trees that change colours as the days grow shorter from mid-September to mid-October. Part of the great Canadian Shield, the Laurentians are a forested wonderland in the shadow of the Laurentian Mountains. It's roughly a three-hour drive from Ottawa Macdonald-Cartier International Airport and Montréal Trudeau International Airport, but it's so worth the drive to see the splendour of fall.
Best places for late September foliage
Glacier National Park, Mont.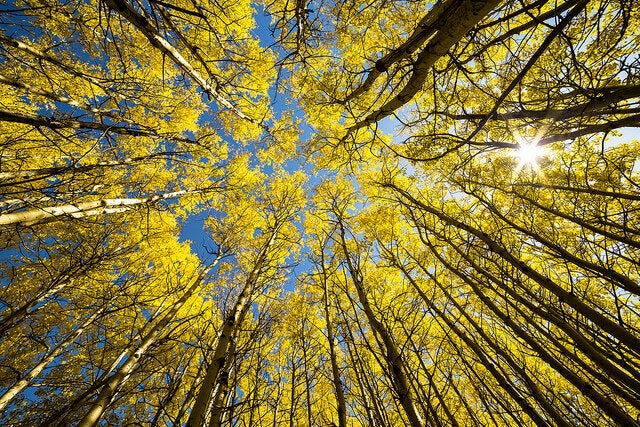 Just 39 kilometres from Glacier Park International Airport, Glacier National Park is a convenient spot for leaf peepers to see fall's fantastic colours from multiple vantage points (the park, located in northwest Montana along the Rocky Mountains, is also 240 kilometres from Great Falls International Airport). The leaves begin to change on the west side of the park in mid-September and on the east side of the park at the end of September into the beginning of October. The colourful display continues through mid-October when the larch trees turn golden. Park-goers get some of the best views by driving along Highway 2 in the southern part of the park.
While checking out the fall foliage, visitors should be on the lookout for the wildlife that will be actively preparing for the approaching winter. Visitors should note most park services are open through September, but services like lodging and concessions close toward the end of September.
Kootenay Rockies, B.C.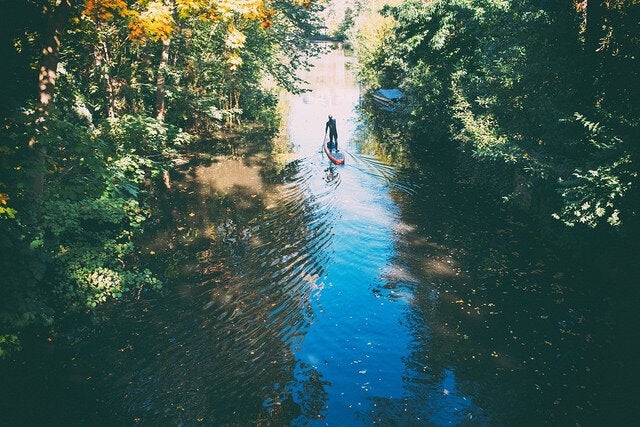 Located in southeastern British Columbia, the Kootenay Rockies afford leaf peepers picture-perfect fall foliage. A short drive from Canadian Rockies International Airport, the region known for its glacier-capped mountains, rivers and alpine lakes is an increasingly popular spot for seeing autumn leaves change. Head to this scenic spot, nestled along the Rocky Mountains, to admire fall's hues via a multi-day hike along the Rockwall Trail, a soak in natural hot springs or a drive along the Hot Springs Circle Route, a route along the Columbia River and past hoodoos (tall, thin rock formations caused by natural erosion).
For more of the best places in North America to see fall foliage in late September as well as top places to go in early October and in late October, go here.