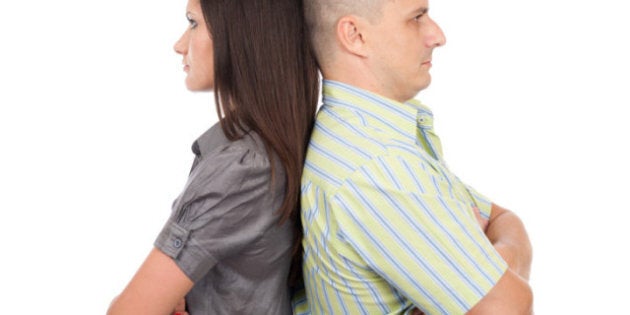 You're overworked. You're tired. Your kids are driving you nuts, your job is driving you nuts and you feel like you haven't had a lick of "me" time in weeks. It's the end of the day and your frustrations can't be contained any longer. And guess who gets it as soon as he/she walks through the door? Your partner, even if he/she hasn't done anything wrong.
When the going gets tough, many of us start yelling. And much of the time, it's the person we've sworn our undying love to that gets the brunt of it. Particularly when kids first come on the scene (with all the exhausting challenges and changes of being a new parent), a previously harmonious couple can dissolve into a couple of Bickersons, blaming each other for their new frustrations.
You love each other and you love your kids -- so what's with the constant fighting?
Therapist, parent educator and author Sara Dimerman says the stress, fatigue and parenting angst experienced by new parents can make us more short-tempered and irritable.
"If you're stressed or tired, you'll be more vulnerable and irritated and little things are going to spark bigger arguments," she says. As well, Dimerman says having children can reveal differences between partners that were never apparent before.
"Before children, you were just enjoying each others' company, spending time as a couple," she says "The way you've been raised, whether you had authoritarian or democratic parents -- that won't come out until you have children and then your differences become highlighted. Couples don't talk about how they were raised before they have kids, but it can be a huge contentious issue when you do."
When kids misbehave or tantrum or have problems at school, parents play the blame game with each other ("You're too permissive!" "You're too tough!" "This is your fault!" "No, it's yours!").
"There's a whole dynamic that goes on between parents and their children and couples when there's issues with the kids," says Dimerman. "We might feel that our partners are not backing us up, they're making the situation worse, they're acting like kids themselves or they're not pulling their own weight."
Because of the new time demands that often come with parenthood, sometimes fights can develop simply because you haven't had the time to work things out.
"Things get swept up under the rug or left to another tim, and I think what ends up happening is a lot of little issues build up over time and then they culminate and you have a big explosion instead of being able to put out the little fires along the way," says Dimerman.
But there are ways to tame the blame game. Dimerman recommends setting aside some time as a couple, maybe a "tete-a-tete" on Sunday evenings after the kids are in bed to discuss issues that keep cropping up and how you can work together to resolve them.
"Setting time aside for yourself as a couple is so important," says Dimerman. "There often are days the only time you really see each other is falling into bed at night and you don't want to get into a discussion then, because you know you'll be awake half the night. Maybe even take a parenting class together so you can develop strategies and you're not just winging it."
And when it comes to that bickering, Dimerman says it's important to ask yourself if what you're doing is constructive or destructive.
"Always ask yourself, "Is this fair fighting? Are we talking about things that are not related to what the issue is?" Saying mean things is not going to help either," she says. "If you're in a cycle of anger and bickering with one another, it's very difficult to start fresh because it becomes a constant vicious cycle. It takes a very strong, rational person to step aside and say, "This is not going down a good road, let's stop and think where we want to go from here.""
"It's hard to be objective when you're in the middle of the fight and that's where couples counselling can be helpful, because then you have an objective observer."
Popular in the Community