"Did you hear? The protest started in Syria." I remember taking those words as good news. Two and a half years down the line, those words would embody one of the darkest moments in our young millennium.
Before the conflict, Syria to me was 'the place.' I visited with my family every other summer, where scents of lemon trees, pet turtles and corn vendors were imprinted on my memory. Now, these memories are challenged on the daily, by talk of terrorists, rebels, death tolls, chemical attacks, foreign intervention etc.
I was 10 when I was last in Syria, so my most vivid memory of this country was frozen in time as my childhood-self. With the persistent release of images, news and opinions documenting the war in Syria, I felt especially disconnected from the country. It was when I had my trip in March that I was able to re-evaluate my Syrian-Canadian identity.
In January I received a George Mason University application from my cousin to study abroad in Turkey for a Conflict Resolution course focused on the Syrian Revolution. Applying was a no-brainer but what came out of it was something I could have never expected.
The trip began in Istanbul. We explored ancient landmarks of religion such as the Blue and Red mosques. Both were displays of ingenious architecture and history that made me wonder about the godly powers of the human mind. Awed by the Turkish landscape, I had almost forgotten why I was there. When the class accidently ran into a scarf vendor named Samer, I was reminded.
A soft-spoken Syrian man, who managed to escape to Turkey at the cost of his mother, took time to share his horrific experiences with the class. The barrier between myself, a privileged Syrian westerner, and them, those experiencing the revolution first hand, had finally collapsed.
The trip continued and we were increasingly exposed to an array of personalities who painted a more accurate picture of the revolution than the media. We met a young Syrian-American man, who'd been lying elaborately over the phone to his parents about his "university courses in Sweden" while he'd really been sneaking inside Syria to video record the atrocities. There was also a veiled woman running underground newspapers on the role of women and the revolution. I slowly began to understand that the biggest players in the revolution didn't necessarily carry a weapon.
Once the course ended, my cousin and I were given the opportunity to visit the Olive Tree Refugee Camp in Atmeh Syria, a province near the Turkish border. Until that moment, I had spent the last two weeks of the trip overwhelmed by thoughts of my role in the revolution. It wasn't until I met Sebra that I knew exactly what my role was.
Before entering the camp, shallow thoughts overcame me: how will the Syrian people respond to my broken Arabic, my privileged background, or my visit all together? When I stepped inside I was shocked by the disturbing conditions. There was mud up to our shins, degrading tents and makeshift hospitals.
Despite those conditions I was welcomed by smiling faces, friendly hellos, and a warm grip on my right hand. When I looked down I saw eight-year-old Sebra, a young girl with pigtails and a huge grin. As she showed me around, her friends started to follow behind and grew in numbers. I had nearly forgotten the hospitality of Syrian people.
Throughout the trip, I wore a rainbow knitted purse. Out of nowhere, Sebra pointed at it and yelled, "Souf! Souf!" I understood most Arabic, but I was not familiar with Souf. I assumed she was saying "Nice! Nice!" so I smiled, thanked her and kept walking. But she continued to yell "SOUF! SOUF!" Clearly I was off, so I asked her to SHOW me what 'souf' meant. She smiled, held my hand and guided me to her tent. She vanished inside for a minute and reappeared with a dress; a knitted purple masterpiece.
Souf meant yarn. Suddenly, all the little girls approached me with their own unique creations, from mittens to cell phone cases and even miniskirts. When I had to say my goodbyes, Sebra voiced her concerns. Not about the lack of water, food and basic supplies, but about the lack of yarn to work with.
When I walked away I promised I would return with yarn. My last words were, "what colour?" Sebra, yelled out "purple!" while her friend yelled "Yellow!" Their faces began fading in the distance the farther I walked, but their voices remained... "PINK!", "I WANT BLUE!", "GREEN! I WANT GREEN!"
That same night, I wrote out the plan for Tight-Knit Syria, a project to help supply yarn, as well as establish an online store to sell knitted products from the Olive Tree Camp.
Six months later, I continue to spend my days in Canada working on TKS. Some days, I even become frustrated with fine-tuning of the official logo, answering infinite emails and keeping up with daily tasks. Yet every day, I remind myself that this is not a project or an organization -- it is a promise. A promise I made to a number of little girls who, despite the tragedy of their dark circumstances, continue to see the world in bright vibrant colours.
It is no surprise that the light bulb moment for TKS came among the presence of children. Before visiting Atmeh, my understanding of Syria was cemented in the perception of my 10-year-old self. Now, when the media continues to focus solely on bombs, rebels, extremist, and rising death tolls, I remember how the children of Atmeh understand Syria. I remember how, while the world remains disconnected and paralyzed by the tragedies, the children remain focused on their bright, hopeful and colourful future, which will soon pave them a street back home to their childhood. This time, inside a Free Syria.
The Purple Fig is a community where women share personal and relatable stories; no ego, no shame, no judgement. We're about life, love and all of the stuff that makes us yearn, squirm, and giggle. These stories make up the authentic and intriguing journey of a woman.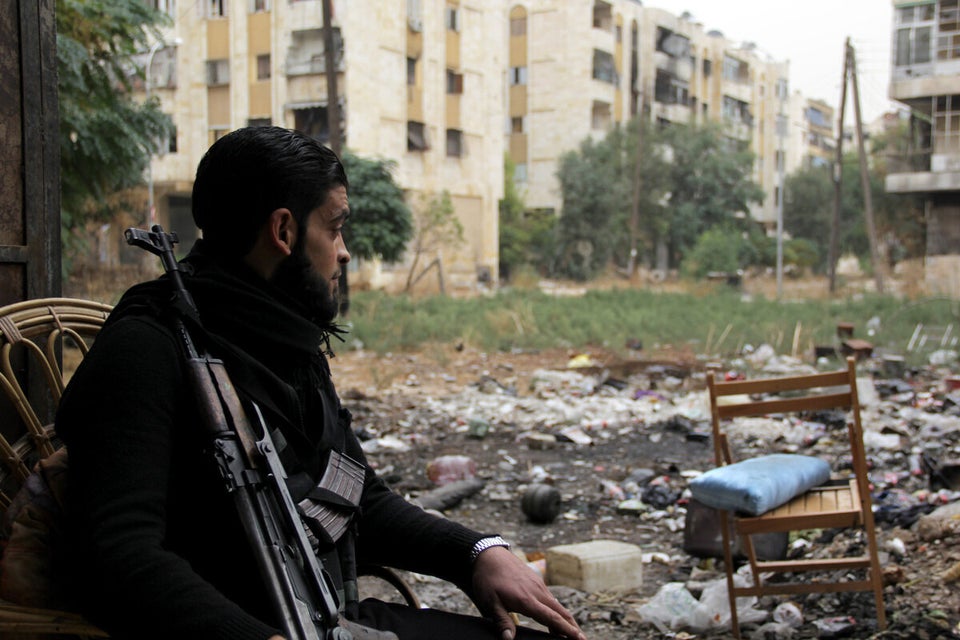 Syria War In November (WARNING: GRAPHIC IMAGES)