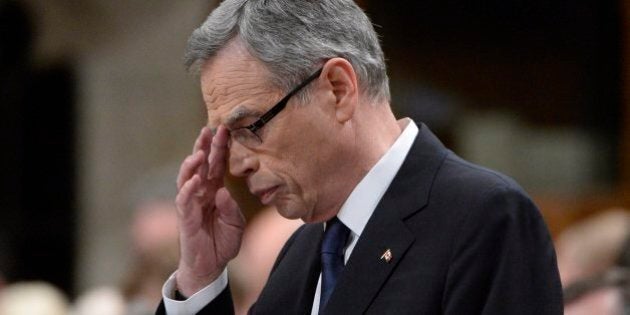 Bank of Canada Governor Stephen Poloz didn't actually use the "R" word: recession. But his monetary policy report last Wednesday said it all the same, using numbers instead of words. By projecting that Canada's economy shrank 0.5 per cent in the second quarter of 2015 (following a similar decline in the first quarter), the Bank joins a growing list of others who have concluded that Canada's economy is now in recession (traditionally defined as two consecutive quarters of negative growth).
How far has Canada's economic star fallen? Only recently Prime Minister Stephen Harper boasted that Canada's economy was "the envy of the entire world." That claim was always overstated. Now it is downright ludicrous.
The Bank of Canada cut interest rates for the second time this year, but few expect this to pull us out of the tailspin. After all, Canadians are already tapped out: household debt now exceeds 165 per cent of disposable income. And businesses are more reluctant to invest than ever -- despite expensive corporate tax cuts that drain $15 billion per year from the federal treasury. Without a strong willingness to borrow on the part of consumers or businesses, cutting interest rates is like pushing on a string.
So we must look to government for a more effective response to the recession. Unfortunately, however, that looks like another policy dead-end. Because so far the response of federal Conservatives has been as ineffectual as it is predictable: deny, point fingers, and spread fear.
Their first instinct is to deny that there's even a problem. Only ten days ago, Finance Minister Joe Oliver explicitly denied (on CBC Radio) that a recession was in the cards, and in fact continued to predict "solid growth" for Canada in 2015. In the wake of multiple weak reports on business investment, exports, retail sales, and other indicators, analysts wondered what economic planet the Finance Minister was inhabiting. Canada's economic performance has consistently lagged behind optimistic forecasts for years; now it has shifted right into reverse.
Second, when the accumulating evidence becomes too compelling to deny, the Conservatives point the finger elsewhere. Prime Minister Harper did that recently in Toronto, finally acknowledging Canada is facing a downturn, but saying "the reason for that downturn has been the downturn in the global economy." Yet the global economy is still growing (by 3.1 per cent this year, according to the Bank of Canada's most recent forecast). It's Canada's economy that is shrinking. It's hard to blame the world, when we are leading the way into negative territory.
To be sure, headlines about Greek debt restructuring and Chinese stock market volatility are worrisome. But they have not affected Canada's GDP in any measurable way. And while world oil prices are certainly a key factor in Canada's downturn, we made deliberate policy choices right here at home about how to organize our economy around world commodity markets. Government chose to forsake a more diversified, managed strategy to support innovation, investment, and exports across a broad range of value-adding industries. Instead it decided to just keep riding the oil price roller-coaster for as long as it could.
In short, this new recession, following several years of sub-par performance, is mostly self-inflicted. The government cannot evade responsibility for its decisions and actions.
Finally, the last element of the Conservatives' political response to recession is perhaps the most objectionable. They now aim to stoke fear that if any changes are made to their policy of spending austerity and misguided tax cuts, Canada's economy will be thrown into chaos. Harper, Oliver, and other Conservative ministers are now trying to capitalize politically on a recession which they themselves did so much to foster. Instead of accepting responsibility for the mess, and pledging to do better, they lash out at critics, threatening disaster if we change course.
Their claim that the coming flurry of baby bonus cheques -- a manipulative $2 billion attempt to buy votes in the coming election -- will somehow turn the economic tide, is especially insulting to our national intelligence. This pre-election giveaway is macroeconomically insignificant. Consumers are likely to save the money, anyway: they can see it's a one-time political payout, not something that really alters their budgeting. And since the end-goal of Conservative social engineering (including the baby bonus, income splitting, and other measures) is clearly to encourage stay-at-home parenting, it will in fact ultimately undermine women's labour force participation, employment, and income. It's the opposite of what the economy actually needs: support for real work, more participation, and real wages.
For years Conservatives have touted their reputation as "good economic managers" to pave their way to power. This reputation is now in tatters, and rightly so. They have squandered so much opportunity, and steered Canada into a preventable, self-inflicted recession. This country needs a dramatic change of direction.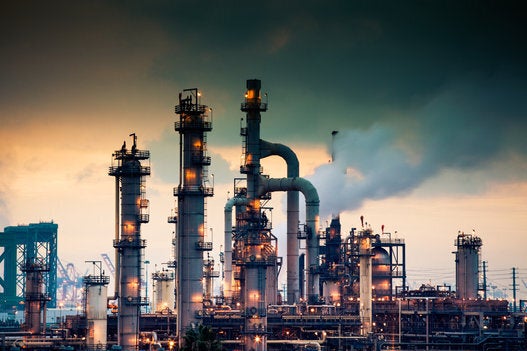 Biggest Risks To Canada's Economy 2015
Popular in the Community