On Thursday June 6, the Conservatives launched another salvo in their war against working people. Conservative back-bencher Blaine Calkins unveiled a private members' bill (C-525) that will make it far harder to form a new union and much easier to de-certify an existing one.
The legislation will eliminate so-called automatic card check in the federally-regulated sector (telecommunications, banking, transportation etc.). For decades, union certification under the Canada Labour Code has operated this way: a majority (51 per cent) of the members of a workforce are required to sign membership cards and pay five dollars to certify the union. Bill C-525 proposes to eliminate this model for federally-regulated sectors. In its place, the union certification process would require 45 per cent of the members of a bargaining unit to sign cards and once this is reached the Labour Board would call a secret-ballot vote.
There are good reasons why the card-check model has been practiced in federally-regulated sectors. For one, it can be difficult to organize votes for bargaining units spread across the country and transport sector employees are regularly in different places. More importantly, the card-check process protects workers from intimidation. It's widely understood -- confirmed by many academic studies -- that secret-ballot workplace votes reduce union certification as they give employers an opportunity to intimidate employees through compulsory anti-union meetings and implicit threats of job loss.
Not only would C-525 lead to greater employer intimidation, it heavily slants certification votes against unions. In a reversal of long-standing voting traditions, Bill C-525 would require unions receive more than 50 percent of members votes of the proposed bargaining unit rather than 50 percent of votes cast. This means that those who don't vote (maybe because they were on vacation or the employer dissuaded them) are effectively deemed to have voted against unionization. No provincial labour code has this type of provision.
As the president of the Canadian Auto Workers Ken Lewenza pointed out:
"If this same distorted standard of democracy were applied to federal MPs, there would not be a single Conservative member sitting in the House of Commons today. There is no MP in Canada who was elected by over 50 per cent of the voting-age adults in their riding. Why on earth should this test apply to unions, but not MPs?"
The same anti-union bias is at play during a decertification vote. Over 50 percent of the bargaining unit would have to cast a ballot -- regardless of turnout -- in favor of the union to prevent decertification. This will allow a decertification without majority support.
The Conservatives' hostility to organized workers is so strong that they've launched this latest attack even before the Senate has voted on another one of their anti-union private members bills. Currently before the upper chamber, Bill C-377 (An Act to Amend the Income Tax Act (labour organizations)) would require every trade union and labour trust to file a public information return with the Canada Revenue Agency on all expenditures over $5,000. It also mandates that labour organizations detail the percentage of time they dedicate to political and lobbying activities. While they've justified this burdensome bill on the grounds that union dues are tax-deductible, the Conservatives are not requiring other professional associations with the same tax status, such as the Canadian Medical Association or Law Societies, to follow the terms of Bill C-377.
In what would be an even more radical attack on collective bargaining, the forthcoming Conservative party convention will debate a series of resolutions that would effectively eliminate unions' financial security and the so-called Rand formula. One proposal explicitly calls for a U.S.-style "right to work legislation to allow optional union membership."
Beyond organized labour, the Conservatives have tried to suppress Canadian workers' wages and conditions by expanding the Temporary Foreign Worker Program, driving down public-sector work conditions and curtailing Employment Insurance benefits. Bill C-525 needs to be seen in the context of the government's low-wage strategy. It's the latest step in the Conservatives' bid to reduce workers' power to the benefit of the business class.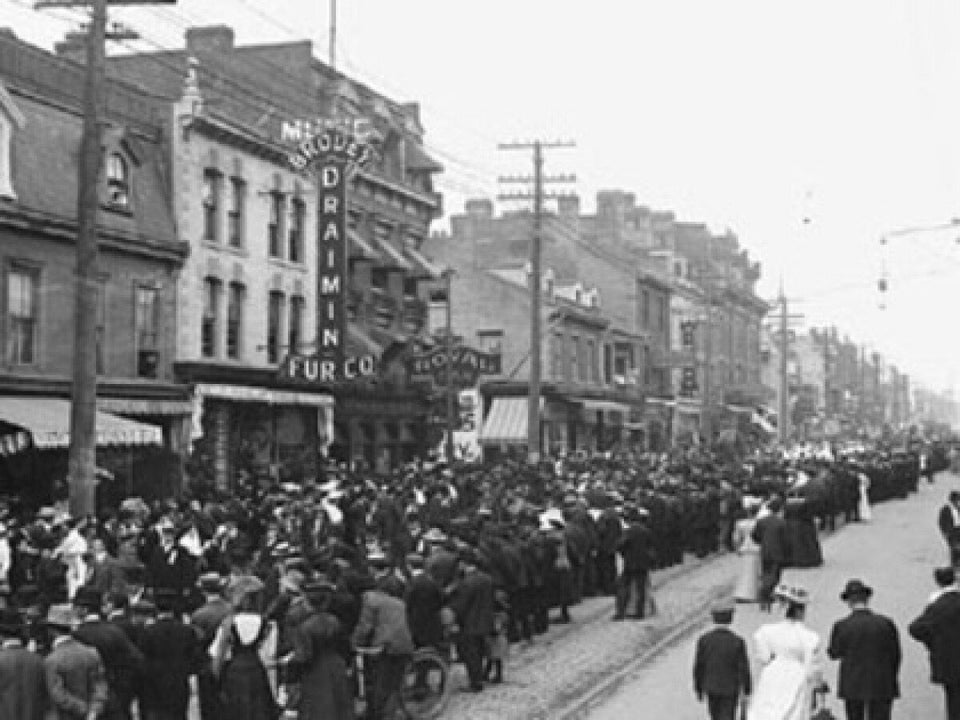 Flashpoints In History Of Canadian Labour
Popular in the Community