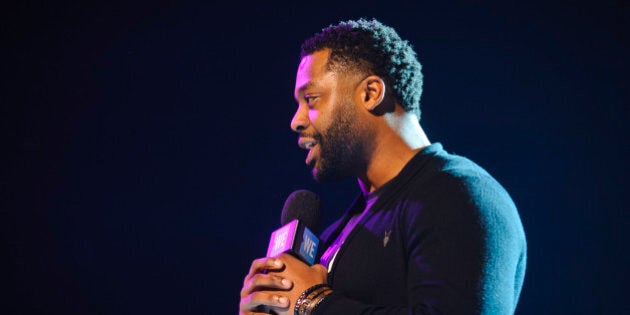 There are two days that set you on your path in life: the day you're born, and the day you realize why you were born.
It took me more than a few years to learn that lesson. Growing up south of Chicago in Harvey, Illinois —surrounded by poverty — most people just had their heads down trying to make it from point A to point B. I was the same way, caught up in the hustle just going with the flow. I played basketball in high school because I was good at it — and because other people thought I should.
Until I discovered my gift.
I quit basketball and started doing speeches. It wasn't a popular decision but my grandfather told me to do what made me happy. I fell in love with comedy and performing. And when I discovered that passion, I realized why I was born.
There were days when I didn't have a dollar in my pocket. I'll never forget borrowing money from my little sister, so that I could pay for a train ticket downtown to make it to auditions. But even when I had nothing else, I knew I had something to offer — I knew that not only am I powerful, but I can make a difference.
I hope for a world where people can come from any background, from any situation, and use their gifts to realize their dreams.
I realized a long time ago that my dream is not to be famous or rich. My gift is to entertain. But it's more than that. I have the chance to reach people, to brighten days, to bring laughter and positive energy into lives and inspire. And I am grateful for it.
Acting and auditioning, putting myself out there and having doors closed on me time and time again has taught me a lot about myself. I have learned to trust what I have to offer the world over momentary doubt. I've learned to put my faith over my feelings. And I've grown a tough skin. More importantly, I have learned there is a long arc towards our goals and that when we put our gifts and passion to work, we determine our value.
Like a lot of places across the country, there's poverty in Harvey. There's crime, violence and unemployment. And growing up there, a lot of people have tragically low expectations for life. But I know that with the right opportunity and with mentors to help along the way, everyone can find their passion and pursue it. My life is proof.
If I had a super power, I'd be Gift Man. I'd be Santa Claus, dropping off gifts to young people. But not toys. Not material gifts. I'd be giving people the chance to realize the real gifts they have inside them. If we can identify those gifts as early as possible -- like my grandfather did for me -- we can help people find their purpose. I hope for a world where people can come from any background, from any situation, and use their gifts to realize their dreams.
Follow HuffPost Canada Blogs on Facebook