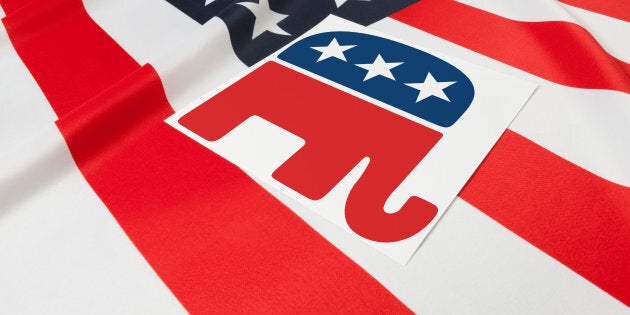 "Extremes to the right and to the left of any political dispute are always wrong," wrote Republican president Dwight D. Eisenhower during a particularly troubling occasion during his tenure in office. How would he feel today, if he witnessed that sage advice being spurned by his own party?
The Republican Party in America appears to be slowly losing whatever cohesion it may have possessed prior to Donald Trump's remarkable election win last November. As it wrestles with foreign intrigues and domestic extremes, it appears as a party lost in the proverbial wilderness even after winning the promised land of electoral success only a few months ago.
Despite the extremes, the Grand Old Party (GOP) still contains many moderate and experienced voices that for whatever reason have gone silent instead of rogue. Many had hoped that, following his surprise election win, Donald Trump would himself become more moderate as he listened to the experienced lights in the party and in the public service. They held their breath but it wasn't to be – the president is just as unpredictable as during the campaign, only with the keys of ultimate power in his hands. What are they to do?
They remember those better days, when the Republican Party successfully found common ground with their opponents, regardless of who was in power. They were diplomatic women and men who, despite their differences, reached across the aisle on those initiatives vital for the country – infrastructure, the Cold War, civil rights, education and Social Security, and many more. These individuals still exist yet have opted to remain largely quiet as the extremes of their party slowly drag it to shreds in polarized directions.
Could the example of one of their great predecessors, Margaret Chase Smith, yet stir them to take a principled stand?
Reams of books on the turbulent times of Senator Joseph McCarthy fill shelves, especially in the Senate library, yet there are no books on Smith, despite her remarkable courage and insightful reasoning at one of those pivotal points in American history where a darker path could have been taken. She first served in the House of Representatives and then as a Senator from 1949 -1973 – the first woman to do so. She was a Republican from Main – the first woman to represent that state in both Houses – and, more importantly for our purposes here, was a deeply respected moderate.
When McCarthy had gone too far in his Communist witch hunts and began dragging the Republican Party down with him, Smith gave one of the most stirring speeches in the Capitol, titling it, "The Declaration of Conscience." Here words now speak for themselves, and must surely speak to moderate Republicans in their present dilemma. She rose in the Senate to say:
"I speak as a Republican. I speak as a woman. I speak as a United States senator. I speak as an American. I don't want to see the Republican Party ride to political victory on the Four Horsemen of calumny – fear, ignorance, bigotry and smear ... I think that it is high time for the United States Senate and its members to do some soul-searching -- for us to weigh our consciences -- on the manner in which we are performing our duty to the people of America -- on the manner in which we are using or abusing our individual powers and privileges."
It was enough and it was monumental. Many of her fellow Republicans in the Senate came to their senses, largely through her challenge, and before long McCarthy was gone and the party he threatened to defile recaptured its conscience and its future.
Here was a woman of her time, and of all time, reminding her party that acquiring power at the expense of conscience is merely a deal with the devil. Powerful individuals listened to her on that day and the better angels of their natures captured their imaginations. The decisions they made over the next few months permitted the Republican Party to regain its footing and its fitting place in Washington.
Republicans control both Houses and the Executive, but decades of moderate leadership have given way, first to extremes and now to possible anarchy. Margaret Chase Smith's counsel is still there for them to consider and her portrait yet hangs in the Senate gallery above them to witness their actions. Though dead since 1995, her voice still calls to her compatriots, urging them to stand not only for their own conscience, but equally for the future of the very nation they profess to love and serve.
Follow HuffPost Canada Blogs on Facebook