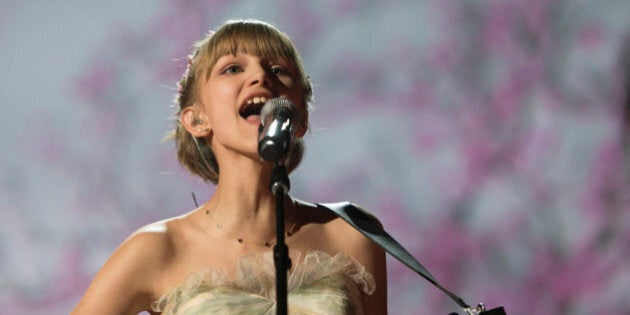 As a singer-songwriter, I don't want to be like Taylor Swift-I just want to be Grace. But there are people in my life -- like my parents -- that open my eyes and make me say, "I want to be like them, too."
Everyone has people they look up to. It could be someone you've known all your life, like a friend, an aunt or a sister. For me, it's the ones I bump into in my everyday life -- complete strangers who are so full of happiness.
For the most part, they are older; but there are always those few kids that are open and eager to greet the world with a big smile. With everything that's going on and the way people use the Internet and social media, there are tons of things that could go wrong with the next generation.
But these strangers -- who have no idea who I am -- are so sweet to me; they give me hope. They are the ones who will shape what we want our world to be. They make me want to walk around and do amazing things for others.
I've learned from their example -- and if I had a super power, I would take their happiness and pass it along. I would reach out to others and make them genuinely happy.
Kindness doesn't mean you have to hide what you think.
I am passionate about supporting people who need it, like those affected by gun violence and the LGBTQ community. I think equality is so important, more than anything else.
I also like to do things locally, for the people I feel most connected to and those that I know. I have a lot of ukuleles now, so I've decided to give them away to schools short on money, where music programs have been cut.
I've also started a music scholarship fund, so kids can follow their dreams no matter what. I think it's important for kids to know that they don't need to be rich to be successful. They can be anyone.
I'm so thankful to be told I inspire others. It doesn't matter who you are... everyone can use something they love to inspire others.
In life, I always try to be kind, but kindness doesn't mean you have to hide what you think. You really need to learn that you can be kind while still having your own opinion.
And it's a cliché thing to say, but follow your gut. I try not to dwell on things; I know it will just make me unhappy in the end. For now, I'm just taking things one step at a time.
Follow HuffPost Canada Blogs on Facebook