In her mid-70s, Rev. Audrey Brooks, a Unitarian Chaplain at the University of Alberta, is an active member of Edmonton raging grannies, a group that raises consciousness on peace, environment and social concerns. She is heavily involved in numerous interfaith and social causes including being a long time volunteer at Camp Fyrefly, a retreat for queer youth to develop leadership skills and personal resiliency.
Since 2006, she has been hosting the annual genocide memorial as a response to atrocities committed against civilians caught in the violence of war or genocide. Usually in the third week of July, she invites community members to her home to reflect on the horrors inflicted by human beings. She also encourages them to place a memorial stone for those who lost their lives in man-made catastrophes. So far there are about 35 memorial stones in the dry riverbed. She states that, "people stop and meditate and even kneel down and pray there."
Yesterday, however, she was quite taken aback, as the memorial site was desecrated. She finds it odd that the vandals would take the 300 lbs heavy memorial stone bench a yard away and dump it on its back. According to CBC, police are investigating but not treating the incident as a hate crime. However, Rev. Brooks, whom I endearingly refer to as Mummy, is devastated. She wrote:
"I think it was someone who read the words on the plaque and hates the concept of a witness to genocide, and some of the reasons why there is a Genocide Memorial Garden."
Last year, she invited Seth Muhima Rubarake, who survived the 1994 Tutsi genocide, as the keynote speaker. Speakers included Jinah Woo from South Korea, who spoke about physical abuse and loss of culture under imperial Japan. Domina Lufuma broke down in tears describing the horrors of rape in Congo. Both Rabbi Shimon Moch and I also spoke one after another as Jewish and Muslim speakers respectively.
On July 19, this year she hosted the 7th annual genocide memorial. Speakers included Rev. Emmanuel Gatera, who shared about his work on assisting survivors of the Rwandan genocide. He harrowingly mentioned losing about 200 members of his family and friends in the 1994 massacre. Sona Vardanyan raised concerns on Turkish denial of the Armenian Holocaust. Along with members of the Armenian community, she placed a large stone in the Memorial garden honouring those murdered in the Armenian genocide.
For the past two years, Paula Kirman has helped take photographs and video the memorials. Affiliated with Independent Jewish Voices, she lives her value of tikkun olam (healing the world) despite any personal costs. On her part, Rev. Brooks has also actively participated in gatherings that included Jews and Muslims of various denominations to reflect on concerns related to the Israel-Palestine conflict.
Rev. Brooks, has offered refuge to many people who needed help, letting them stay with her, connecting them with resources, gently encouraging them or simply by listening to them graciously. This time, she needs our help. She would need help in setting up the memorial site again. She would also like to have a service to rededicate the memorial stones.
An Urdu poet had written that man was created to show empathy for angels were sufficient for worship. I hope community leaders can all band together and collectively stand by her through words and action.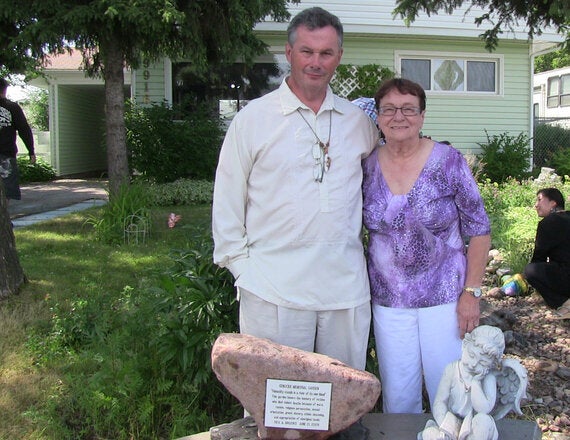 Rev. Audrey Brooks with Rev. Brian Kiely at the 6th annual genocide memorial; courtesy: Paula Kirman, Edmonton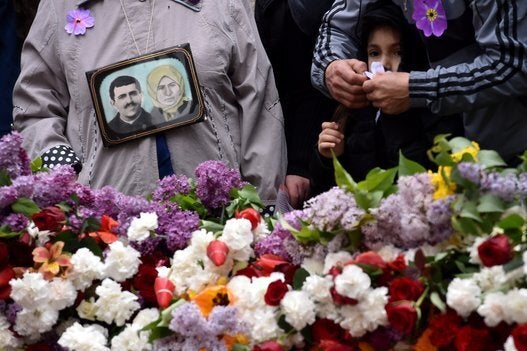 World Marks Armenian Genocide Centenary