Move over, Calgary. Edmonton wants to usurp the title of tallest tower in the west.
A proposed, 71-storey skyscraper, dubbed "The Edmontonian," would be the second tallest tower in Canada and the tallest west of Toronto, if approved.
According to CBC Edmonton the 278-metre building, proposed by project developer BCM Developments, would be built near downtown's Epcor Tower - currently Edmonton's tallest building at 149 metres.
It would also dwarf Alberta's current tallest tower, Calgary's Bow Tower (236 metres) as well as Brookfield Place, a building under construction in Calgary that, when finished in 2018, will hold the title of tallest skyscraper in western Canada at 247 metres.
Story continues after the slideshow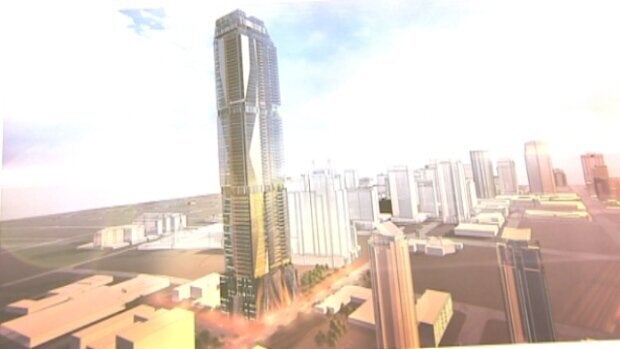 The Edmontonian: Proposed 71-Storey Building
Global News reports The Edmontonian would be home to condos, office suites, a five-star hotel and restaurant, a bar and sky gardens. LED and laser lighting would illuminate the outside of the building.
Hartwig told Global News the firm believes bigger is better for the brand new building.
"It's good that people want to invest in downtown, but that doesn't mean we are going to approve any proposal that comes forward."
Popular in the Community