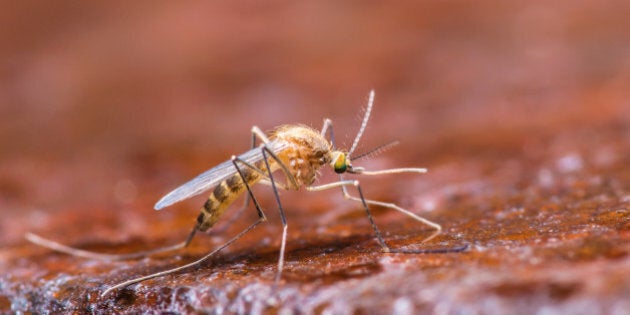 Earlier this month, as I travelled through the West African nation of Liberia, I considered what it would take to permanently defeat the malaria epidemic, one of the world's deadliest diseases. Malaria is a tricky opponent: nearly half of the world's population is at risk, and it's spread by the unassuming but ubiquitous mosquito. Malaria causes fever and death if left untreated, and kills approximately half a million people each year. In Africa, it's the leading cause of death for children under five.
Despite these grim figures, there is a lot to celebrate when it comes to malaria prevention. According to the World Health Organization, new cases of malaria around the world have decreased by 37% in the past 15 years and death from malaria has decreased by 65% among young children.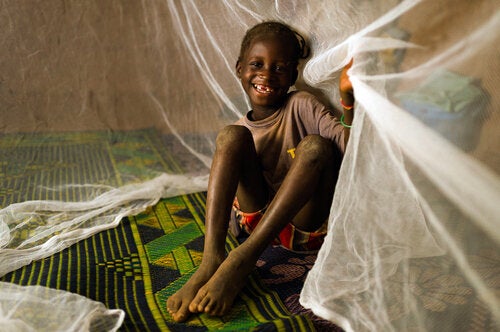 Sainata from Burkina Faso sits under her mosquito net.
(Photo: Plan International/Nyani Quarmyne)
On World Malaria Day, it's worth exploring how we can build on these successes. This year, the World Health Organization is calling on the global community to "end malaria for good" by lowering the global malaria burden over the next 15 years, and reducing malaria death rates by at least 90%. We still have a long way to go, but the end of the malaria epidemic may finally be in sight, and could even be achieved within our lifetime.
Mosquitoes, the most common vessels for malaria, are tough to spot, and even tougher to eliminate, so preventive measures like bed nets remain one of the most effective means of avoiding malaria. However, bed nets can only be effective when they make their way into the homes of people who understand how and why to use them. Community health workers are the key to effective bed net distribution and usage, and as progress over the past 15 years demonstrates, their contributions are making a vital difference.
Health workers are the catalysts of Plan International Canada's programs and a huge factor in the success of our malaria prevention programs in countries like Liberia, Guinea, Burkina Faso, and many more. I've seen firsthand the immense skill of health workers as they visit homes and communities in rural West Africa. They show families how to set up the nets in their homes, and they engage the community in discussions about how to prevent and treat the disease, building trust and support along the way. They know that their work can mean the difference between life and death for the people they're speaking with on a day-to-day basis.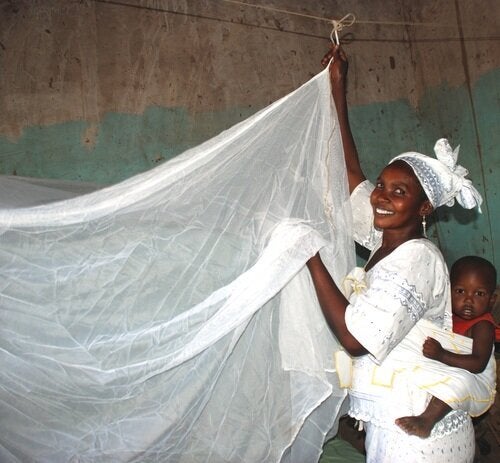 A mother in Mali erects a net above her bed.
(Photo: Plan International)
When they visit communities to distribute bed nets, community health workers are provided with training on how to use and distribute bed nets. It's then up to them to translate those instructions into the languages, stories or cultural touch points that will make the most sense to local community members and to ensure the goals of the bed net distribution are met. In Guinea, for example, community health workers translate health information into dozens of local languages. They also spend time explaining the need for nets and motivating people with stories. Sometimes health workers refer to prominent locals who use mosquito nets, inspiring others to do the same.
During one of my visits to Liberia, I asked a community health worker how she manages to convince people in her community to use nets. She told me that during her regular house-to-house visits she tells a story about a well-known person in the community who got malaria, and then had to walk more than five kilometers to a clinic just to get anti-malaria medication. She asked them, "Imagine if you get sick like that? Would you want walk all that distance?" These are big questions in regions of the world where people don't have access to health clinics nearby.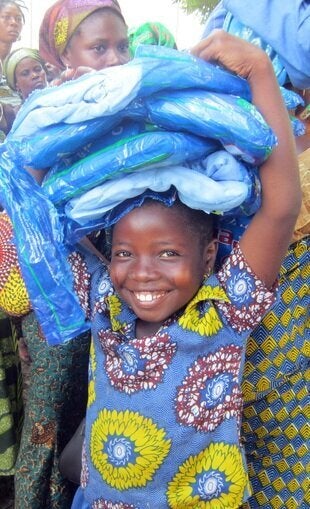 A girl in Togo carries bed nets provided by Plan International.
(Photo: Plan International)
In Canada, we tend to take our transportation and healthcare systems for granted. In West Africa, Plan International's partners mobilize tens of thousands of people to distribute mosquito nets by foot and even by canoes in communities not accessible by roads. Community health workers carry bales of nets on their heads and walk several kilometers to distribute them. They may also transport the nets by bicycle, by donkey, and other methods to make sure that the bed nets get to where they need to go. Fundamentally, their job is to go door-to-door and build relationships with their fellow community members, because it's not enough to simply hand out nets.
Over the years, Plan International has worked with local partners and community health workers to distribute more than 36 million bed nets -- life-saving nets that protect 55 million people.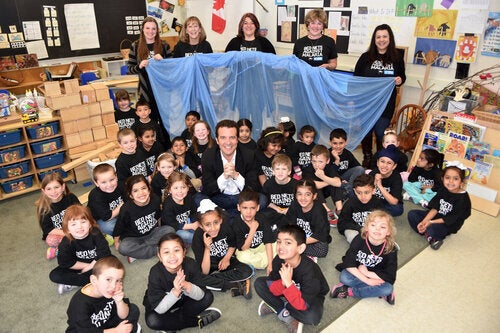 Plan International Canada Celebrated Ambassador Rick Mercer with students from Macville Public School, one of this year's Spread the Net Student Challenge winners.
(Photo: Plan International Canada)
Participants in Plan International Canada's annual Spread the Net Student Challenge have been an enthusiastic part of this success. With encouragement from co-founder Rick Mercer, youth from more than 750 schools across Canada have raised nearly $1.5 million for malaria prevention over the past nine years, funding enough nets to protect 9.6 million people from malaria.
This World Malaria Day, let's celebrate our successes both domestically and globally, but also recognize what we stand to achieve. Let's use the momentum of our recent accomplishments to motivate us as we move into what could very well be the final years of the malaria epidemic. We'll go door to door, village to village and country to country to rid the world of this deadly disease. Together, we'll end the malaria epidemic by 2030.
Adam Graham is a Senior Program Manager with Plan International Canada and a community health advocate.
Follow HuffPost Canada Blogs on Facebook