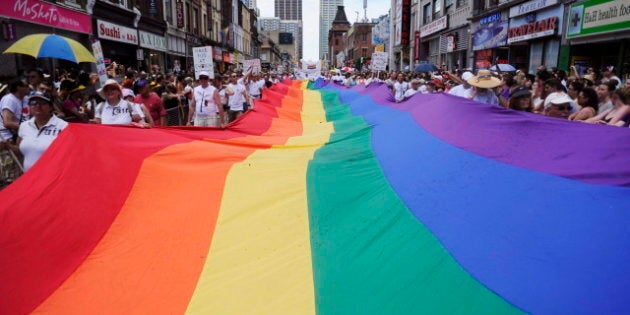 Another Canada Day, another successful Pride Parade along the streets of downtown Toronto. As in previous years one of the largest parades of its kind saw hundreds of thousands of people lining Bloor street as the parade slowly made its way west towards Yonge. And then south on Yonge where the streets were lined sometimes ten deep with some folks hanging out of second and third floor windows whistling, cheering and making merry.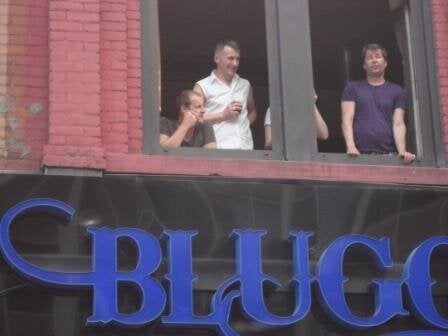 The Parade itself covers less than a mile or two of Toronto's streets but the geography is far less important than the message it sends. It was only 30 years ago this February that Toronto Police raided the city's gay bathhouses, arresting more than 300 innocent men. It was an obvious attempt by government and police to send a message to the gay and lesbian community that they were unwanted. It was a bleak homophobic targeting of an entire community and too many of us remained silent.
But now, it's a celebration. And let's be clear, the Pride Parade is an adult celebration. Along with many supporters of LGBTQ, many dressed in exotic, tantalizing and, yes, even sexy outfits. Many come as much to gape as to participate. There is nudity and there will be those who would find it offensive. They are best advised to stay home and please it really is not a place for children. Other than that the floats, parade participants, parade watchers and gawkers and yes even Metro's finest just enjoyed the day.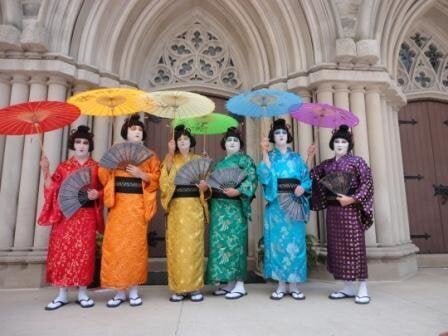 And don't believe for a moment that this was a parade only for the LGBTQ community. Perhaps it began that way but now virtually every retail outlet, banking institution and more either participate or sponsor the march. From Loblaws and Via Rail to Pizza Pizza and HomeSense; Google, Bud Light, Tourism Toronto, Trojans, TD Bank and many more helped sponsor this year's Parade.
The list of participants is an entirely different story. Well over a hundred groups applied to march this year. And they were as varied as they were numerous. The list included such unlikely participants as the Canadian Armed Forces, a bevy of Police Services including, Toronto, Durham, Peel, Niagara, and the OPP, Fort Henry Guards, the Toronto Association of Veterinary Technicians and too many more to mention.
There were of course the expected, a buffet of Pride and LGBTQ and two-spirited organizations, three political parties, the Liberal Party of Ontario, the Green Party, as well as the Ontario NDP were also registered marchers. And interestingly a number of faith-based groups and churches including the United Church of Canada, the Unitarian Church, Jewish Family and Child, Ismaili Queers: Advocates for pluralism, the Iranian Queer organization, Kulanu (the Jewish LGBTQ group with whom my wife and I and almost one hundred other supporters marched with), Catholics attracted to the same sex, and countless others.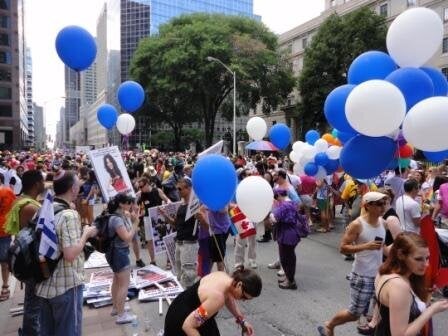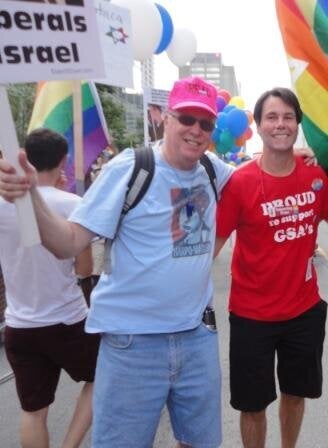 The author with Hon. Eric Hoskins, MPP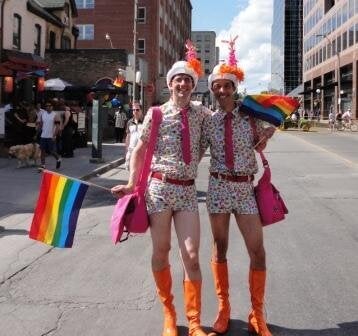 It was a beautiful summer day in Toronto, a nice breeze helped as did many a folk lining the parade route with water guns helping to bring the marchers cool respite. I spoke with a few representatives from PFLAG (Parents, Families and Friends of Lesbians and Gays), a terrific support group who help scared youth unsure of where to turn as well as parents confused and even angered by their children's sexuality.
The group provides a supportive atmosphere where stories can be shared and attitudes changed. As in previous years Maple Leaf General Manager Brian Burke, whose son tragically died in an auto accident only a couple years after he told his father that he was gay, marched at the head of the PFLAG contingent.
Even the politics seemed more subdued. While this year a Disputes Resolutions panel agreed that QiAIA (Queers against Israeli Apartheid) could march in the parade, its numbers as reported by the Jewish Tribune were half that of the Kulanu revelers and their message muted with apparently no mentioning of "apartheid" other than in their name. Within our contingent which included a number of Rabbis, Jewish LGBTQ, their parents and supporters even some local politicians, the emphasis was on Israel as a country that accepts gays and lesbians in all parts of the country's life from the Israel defence Forces, to Police and government. Indeed Tel-Aviv and Jerusalem are the only places in the Middle East with Pride Parades of their own.
We've come a long way since the days of the bathhouse raid, but given the ongoing bullying still being faced by LGBTQ youth we have much further to travel. The difference this time is that the LGBTQ community has the clear and unprecedented support of government, police and most other decent folk who are working together to erase homophobia. May we go from strength to strength.
Popular in the Community