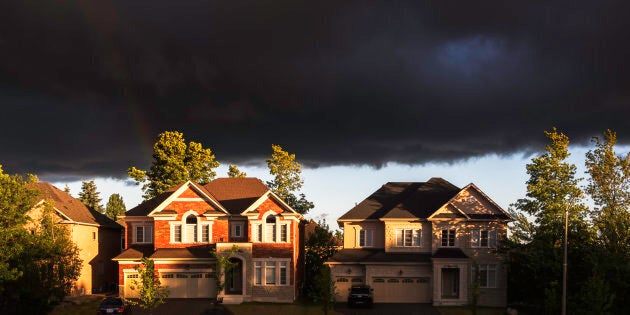 Toronto real estate had a sudden surge last year, and we're finally starting to get a better picture of what happened. New statistics released by the Toronto Real Estate Board (TREB) once again confirm everyone didn't just wake up to a shortage of land overnight. Instead it appears that speculators saw a gold rush, adding pressure to prices that sent emotional buyers into a bidding frenzy.
Sold in less than a year
A surprising number of properties in the City of Toronto have been bought and sold in less than a year. In 2016, TREB said it was "less than five per cent" but stopped short of giving a number. In just the first five months of 2017 however, it accounted for seven per cent of transactions. TREB called this "a very small share," but to give it context it's about twice as large as Toronto's luxury market. Also probably worth noting here that Toronto's luxury market is considered one of the hottest in the world. In case you didn't catch that, seven per cent of the properties that were sold this year were bought less than 12 months ago -- right around when prices started taking off.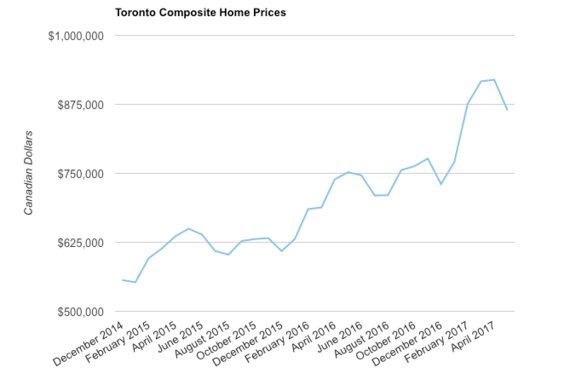 According to TREB, seven per cent of home sales between December 2016 and April 2017 were bought less than 12 months ago. In this period prices rose 25.89 per cent. To contrast, the same period in the year prior was only 14.25 per cent. (Source: TREB)
Foreign buyers are a smaller segment
Foreign buyers represented another "small share." From the third quarter of 2015 to the third quarter of 2016, 4.9 per cent of transactions were conducted by "foreign buyers." These aren't the foreign buyers looking for assignment flips, and guaranteed cap rate investments like in Vancouver. In 2016, 91.5 per cent of these buyers bought their home to move into, likely implying many of these were immigrants. Less than one per cent had mailing addresses outside of Canada, and TREB found the majority of addresses were in the United States.
Domestic speculation running high
Most of the larger brokerages in Toronto have been telling us that domestic speculators are a larger segment than foreign buyers, and TREB just confirmed that, too. In the Greater Toronto Area-Hamilton economic zone, 6.2 per cent of homeowners own more than one home. Not 6.2 per cent of transactions in the past few months -- 6.2 per cent of all homes. This is in line with the number the Ministry of Finance released just a few weeks ago.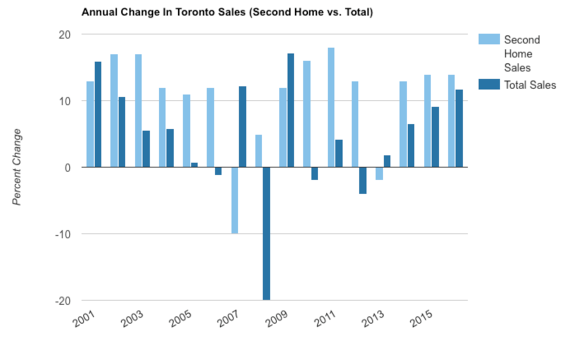 Second home buyers are GTA residents that are registered to multiple property records in the same area. They're only counted once, even if they appeared 15 times. Note, 2007 was a drop, but the Ministry of Finance says this was due to a change in recording standards. (Source: TREB, MPAC, Ministry of Finance and Better Dwelling)
Sure, some might be informal landlords, but the cap rates don't make economic sense. If you're not familiar with the term, that means home prices in Toronto can't be made up with rental income in an efficient way. Most purchases return around two per cent in rental income, which means you'll lose money on a mortgage annually.
Toronto needs to continue building to prevent an actual housing crisis in the future.
Follow HuffPost Canada Blogs on Facebook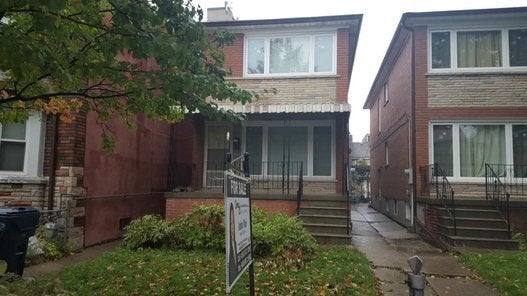 What an average Toronto house will buy you across Canada