Sometimes during the summer, humidity and heat give way to what matters: cool temperatures, cold wind, and the reminder that one day, fall will be here.
And we promise you – it's coming. In what will seem like no time at all, we'll be laughing at July and August, proving that while they briefly caused frizzy hair and sunburns, we (the lovers of the good season) have won and fall 2014 fashion will be in full swing.
In fact, we can start winning – in the non-Charlie Sheen sense of the word – even now. Because while Fall/Winter doesn't technically start until back to school, you can get a jump start on next season's big looks by picking some of them up now. This is for you, summer-hating brothers and sisters. Autumn is whenever we say.
Story below the slideshow: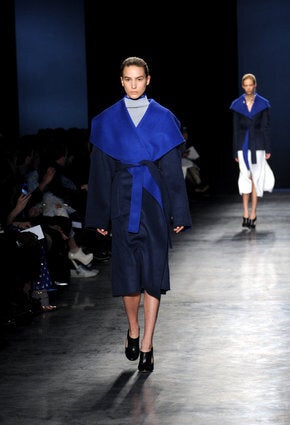 Fall 2014 Fashion Trends You Need Now
Regular vintage-wearers, we know you've been decked out in '60s mini-dresses since the beginning of time. But for the rest of us, we may need a reminder that you can run with the Fall/Winter '60s mini-dress trend starting now. Take a page from the books of Saint Laurent and Miu Miu, but wear your pieces without tights or without a jacket to make the dress more summer-appropriate. (Or more specifically, cool enough that you can wear it when it's 30 degrees.)
Here's some great news about Fall 2014: it isn't boring. Even if on the most casual pieces, bright, loud, novelty prints bring looks to life, proven by the likes of Issa or Markus Lupfer. Summer is the perfect starting point, so raise your proverbial voice with colours and graphics that aren't afraid to be seen.
Gold isn't just for winter holidays anymore, and frankly, that's something we can all appreciate. True, Prada used the tone on a jacket, but Carven combined the look with the season's '60s trend (it's all happening, guys), which adds to the autumn's vintage kitsch vibe. So: you can get a jump start this summer by donning as much faux gold jewelry as you're comfortable with, or doing the bag or crop top thing in a metallic. Or, if you're brave (or have an event to wear it to), combine the '60s cut with a gold fabric and make wannabe mods proud.
Breathe easy everyone not ready to wear Adidas pants as often we did in 1998: 2014's "sportswear" translates to quilted mini-dresses and silk shorts (at least according to pieces by Miu Miu and Fendi). Which is why you can start adopting the trend now: in place of jackets or sweatshirts, opt for a tank top or t-shirt – or even make the look somewhat office appropriate by pairing shorts with a button-up blouse. This is your version of athleticism, and we're just living in it.
6. Put A Bird On It (Or, Animal Embroidery)
Look, we're going to be honest: we think "put a bird on it" is still okay as long as it legitimately applies to the situation at hand. In this case, collections by Giles and Markus Lupfer literally did just that. (They put a bird on it. And by "it" we mean "shirts and dresses.") Whether via graphic t-shirts (that you can wear now) or sweaters covered in animal prints, the time has come for another visit to the wilderness. Pay homage to the outdoors starting now, and all through fall and winter.
If you've watched "The Craft" as much as most millennials have, you'll know that whether sun, rain, snow, or smog advisory, it's always okay to channel your gothic self. Fortunately, Emporio Armani and Erdem understand (thankfully), and while velvet is arguably heavier than cotton or linen, if worn as part of a mini-dress (or with something sheer), it's easier to adapt for summer temperatures. So let that goth flag fly – because Nancy Downs sure would.
It's as if halfway through writing this story, Fendi and Michael Kors were like, "Fall pieces you can wear in the summer? Here you go." Enter: the short-but-midi skirts, which are ankle-length styles that are sheer from the thigh down. If transition pieces had to be defined by one style, we've officially found it.
Praise the fashion gods that be: Fall/Winter 2014 is just as colourful as Fall/Winter 2013. While there's more than enough neutral representation, neon still has a place in the season's colour spectrum, as proven by styles in collections by Alexander Wang and Bluemarine. Like the prints and embellishments we've been seeing, colour is bright, fearless, and commanding. Which means you can get a jump start on the trend this summer by donning neon now.
We told you colour has a place in the next few months. In addition to brights and bolds, pastels (yes pastels) will make their way into the fall circuit, courtesy of collections by Christopher Kane and Marc Jacobs. This means that instead of putting spring and summer clothes away (not that you would – none of us would, what do people want from us?), you can pair them with sweaters, jackets, tights, and boots. Turns out 2014's mix-and-match legacy live on through the end, and thank goodness, too: style becomes so much more interesting, that way.
Get more fashion and beauty tips on our Pinterest page
Popular in the Community