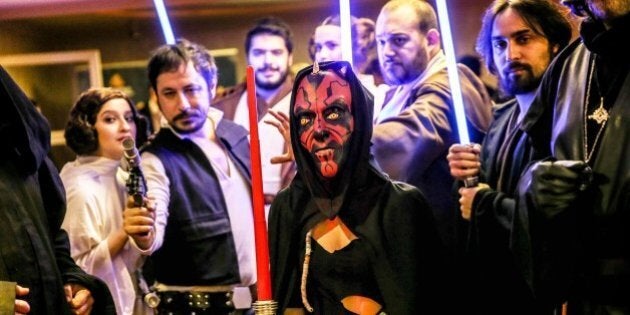 Star Wars Episode VII has finally arrived. Now comes the $64-million dollar question: does it live up to expectations, and most critically from the Star Wars fans' point of view?
I'm qualified as a fan for I've watched all the Star Wars movies, its animation series and played all its PC games with my young son (by the time Star Wars reached PlayStation, he was old enough to play by himself or with his friends). There is no doubt that my son and I are true Star Wars fans.
The Force Awakens has indeed met my 15-year-old son's expectations. For Disney, that is the most crucial measure of their more than $200-million investment -- the reception of teenagers. A major challenge for the Mickey Mouse company and J.J. Abrams was to revitalize the force of the George Lucas franchise and to reinvigorate the passion of the next generation. In this respect, The Force Awakens is a success, and I never had a doubt that it would beat every box office record, making $247 million in its opening weekend.
It is indeed an ambitious effort to re-ignite the Star Wars fire, with a complex story commencing with new young leading roles, then joined by Han Solo, Chewbacca, Leia and even the old master himself. Abrams has mastered the previous Star Wars movies so well that he could condense the first three movies -- A New Hope, The Empire Strikes Back and Return of the Jedi -- into a single episode.
His handling of special effects is especially apparent in battles between the Millennium Falcon, X-wings and TIE fighters, not to mention his inclusion of grand set pieces like a ruined battle cruiser deteriorating in the desert of Jakku. Since most of my readers have yet to watch the movie, I must stop revealing more...
The Force Awakens is a very well-made entertainment movie. To me, although the force is back, it is not as strong as anticipated. It has yet to reach the extraordinary standards that Abrams set in his remake of Star Trek, as well as Daniel Craig's reinvigoration of James Bond. To be specific, there is a deficiency in inspiration, exhilaration, dazzle and forceful characters.
It was great watching all the familiar faces, settings and the fighting, but the movie lacks the upgrades of its contemporaries, something Abrams is famous for. His Star Trek characters are colourful and full of passion. The renewed Starship Enterprise and the angle of filming were spectacular; even the characters' uniforms were fascinating.
Rather than remaking Star Wars, Abram chooses to follow the path set by Lucas. No doubt Abrams has successfully awakened the force -- the saga will continue and its future looks bright, but the force is a little dimmer than before.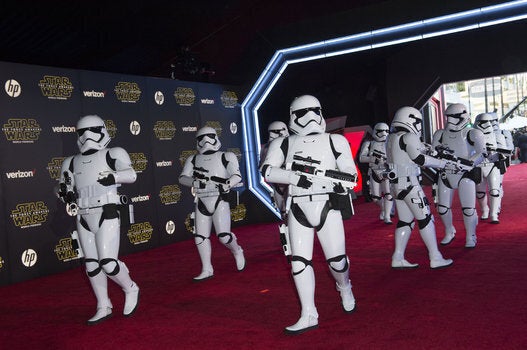 'Star Wars: The Force Awakens' Premiere