This past summer, I covered the 7th G(irls)20 Summit. As the Official Global Correspondent I learnt about the G20 and how it operates. I worked with high potential young women from around the world to develop and formulate a detailed communiqué, which was presented to G20 Leaders before they met in China. The purpose of this was to help G20 Leaders keep their 2014 commitment to reduce the gender gap in labour force participation by 25 per cent by 2025, and create 100 million jobs for women in the labor force.
As I look back upon my time spent in Beijing, I marvel at the opportunity I was given. At 14 years old, I had the invaluable experience of meeting successful CEOs, Ministers, Ambassadors and most importantly, the delegates. Ranging from the ages of 18-23, these are the future leaders in 20+ countries. They have the passion, will and intelligence to fight for their beliefs. Although the delegates came from all corners of the world with unique life experiences, there was a common thread that bonded everyone; raising awareness for female labour force participation.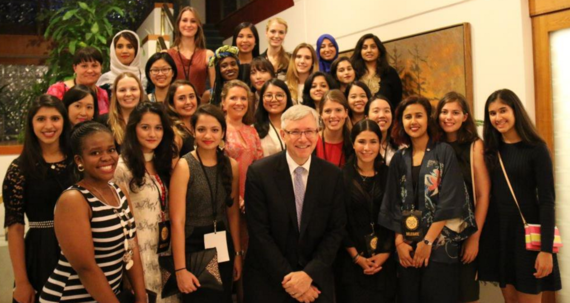 During the week leading up to the summit, the delegates and I were immersed in eight intensive workshops. They were facilitated by G(irls)20 partners such as Norton Rose Fulbright, Bill & Melinda Gates Foundation and Bain. We had hands on learning on how to maximize economic engagement from women, create sustainable job opportunities, leadership and entrepreneurship skills, and finally impact investing. Although these were closed door-workshops, set up G20 style, I was granted special access to learn from brightest experts in these fields.
One of my favourite conversations took place with Katie Telford who is the Chief of Staff to Prime Minister Justin Trudeau. She shared her journey with me about her efforts in spearheading the campaign that led to gender parity in Justin Trudeau's cabinet. One of the key takeaways from our conversation was the insight I acquired concerning our Canadian Prime Minister. As a self-proclaimed feminist, his ideals about gender equality are successfully being put into action in the Canadian society.
It wasn't all work and no play! Not only did we visit Tiananmen Square but we also climbed one of the wonders of the world; the Great Wall of China. What a surreal experience. Imagine, the monumental task of building sections of that wall over hundreds of years. Ours might be less of a physical challenge but it is no less significant.
If I had to offer one key takeaway, it would be that engaging young females like myself needs to happen more often. I truly believe that we, as young women, bring a particular energy, perspective and drive. It's our future, we deserve to be at the table making decisions.
Follow HuffPost Canada Blogs on Facebook