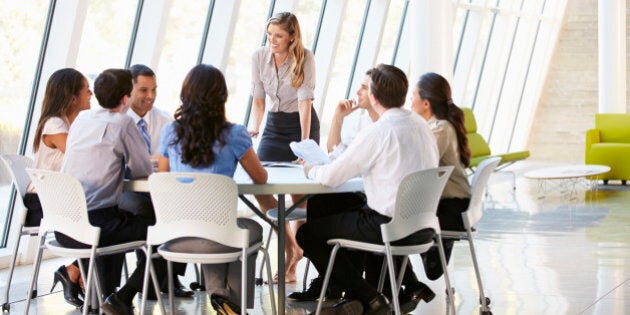 I'm often asked about the most valuable steps that people should take to further their careers -- especially as the fall approaches and people are back to work with a refreshed sense of ambition.
While several things will move your CV to the top of the pile -- academic excellence, measurable accomplishments and impressive recommendations -- community involvement and board experience will make you stand out from the crowd.
Being on a board and being involved in the community offer tremendous opportunities to develop skills and confidence that will serve you well on your career path, as well as being enriching life experiences.
Outside of your day job, volunteer work provides an opportunity to cultivate new practical skills and expand your knowledge beyond your own business area. Board work can give you valuable insights on how an organization or business is run, as well as providing instrumental networking opportunities beyond your current circle and raising your profile.
Today young people are savvy about the importance of volunteering for their future career. It was not the same when I was growing up. I was fortunate because my parents believed in giving back and my community service started early. When I was a teenager, I worked as a candy-striper at Sunnybrook Hospital. It was my first volunteer role, and I learned many valuable lessons that stayed with me throughout my career including patience, empathy and the value of giving back. And my relationship with Sunnybrook has deepened as I'm still volunteering today, as a board member.
So how does one go about getting on a board? I advise anyone with board aspirations to participate actively in community work, take volunteer leadership roles with non-profit organizations, consider pursuing directors' education and draw on your network of colleagues, friends and family.
Giving back to the community is important and personally enriching, but you must be committed to stand out. When looking for volunteer opportunities and non-profit causes to work with join organizations or focus on causes that you have passion for so you will be fully and genuinely invested. Board work is still work, so ensure the organization's cause speaks to you personally.
If you are invited to join a not-for-profit board, be the most effective member you can by being prepared, contributing often and asking thoughtful questions. Do not be afraid to insert yourself into the conversation or volunteer to help with sub-committees or specific projects - you will gain exposure to new areas outside your established expertise, and effectively build your toolkit of skills to draw on in future roles.
Increasingly, companies are including board service as part of their talent management plans, as it is an important part of executive development. Depending on where you are in your career and how much experience you have to offer, consider pursuing formal directors' education, such as the Institute of Corporate Directors Designation (ICD.D) or the Get on Board program through the Canadian Board Diversity Council. Programs such as these will equip you with the knowledge and tools you need to become tomorrow's corporate directors.
Reach out to your own network and let them know what you are looking for in a community service role. Do your research and know the value of what you can bring to the organization. If you're fortunate enough to have a mentor or sponsor who can help open doors for you, ask them.
Service to a board -- be it corporate or non-profit -- is a significant investment of your time, but can be a rewarding, stimulating and fulfilling experience. It can be personally satisfying while also helping your career. I encourage you to explore the opportunities around you and see where they lead.
Follow HuffPost Canada Blogs on Facebook