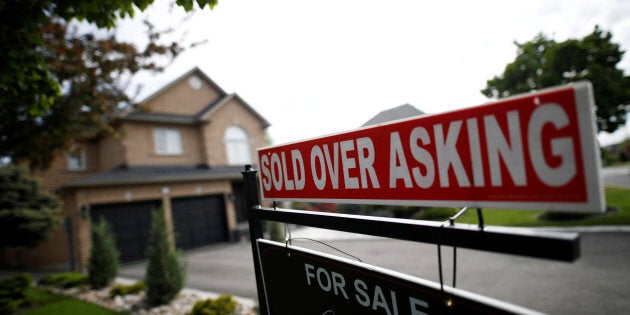 With Greater Toronto house prices falling for three straight months, housing in Canada's largest metro area is becoming more affordable.
But maybe not nearly affordable enough. According to an analysis by property site TheRedPin, your household will need a six-figure income to afford anything but a condo in the region today.
Using an average of house prices from January to July of this year, TheRedPin calculated that affording the average price on a detached home today — $1.15 million — requires a household income of $200,663.
By these calculations, only condos are affordable to households earning less than $100,000 a year. And even for a condo, you'll need $92,925 a year.

Perhaps the worst news here for prospective homebuyers is that the one type of housing that remains somewhere near affordability — condos — is the only part of the market where prices are still growing.
In the May to July period, after the province's new housing rules led to a softening of the market, buyers still needed more income than earlier to afford a condo, about $1,425 more than for the January-July period. By comparison, you needed $11,430 less income to buy a detached home in May-July than for the January-July period.
What's Going On In Housing?

Our weekly newsletter delivers the news and analysis you need on Canada's housing market. Sign up below and don't miss an issue.
TheRedPin's calculations assume a 20-per-cent down payment, and monthly payments that are no more than 32 per cent of a household's gross income.
But the numbers don't mean everyone who is buying a million-dollar home in the GTA today is earning that kind of cash. Many are move-up buyers who are taking advantage of the increased value of their house or condo to upgrade.
Serious challenge for young homebuyers
But for those who aren't yet on the property ladder, Toronto's home affordability crisis continues. Various indexes show houses are the least affordable in the GTA in at least 25 years.
It found about a third of Canadians aged 18 to 35 own their own home today, lower than the rate seen in many countries, including the U.S., and lower than the global average of 40 per cent.
Faced with a prohibitively expensive housing market, many young adults in Greater Toronto say they are contemplating leaving the city.
More about Toronto's housing market: