There have been many instances where people have been subjected to horrific "experimentation" under the guise of scientific research. In many cases, these individuals did not have any choice in whether they were involved in studies, were unaware of the risks or have even been unaware that they were part of a study.
We've come a long way since then and reinforced that informed consent must be at the core of any ethical protocol in research. This is why it is important that every researcher, whether working in their home country or elsewhere, must submit and receive approval of an "ethics protocol" before their human research can begin.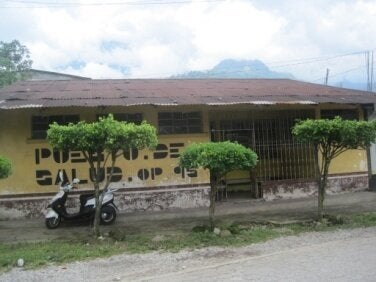 Health Centre in San Marcos
In Canada, the social sciences, pure sciences and health sciences have all come together to create a joint tri-council policy statement on ethical conduct for research involving human beings. With this policy, which includes informed consent, there is the recognition that research offers valuable potential for benefiting society and improving upon quality of life -- but not at a human cost.
While the understanding of individual rights merges well with the idea behind consent for human research, this can become very complicated when doing research in countries where vulnerable populations may not be as well informed of their rights as we are in Canada. This is why ensuring true informed individual consent as well as community consent from an international viewpoint is critical for my work in Guatemala.
San Marcos, the location of our study, is in the western highland of Guatemala, with several remote communities speaking a variety of Mayan dialects. The choice to conduct our study in San Marcos was based on the high burden of diarrhoea there and the priority the government has given to reducing malnutrition.
Some of the questions I considered in developing an ethics protocol and in working with Guatemala's ethics board were:
Is the access to my findings fair, not just for the people I am working directly with but for others who could benefit from the results?
Are some communities being denied the opportunities to benefit from research?
I am biasing the research by my target audience?
Are we working with group A because we can drive to their village vs group B, where we would have to hike in?
Is the research fair to both those who are participating as well as those who aren't?
Do we have community involvement in setting research priorities, design, evaluation and decimation?
Do we have family and/or local/community approval?
What is the cost of time (what people would be doing with their time if they weren't participating, such as working to feed their families) and are people being fairly compensated for their time?
What is the level of travel demanded to participate (am I going door to door or am I asking people to come to me)?
Will there be a social stigma attached for participating in my project?
Our ethical protocol came into practice in ways we couldn't anticipate. In November of 2012, when the 7.4 magnitude earthquake struck San Marcos, it was clear that our research needed to stop immediately, so that all of our available health staff could support the relief efforts and, in some cases, address their own families in crisis.
Once the immediate emergency response had ended, we were faced with options on how the daily operations could return to a new state of normal. The health staff had to be relocated to a former hotel, as their department building was unsafe to work in. At that moment we were presented with the option of moving the research to another department, which would have been logistically easier but would have meant abandoning San Marcos.
Any of the research-related job opportunities for the community would have been lost; same for training opportunities for health staff; as well as the loss to bring attention to the high burden of diarrhoea for San Marcos and the opportunity to find better ways for delivering zinc and oral rehydration salts (ORS) to treat children with diarrhoea. As well, the department wanted the study to remain in San Marcos, which would allow for locally generated data. With their own data, the department would be better able to advocate for much needed resources; resources that would save and improve lives.
We did not relocate, despite how much easier it seemed. We knew that if there are places where we want to ensure we get diarrhoea treatment right, San Marcos is the priority. Ethical protocol was one of the things that guided us in our decision. We had committed to this area for our research and we knew why it was an important area to prioritize in the research. It was not a question of where it would be easiest to get things done; it was about doing the right thing.