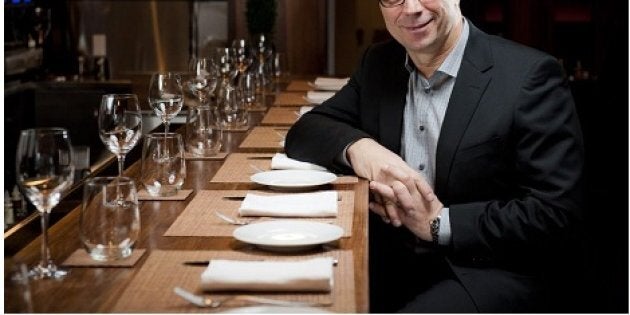 Today when immigration and refugee issues are being used as a political football, perhaps a good news story of one immigrant family can help change attitudes.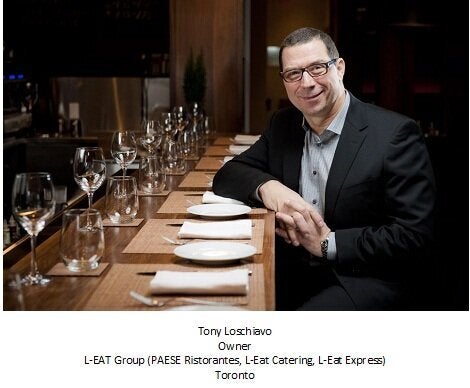 The story of Tony Loschiavo's family is one such tale that does the heart and stomach a great deal of good.
Today Tony is best known as the gregarious and engaging owner of Paese, a wonderful Italian restaurant with locations in North York and downtown Toronto. He is also the mastermind behind one of Toronto's best known catering businesses L'EAT (pronounced Elite) that provides reasonably priced menus of exquisite delights for dinner parties and other functions.
Tony's story is not atypical of many other hardworking immigrants whose families made their way to Canada to begin anew. In the early 1960s the Loschiavo family packed their bags and left their home in Calabria Italy so that their children could have a better life in Canada.
Food was always a mainstay with the family so much so that Tony's mother, Nazzarena, packed some tomato seeds from her San Marzano tomato plants bringing a little bit of her old home to her new home in Canada.
Tony was the most driven. With a passion for both food and cars he went to work in various restaurants at night as a means by which to support himself and his family. During the day he attended George Harvey CI where he studied auto mechanics. He cooked for friends and relatives both of whom encouraged him to take this natural ability further and so he did. Combining both his love for cars and food he opened L'EAT, at first a small catering service that delivered good home-style food quickly to businesses in downtown Toronto.
As the catering business grew Tony also grew his love for food by opening his first restaurant after purchasing a small pizzeria on Bathurst Street just north of Wilson. Thus was born Paese. As Tony explained it to me "Paese "in Italian means "village"; "Paesanos" are people from the same village. Paese, now with two locations, has become that friendly place with Italo-Canadian charm where "Paesanos" could gather eat good food and feel welcome.
However, Tony wanted to up the food ante in a way that has never been seen here in Toronto. So he took the new generation of his mother's tomato seeds which she lovingly planted and grew all these years in her own backyard, bought a property a couple blocks from the Bathurst Paese and began a new venture. He ultimately hired an Executive Chef who also had a love of gardening.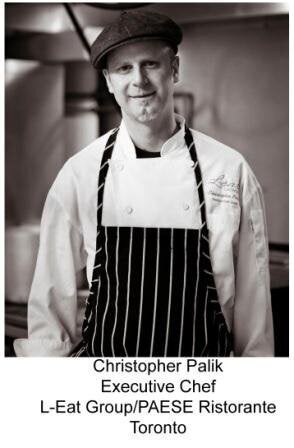 Executive Chef Chris Palik was the perfect gardener for Tony's latest dream. A young and exuberant 40-year-old, Chris learned his vegetable gardening where he grew up in Prince Albert Saskatchewan. "We ate what we grew" he told me, "so we had to learn it well." Indeed he did. Studying his culinary craft at Vancouver Community College, Chris eventually made his way to Toronto where he is today considered one of Toronto's top chefs.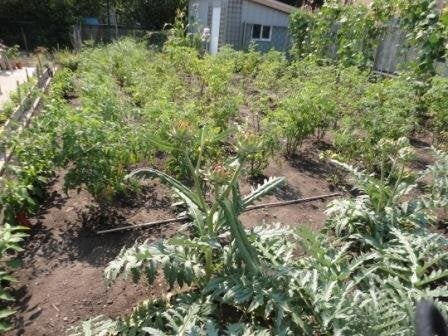 Tony's organic vegetable garden
Last week I had the pleasure along with a few other journalists to see exactly how they utilize their 3000 sq.ft garden in the ethnic enclave of the Bathurst manor to produce fresh food delights that make the palate dance with joy.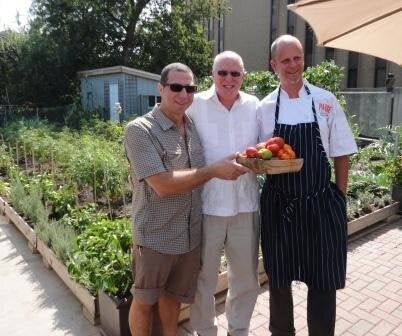 Author with Tony (left) and Chef Chris holding San Marzano tomatoes
Located a short walk from the Bathurst Paese, the organic garden overwhelms you at first site. With Toronto's short growing season work starts in May and the harvest produces by September. And there was plenty; peppers of all shapes and heat (more about that later), heirloom tomatoes from Tony's Mom's seeds, horse radish, beans, eggplants (white yellow and green), onions, zucchini, asparagus, lemon grass (a few sprigs in the lemon ice was delicious), broccoli, ramps, to name but a few.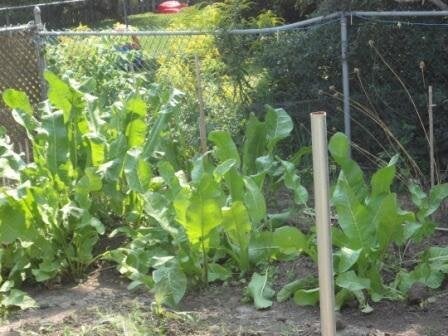 And planting such a garden is not without its problems. The earth in North York may be good to grow houses but not always the best for gardening. Much topsoil must be used to ensure good growing potential. Rain water is collected and used to augment irrigation and then there are the varmints. Groundhogs, squirrels and even possums know good vegetables when they smell them and chef Chris estimates that they lose close to one third of what they plant. This despite a ferocious teddy bear used as a scare-bear plunked in mid-garden.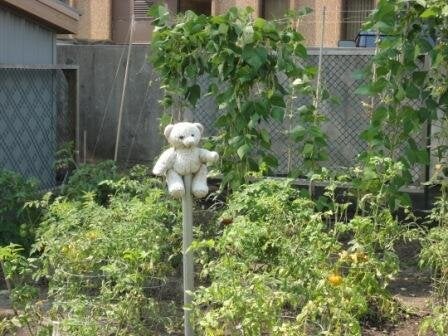 We were able to savour many of the vegetables as part of a wonderful lunch that Tony's team served in this backyard. I was most intrigued by the pickled ramps, from the onion/garlic family a real delight and of course the peppers.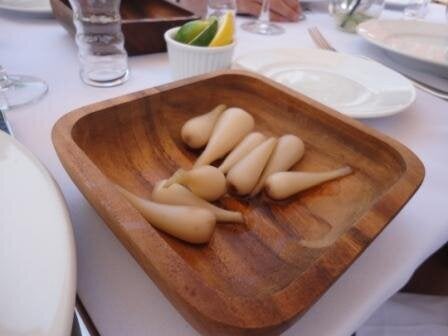 I'm not talking about your common red or green peppers. I'm not even referring to what I thought were hot jalapeños. Naga ghost peppers are the hottest variety of peppers known to man. And they grow in Tony's garden. Peppers are measured for heat on what is known as the scoville scale. So for example the average jalapeño, which many of us require three cups of cold water if we bite into it, is measured at 30,000 units. A mere infant in comparison to the Naga pepper which weighs in at 900,000 units. Chris tells one story of a Sous-chef who tried to eat one small naga pepper and found himself in bed for days recuperating. It can be used but in small quantities mixed with many other ingredients to draw on its spice properly.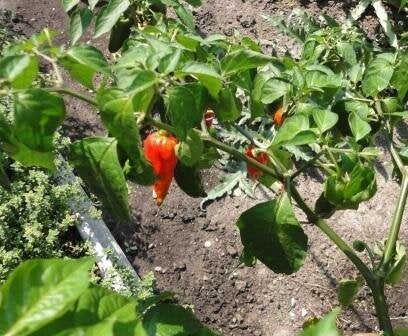 The meal that followed was superb. Beautifully prepared fresh organic greens, accompanied by beans, succulent tomatoes, and much more topped off by a whole chicken wrapped in Italian bread, simply amazing! Paese gets the benefit of the organic garden all through the summer.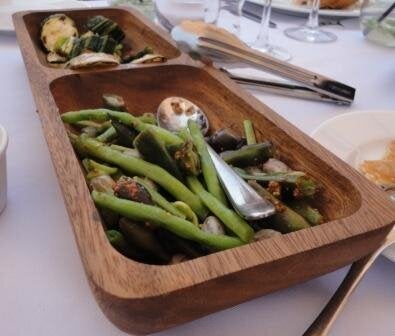 scrumptious beans and zucchini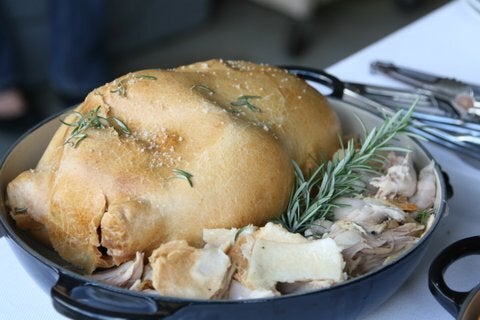 Chicken pain au lait -- whole bread wrapped chicken
Chef Chris put it best when he told me "I am one of the luckiest Chefs in the world to have this land to grow and use fresh vegetables in my restaurant". And Tony sums up both the food splendor and the immigrant experience explaining that his dream was "inspired in Italy but made in Canada."
Popular in the Community