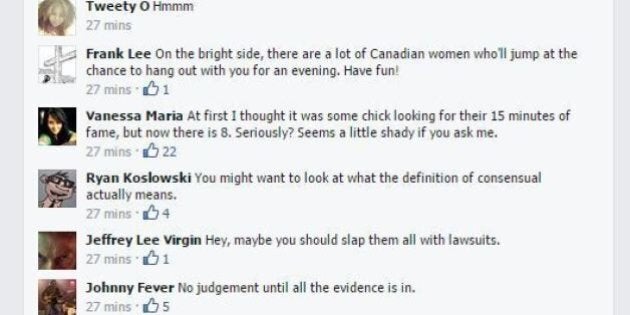 On Monday morning, my Facebook feed read like a verbal walk of shame. Groggy and hungover from knee-jerk reaction, the shame set in. "And I realize all the info isn't in but I gotta apologize to every person I know for my initial reaction to this story." "Less than an hour later, I felt like a big idiot, reacting to a story in this crazy news cycle. In the absence of more information, I regret jumping to the conclusion..."
My page was littered with people who hated themselves for their initial impulsive support of Jian Ghomeshi. After the CBC cut him loose on Sunday, fans clung to his Facebook diatribe stating that the public broadcaster had no place in what he described as his kinky sex life. But it didn't last.
After reading detailed accounts from the ninewomen who have come forward to this point with allegations of abuse, many fans dragged themselves in front of a screen to walk-back their positions. In addition to many disturbing tidbits about Ghomeshi, many Canadians learned a difficult lesson. It's a lesson news organizations have been struggling with ever since the Internet began drowning us in hard-to-verify information: wait before you react.
Even I didn't take that advice.
When I initially saw journalist Jesse Brown's tweet last Friday that Ghomeshi was going on indefinite leave from CBC, I tweeted back "NOOOOOOOOOOOOOOOOOOOOOO!" And when a CBC spokesman confirmed the rumour shortly after, I posted "I miss him already," to my Facebook with a link to the story.
Before I read about the alleged chokes, slaps and punches, I was a Ghomeshi fan girl. I've loved "Q" since it started in 2007, and have since harboured a personal and professional crush on the former host, which I detail in this BuzzFeed article. But after Sunday, I stuck to posting the facts.
Individuals can glean lessons from news outlets that have infamously messed up in the rush to be first. For just one example of many, think back to the Boston bombing, when CNN, Fox News and AP were all forced to admit they had reported a false arrest of a suspect. I wrote about the gaffes in a previous HuffPost column, and found countless other examples: "Gordon Lightfoot and L'il Wayne's supposed deaths, the false reporting of the Supreme Court's Affordable Care Act being shut down, the false accusation of Adam Lanza's brother in the Newton shooting, and reports on football star Manti Teo's 'girlfriend' that didn't verify that she actually existed." The fast road is paved with mistakes. News outlets have a responsibility to get facts right, but we should hold our personal pages to a similar standard.
What we write on social media has real-world implications. In fact, research out of Western Carolina University found that in some cases, the court of public opinion sways U.S. Supreme Court decisions. The problem is that online, most people react with their hearts instead of their heads. Platforms tempt us like the lever on a slot machine to publish a quip that could result in a jackpot of likes. But in the absence of facts, we rely on emotions.
In one of her columns, Ann Friedman describes the psychology behind polarized reactions: "When you don't have firsthand knowledge of an incident -- if you're a casual acquaintance or an occasional collaborator or just a stranger watching the details fan out over your social-media feeds -- where you come down on such accusations boils down to which experience you identify with more." But if we want to have productive conversations, impulsive reactions won't do.
The Ghomeshi story has proved that we desperately need to have open dialogues about consent, sexual abuse and powerful figures. A clinical psychologist told the Times of India that "about 65 per cent of people immediately post online after being hurt or angered." And regardless of what position you take, instantaneous mud-slinging doesn't equal progress. A Guardian columnist wrote about a study in The Journal of Computer-Mediated Communication that found "vitriolic interaction often leads to further entrenchment of already-established views, rather than self-reflection: if you want to change someone's mind, name-calling and expletives will do the opposite."
When news like this breaks, there shouldn't be a race to have the right opinion. But we also don't need to hide from social media. Instead, let's aim to have a conversation. The most useful people online in the early days of Ghomeshigate were the ones who admitted they didn't know what to think. Sometimes, accepting our starting place of ignorance, and being willing to listen as the facts come in, is the wisest thing we can do.