People in low-skilled physical-labour jobs and positions involving caring for others have some of the highest suicide rates, researchers in Britain have found.
In an effort to better understand and prevent suicide, Britain's Office of National Statistics (ONS) compiled suicide rates by job and gender. Among other things, it found that suicide is far more common among men — something that has been known for some time.
Among men, low-skilled labourers in construction had a suicide rate three times above the national average.
Among women, high-risk occupations include nursing (23 per cent above average), primary school teaching (42 per cent above the average) and jobs in culture, media and sports (69 per cent above the average).
"Early action can stop any employees reaching a desperate stage."

— Duncan Selbie, Public Health England
Both male and female care workers have almost twice the suicide risk of the general population, the study found.
Below are the careers with the highest and lowest suicide rates, based on data from England from 2011 to 2015.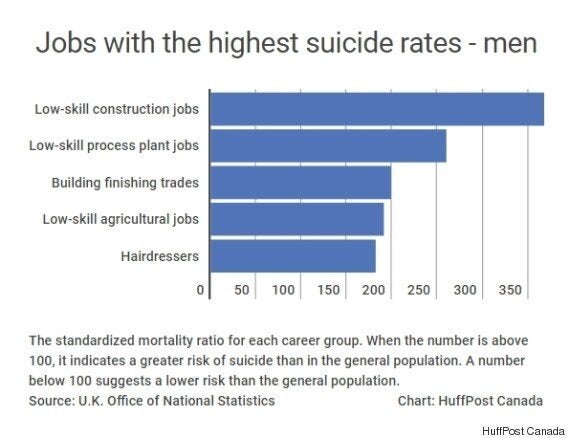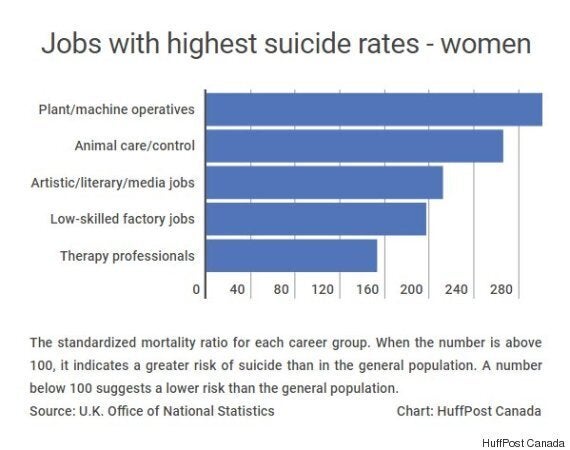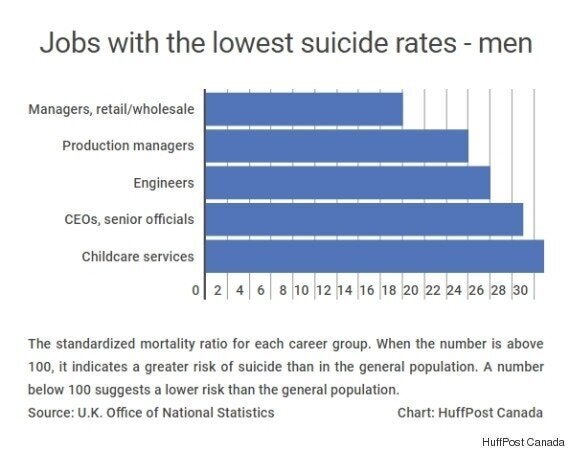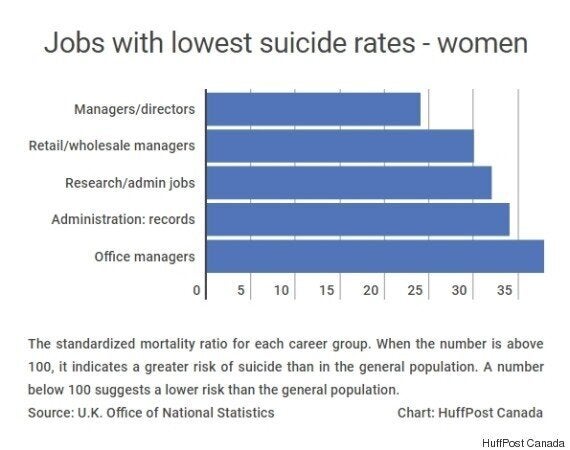 So why do some jobs have higher suicide rates than others? It's complicated, says the ONS.
The agency cited earlier research which showed that low pay and low job security increase the risk of suicide. But data also suggests that certain jobs attract people who are more prone to suicidal intent, the ONS noted.
In addition, access to lethal substances or technologies, as well as knowledge of different forms of suicide, also heightens risk, the ONS found. For instance, the elevated risk of suicide among health-care professionals has been linked to access to lethal drugs, and knowledge of various forms of self-harm.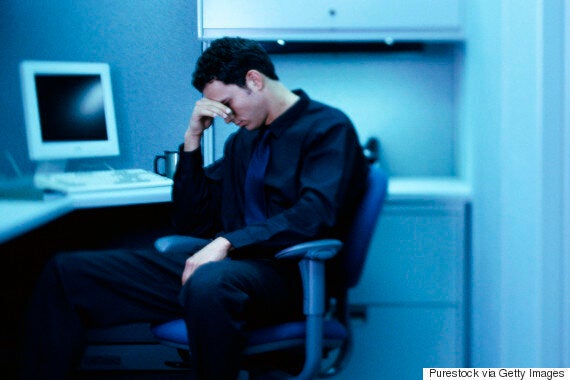 "I urge all employers, large or small, public or private sector to treat mental health as seriously as physical health," said Duncan Selbie, chief executive of Public Health England, in a statement.
"Early action can stop any employees reaching a desperate stage. Simple actions can make a huge difference — talking with a manager or colleague can help people get the support they need, and ultimately save lives."
If you or someone you know is at risk please contact your nearest Crisis Centre or call Kids Help Phone at 1-800-668-6868 to speak to a counsellor.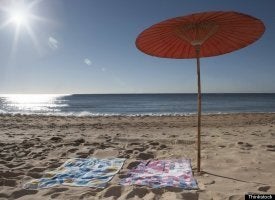 12 Surprising Causes Of Depression
Popular in the Community