"Welcome to unceded Algonquin territory."
That was how Canadian Cree icon Buffy Sainte-Marie opened the 2017 Juno Awards in Ottawa before introducing three-time nominees, and Producers of the Year winners, A Tribe Called Red.
The local indigenous DJ trio's incredible opening performance began with a traditional drum circle before the beat dropped, a voice boomed out "we are not a conquered people," the powwow chants rose and traditional dancers filled the stage with movement and colour.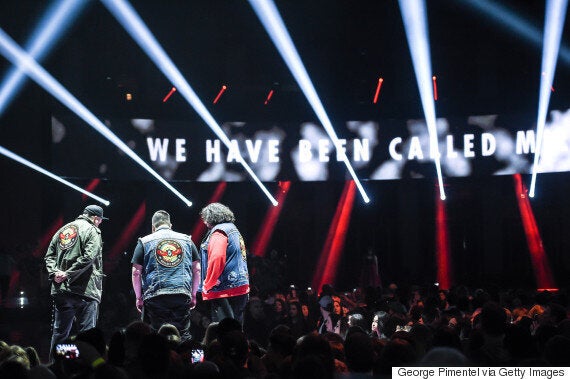 A Tribe Called Red open the JUNO Awards on April 2, 2017. (Getty)
Then, as if that wasn't enough, Inuit superstar Tanya Tagaq emerged in a red dress and her throat singing blew up the Canadian Tire Centre.
There was power in the blood.
"Realizing that diversity isn't necessarily a scary thing and that having different perspectives and different stories to tell is huge. That's what's going to progress society." — A Tribe Called Red's Ian Campeau
Award shows have taken a lot of guff lately for their lack of diversity as social media facilitates hashtags like #OscarsSoWhite.
"The fact that it's being noticed for the first time is a massive step in the right direction," A Tribe Called Red's Ian Campeau told HuffPost Canada during the Saturday night gala following their win.
"Realizing that diversity isn't necessarily a scary thing and that having different perspectives and different stories to tell is huge. That's what's going to progress society."
The Junos have gotten better at reflecting that racial diversity, facilitated by the fact that the world's biggest pop stars are Drake and the Weeknd, while Tribe have become international dance heroes alongside Kaytranada, a black French-Canadian who bested them in the electronic album category.
Backstage, July Talk's Leah Fay was asked about the controversy and she said "We live in a patriarchal society and there's a lot of voices that need to be elevated and a lot of people who need to STFU."
This is a perspective with which Campeau agrees.
"Let's bring women into this, and women of colour into this," said Campeau. "This is what's extremely important, having voices like Alessia Cara's track 'Here,' writing this really dope thing about how I don't feel safe, I don't feel cool, this party sucks, I don't know why I'm here.
"It's such a perspective that I've never seen. Having women of colour specifically being celebrated in Canada is very important and we need to do more of that."
And the Junos delivered, with Cara winning a well-deserved Pop Album of the Year for "Know-It-All" while a young woman of colour, Edmonton's Ruth B, took home Breakthrough Artist of the Year.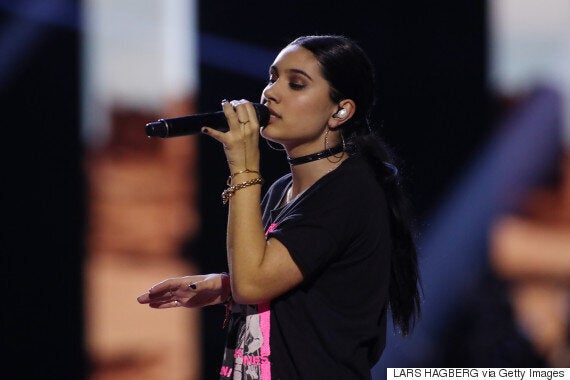 "How many stories can white dudes with guitars say? That story's been told so often," Campeau added. "Now I want to hear Alessia Cara's perspective on what her party is like instead of the drunk dude that's always raging."
Not that there wasn't still a lot of white guitar dude celebrations going on — the Junos literally ended with an all-star "Summer of '69," jam while the Tragically Hip won Best Rock Album at the Saturday night gala and Group of the Year on the telecast.
"We're not completely Canada yet." — The Tragically Hip's Gord Downie
But Gord Downie's "Secret Path" album, which told the story of residential school tragedy Chanie Wenjack, also garnered him Adult Alternative Album of the Year and Songwriter of the Year.
The singer, who has incurable brain cancer, sent a video acceptance speech in which he thanked us all "for recognizing that we're not completely Canada yet. For seeing we have friends, our fellow countrymen and women, who are in big trouble. For recognizing our friends who were here before us, at least for thousands of years. First Nations have many many stories like this. This award is for all of us ... all of us bent on trying."
Co-host Russell Peters made a point of noting that Canada's 150th birthday was really 150 AW -- or "After White" -- while the Arkells, 2015's big winners, performed their song "Drake's Dad" (about that time they met Drake's dad) with an all-black gospel choir.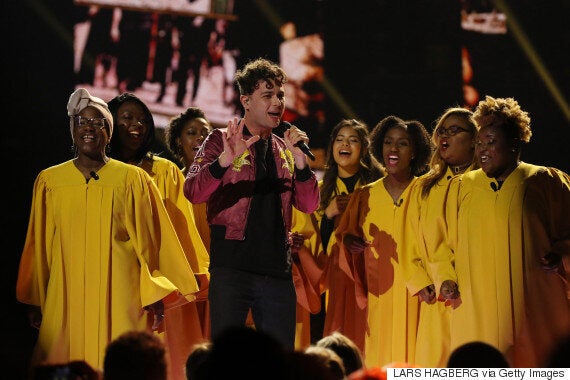 The Arkells perform during the JUNO awards show on April 2, 2017. (LARS HAGBERG/AFP/Getty Images)
It was a reminder of how the weekend started during the Ole Playlist Live party in Gatineau., Que. where the weekend first achieved #PeakCanada by crossing cultures.
Everyone was doing Canadian covers, and so Blue Rodeo's Jim Cuddy sang the Hip's "Bobcaygeon" and Billy Talent's Ben Kowalewicz sang "Nautical Disaster" and a tuque-wearing Sam Roberts sang a Gordon Lightfoot song about railroads.
But there was also Tanika Charles singing Esthero's trip-hop classic "That Girl" and children's performer Fred Penner singing k-os' "Crabbuckit" and hip-hop legend Michie Mee performing her Can-rap classic "Jamaican Funk."
"It's important that we all start hanging out with each other." — A Tribe Called Red's Ian Campeau
What felt organic from that night, and from the rest of the Junos, too, was that no matter how bad the backlash against inclusion has grown in recent months, Canadian music seems to acknowledge that going to separate corners is not the answer.
This attitude has been best exemplified by A Tribe Called Red.
"We're a decent doorway for indigenous Canada to be able to have access to mainstream music and a good way to check out powwow music for non-indigenous people, and create conversations. Seeing both of those demographics experiencing a meaningful thing at our show is important," Campeau said.
"It's important that we all start hanging out with each other."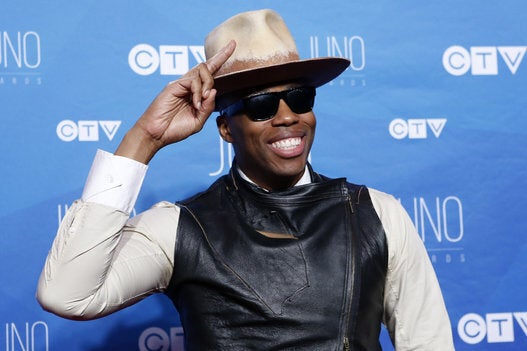 Junos 2017 Red Carpet Photos