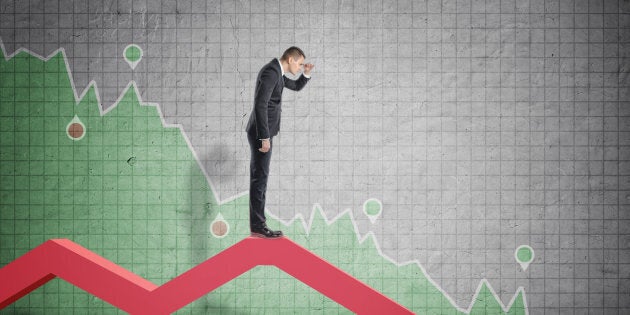 The Bank of Canada's interest rate hikes in recent months may look like baby steps, but because Canadians have taken on so much debt, those baby steps are amounting to the most radical increase in borrowing costs that the country has seen in decades.
That's according to a new analysis from Macquarie Capital Markets Canada, which estimates that if the bank raises rates one more time, which is likely to happen in the coming months, the impact will be about 65 to 80 per cent as large as what happened when it raised rates back in 1987-1990.
Why does it matter? Because back then, the bank's big rate hikes were followed by a recession, and a housing bust that saw house prices fall for seven straight years in Toronto.
Watch: What happens when there's an interest rate hike?
It's debatable as to how much blame the BoC can take for that ugly economic downturn of the 1990s, but there is little doubt its interest rate hikes helped tank the housing market. From 1987 to 1990, the Bank nearly doubled its key lending rate, from 8.5 per cent to a nosebleed high of nearly 14 per cent.
Those were different times. The bank was fighting a battle with inflation that it isn't fighting today. But while today's interest rates are far lower, the effects of the recent rate hikes "are probably more severe than conventional analysis suggests," said David Doyle, a Macquarie analyst and co-author of the research note.
Rates were much higher back then, but consumers also had less debt relative to income, Doyle noted, so the impact of a hike would have been less back then — and would be more pronounced today.
Indeed, the preliminary data coming in suggests that the three Bank of Canada rate hikes over the past half year — which more than doubled the key lending rate to 1.25 per cent from 0.5 per cent — have already impacted consumers.
Still, Doyle doesn't think the Bank of Canada will tip the country into recession with its rate hikes — at least not this year.
But "I do see a slowing in the housing market, a slowing in the consumer spending channel" this year, Doyle told HuffPost Canada. The country will likely be lucky: A strong global economy and booming U.S. demand will keep the economy afloat this year.
What's Going On In Housing?

Our weekly newsletter delivers the news and analysis you need on Canada's housing market. Sign up below and don't miss an issue.
But in the event that Canada does see a recession, "the downside risks are a lot more substantial than in the last recession," Doyle said.
With consumers carrying so much more debt, households will have a harder time digging themselves out of the next economic downturn, he said.
In the Great Recession that took hold in 2008, the U.S had seen a major run-up in consumer debt, Doyle noted, and that was "one big reason it took the U.S. so long to recover."
Next time around, it could be Canada's turn, Doyle suggested.