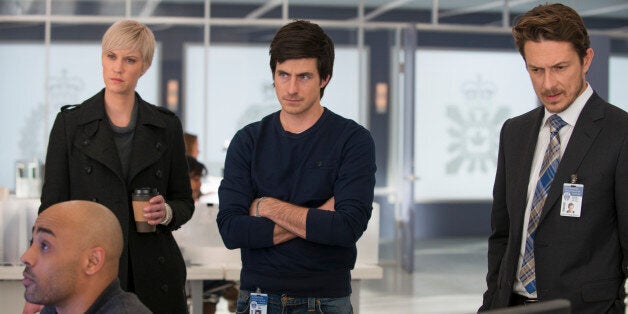 Toby Logan's (Craig Olejnik) telepathic abilities have proven to be more of a blessing than a curse on "The Listener." Back in Season 1, paramedic Toby aided those he randomly crossed paths with while on the job. After meeting Sgt. Michelle McCluskey (Lauren Lee Smith) the following year, he slowly embraced his powers and helped solve crimes. These days, Toby, Michelle and communications expert Dev Clark (Rainbow Francks) belong to an elite Integrated Investigation Bureau (IIB) unit that heavily relies on his gift to crack cases.
"The Listener" kicks off Season 5 on May 26, 2014. During a recent press event, Olejnik, Smith and executive producer Peter Mohan sat down with HuffPost Canada TV to discuss personal stakes, unwelcome blasts from the past, and disguises.
Mail carriers, pay attention. "The Listener" has officially changed addresses. Production relocated to the majestic Pinewood Studios, where many of Toronto's big-budgeted movies and local television series are filmed. On a Monday afternoon in May, a quick tour of the soundstage reveals Toby's snazzy bachelor apartment, Michelle's cozy apartment and the untouched IIB department. In "The Listener" Season 5 opener, 'The Wrong Man,' Oz (Ennis Esmer) purchases the hip bar Pasazade. It's here at one of the establishment's tables that the day's interviews were conducted.
"When we left our old studio, a lot of the elements of the hospital set were built into the studio," explains Mohan. "We had to give up the set. But, the show had moved on and the characters had moved on. Toby wasn't in the EMS anymore and Oz was more of a hospital administrator. It made sense to just move away from the hospital. It became more of a gymnastic routine to make it relevant, to be back in the hospital all the time.
"This bar is great because things can happen here," Mohan continues. "Cases can be generated here. Oz has such a large personality that he's a natural social post-type of character. And it's great for the gang to congregate here. Secret meetings also have to happen outside the IIB, and Toby can bring Michelle and Dev back here. We really get a lot of use out of it and it's much more organic to have Oz working here."
Each season, Toby has become more confident and comfortable with his powers. He evolved from an IIB special consultant to a full-fledged agent. Last year, Toby even carried a gun, although he had to deal with the emotional consequences of shooting someone. This year, Toby steps up his game even more.
"Michelle has gone off on mat leave and had a baby," says Mohan. "Toby and Dev have been working together. Toby has learned to be a cop without Michelle's strong hand to help him all the time. He's a much more professional and valuable member of the team. In this season, he goes undercover in quite dangerous situations with much more comfort."
"He has a gun this year, but Toby has worked hard not to use it all the time, to not draw it," notes Olejnik. "He doesn't bring it to most places. It's still not normal. In Episode 1 this season, he had to draw it. Hopefully, that appeared conflicting and he wasn't sure he wanted to do it.
"In addition, you get glimpses of my childhood in the sense that he was growing up a foster child, which was tough," adds Olejnik. "It's how I can relate to people and have sympathy towards them. I always find Toby is very sympathetic to mothers, to single mothers and to people who don't have mothers. A lot of that has come from the past. We also find out he needs Tia at home to be his sponge, to take all his stress, so that he can sleep a little better."
'The Wrong Man' finds IIB in a bit of a state of flux. Toby and Dev are handling assignments in the field. Michelle has given birth to a lovely baby girl and is enjoying maternity leave. However, a complication in a prior case suddenly pulls her back into the fold.
"Michelle is being accused of possibly putting away a wrong man, who has spent the last few years in prison," explains Smith. "She's still very career-driven, even though she's in mama mode, so she makes the decision to come back and take on this one case. It's her name on the line and I think she realizes how much she missed work."
One familiar face missing in action is chief of IIB, Alvin Klein, played by Peter Stebbings. The in-demand actor joined the series "Crossbones," although he still managed to direct a few "Listener" episodes. To fill in the gap, and shake things up, the writers brought back Toby's Season 1 nemesis, Brian Becker (Anthony Lemke).
"Suddenly, they have a presence here who they can't tell Toby's secret to, and who doesn't trust him, and is going to be up in Toby's face," states Mohan. "It really energizes the first part of the season. He's so much a bull in the china shop in every investigation. He loves to stick it to Toby whenever he can."
"In Season 1, there was a certain clash," acknowledges Olejnik. "Toby and Brian didn't like each other. That immediately resumes when he comes back. Add to the fact that the last time these two saw each other, one of Becker's loves, Charlie Marks (Lisa Marcos), was killed and he believes Toby was at fault for that. Toby kind of believes maybe he was at fault for it as well. When I heard they were going to bring Becker back, I was like, 'Oh crap. I never thought of that. That's interesting. Good for you.'"
"It comes down to how long can we get away without telling him about me?" continues Olejnik. "And how long will he allow us to be secretive? How do I tell this guy, who hates me, this deep intimate part of me that he can destroy me with? He can exploit me by knowing this type of information. That's the battle this year."
Smith adds, "For Michelle, it's obviously a disappointment that she didn't get the chief job. I think she does understand why. It's not a huge surprise to her. And quite honestly, I think it would have been too much for her. Becker is so very different from Klein. He has such a different way of dealing with the team. He's much rougher. It's fun. It keeps a certain tension that we didn't have in the IIB before, that we're going to see throughout the season."
There would be no Listener without the procedural elements. Expect cool and entertaining cases to revolve around ballerinas and magicians, among other things. The episode the cast can't stop talking, or laughing, about is 'An Innocent Man,' where Toby goes undercover at a prison.
"We'd done an undercover episode before," says Olejnik. "Lauren, Rainbow and I always joke my character's name should be Tony Logan, not Toby, [in a heavy Italian accent] but Tony Logan. He talks like he's Donnie Brasco. 'Hey, what's up? I'm Tony Logan.' We always forget that."
"You see Toby acting on so many different levels," continues Olejnik. "He's acting like he's a poser. He's acting like he can't read minds and that he's not a cop. I look at myself in prison and I'm like, 'Nobody would buy me in prison. Are you kidding me? I'm like the pretty boy. I'm so fresh. Nobody is going to believe I'm a badass.' We're wearing prison sweats too."
Michelle gets involved by transforming into Toby's girlfriend, Gina.
"Toby goes undercover in this prison and we have to be able to get intel from him," explains Smith with a huge grin. "At different times, Dev and Michelle have to go in undercover. Props to our wardrobe and makeup team. They took this little nugget and rolled with it. I put on the black wig, the bright pink lipstick, the killer six-inch heels, the leather pants and the bustier bra. She's chewing gum and blowing bubbles. We even did this thing where we put our hands on the glass. That was ridiculously fun."
Somehow, "The Listener" always manages to nab the cream of the crop for guest stars. Season 5 adds Shawn Doyle ("Big Love"), Natalie Brown ("Sophie"), Gabrielle Hogan ("Rent-a-Goalie") and, yes, the "MasterChef Canada" judges, to that distinguished list.
"I was sitting with the people from CTV publicity," explains Mohan about how these cooks became involved in their kitchen. "They mentioned in passing, 'Your lead-in will be 'MasterChef.' It would be great to have them do something.' 'Oh, we have a cooking episode we're doing.'"
"We slipped them in, both Alvin Leung and Claudio Aprile, and they were great," Mohan concludes. "They didn't have huge roles, but it was just to bring them in for the fun of it. They played celebrity judges on this show within a show. They had some good zingers they delivered as the crime unravelled around them."
"The Listener" Season 5 premieres on Monday, May 26 at 9 p.m. ET on CTV.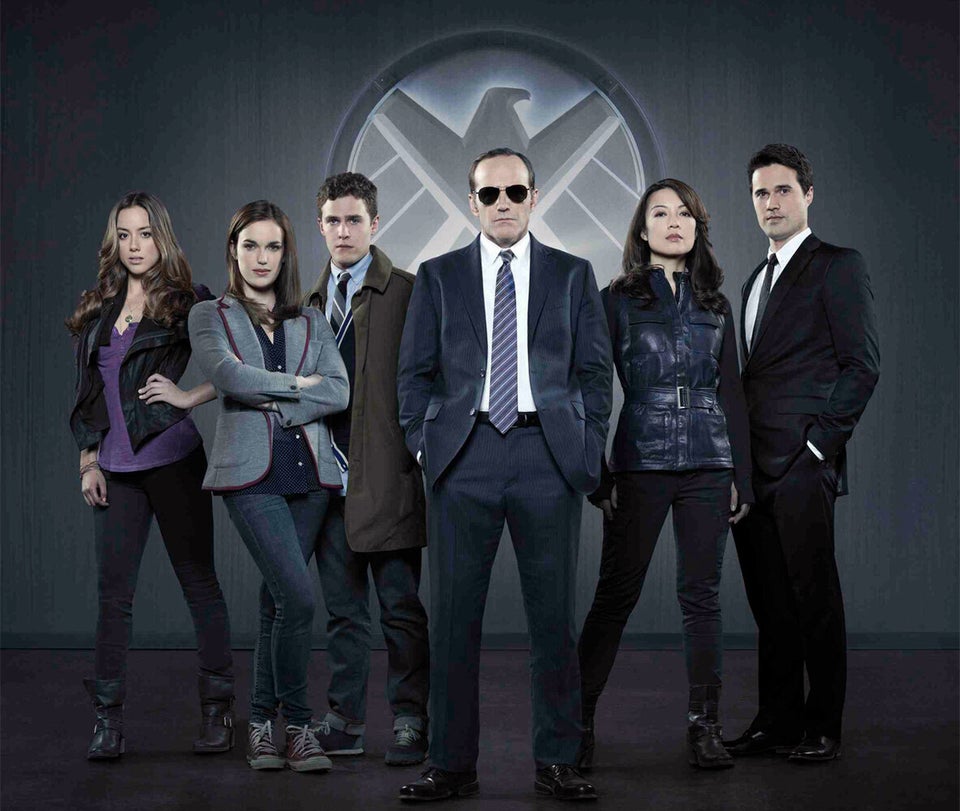 CTV/CTV 2 Fall 2013-14