If you attend a holiday party or two this season, chances are pretty good that at least one of them will be a pot luck. This festive party staple, which I like to view as a culinary version of a community barn-raising, brings plenty of opportunity to display your cooking skills while sampling that of your friends at the same time.
Unfortunately though, pot lucks usually make healthy eating an afterthought, since so many suitable potluck dishes tend to lean toward comfort, convenience and calories.
Our family usually receives at least one or two holiday potluck invites each holiday season and my wife and I lament how our four children tend to gravitate towards the least nutritious foods on the table. So when I was asked once again to participate in a Health Canada Cooking Challenge, with the theme being potluck dishes, I felt it was time to challenge myself once again and to see if a healthy, family-friendly potluck dish was possible.
The challenge this time around was to come up with a potluck item that was suitable for an entire family while using as many ingredients from a specific list as possible. For this challenge the ingredient list was as follows: pomegranates, beef, rapini, pumpkin seeds, brussels sprouts, pears, black-eyed peas, fennel, brown rice, goat cheese, barley and 2% milk.
Much like the last time I found the list to be quite challenging. Some of these items are ones that I had never cooked with before, and as a collection nothing seemed to be jumping out at me as the base from which to build out a potluck meal. I was actually struggling quite a bit to come up with an idea, so with a deadline looming I decided to reach out for help. I'm pretty fortunate to have a broad list of friends, acquaintances and contacts available to me and among them is celebrity chef Christian Pritchard. I reached out to him and he quickly called me while he was in between shows at the Royal Agricultural Winter Fair in Toronto. Within only a few minutes we hammered out the framework for a dish, which I continued building out until I eventually came up with the following recipe. Enjoy!
Festive Grains and Fruit Potluck Salad with Beef
The Main Ingredients Used: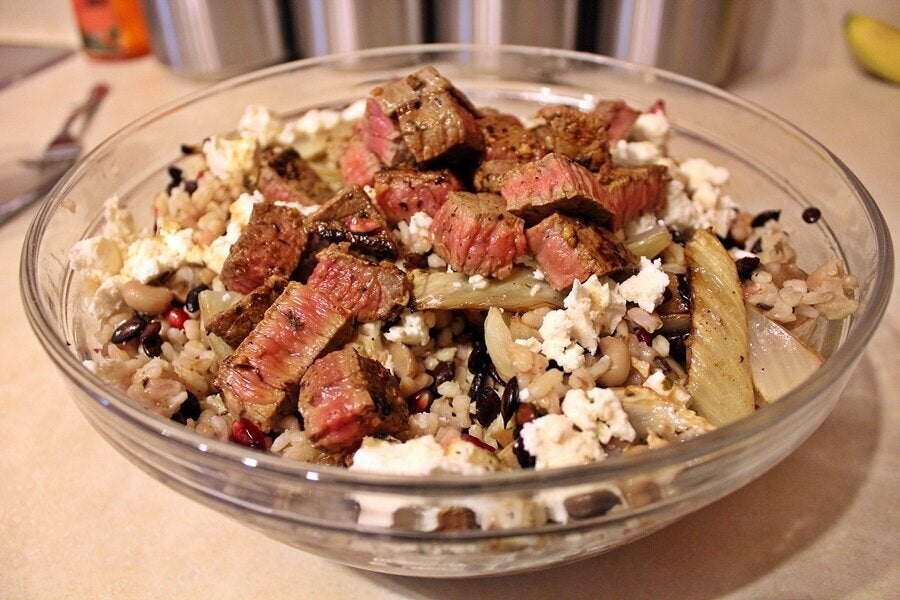 The Main Ingredients III: Challenger's Meal 2
Brown rice
Barley
Black-eyed peas
Fennel
Pomegranate
Pears
Pumpkin seeds
Goat cheese
Beef
250 mL (1 cup) organic brown rice
125 mL (½ cup) pot barley
1 can (425 g) black-eyed peas
1 fennel bulb
1 pomegranate
2 Bartlett pears
250 mL (1 cup) raw pumpkin seeds (pepitas)
140g (1/2 cup) goat cheese
1 Tbsp. unsalted butter
2 Tbsp. honey
Beef cuts (eg. Sirloin, Top Sirloin or Round)
Extra virgin olive oil
Balsamic vinegar
Low calorie Greek-style dressing
Preparation: Prepare brown rice, pot barley and black eyed peas according to directions. When prepared, mix all together in a large bowl. Toss with just enough low calorie Greek salad dressing, to add flavour.
Cut stem from fennel bulb. Cut bulb lengthwise then again into ¼ inch thick strips. Spread fennel on foil lined baking sheet and brush with extra virgin olive oil, just to coat. Sprinkle balsamic vinegar over fennel, also just to coat. Bake in pre-heated 400 degree oven for 30-40 minutes, until cooked through and beginning to caramelize. Allow to cool and then lightly dice up pieces and set aside.
Spread raw pumpkin seeds onto baking sheet, leaving them spaced out and not on top of each other. Coat lightly with extra virgin olive oil and bake about 10-12 minutes in pre-heated 400 degree oven.
Prepare beef whichever way you wish: on a BBQ or in a pan. When done, cut beef into 1 inch cubes and set aside.
Dice up pears into small cubes. Melt unsalted butter in medium fry pan and add pears. Sauté for about a minute, and then add honey and sauté for another 3 to 5 minutes. Set pears aside when done.
Remove pomegranate seeds from fruit and set aside.
Combine pomegranate seeds, sautéed pears, pumpkin seeds, and roasted fennel into the bowl containing the grains. Mix well.
Crumble goat cheese on top of salad mixture.
Place cubed beef on top of cheese and salad mixture.
The Verdict: When put together the dish did indeed have a certain visual appeal to it, and one that would likely garner some attention at a busy potluck table. Taste-wise, I found it to be enjoyable but lacking a little bit of punch. I wound up adding a bit of hot sauce to my servings while my wife very much enjoyed it exactly as prepared. As for my children, there was interest in the goat cheese, the fruit and some passive interest in the rice, but I couldn't get any takers to try the whole salad combined.
I'm honestly not sure what one could do to increase the appeal of this dish to picky eaters. If anyone has any ideas, I'd be interested to know them.
In total I managed to use 9 of the 12 items listed, which was the same as last time. If there was a way to add the others, I certainly didn't know what that would be. That said, the ingredients did pair relatively well, once Christian Pritchard and I decided to make the grains the base on which to include the rest of the ingredients.
Challenges like this are difficult to envision, but satisfying to complete. With some fine tuning, I might even figure out a way to get my kids to try it too, although it should be noted that I've typically always seen the glass as being half full.
I've also been known as someone who enjoys a challenge, so with this recipe and a few new ideas, I'll keep working on inserting as many healthy eating options into our festive and general eating routines as I can.