Up to now in our monthly challenges, we've really focused on trying to prepare a certain style or ethnic dish. A few times, we've been asked to make a main course or dessert for a certain occasion. This time, we're turning up the heat with what I think is our toughest challenge yet.
Don't be afraid. This will not be like an episode of Chopped where we are given squid ink and then asked to turn it into a dessert that the whole family will love. Now that I have your attention, our challenge this time will be to create a menu that is delicious -- for as many dishes we feel we can manage (appetizer, main course and dessert) -- using only one cooking method. The cooking method for this challenge is: slow cooking or stewing. I know, an appetizer that is just slow cooked or stewed? It's challenging, but I know you can do it!
For my first course, I'm going with a classic hunter's style chicken with a few of my own twists. Many different cultures make this style of chicken and the most celebrated are probably chicken Cacciatore from Italy, and chicken Chasseur from France. The beauty of slow cooking is the intricate flavours and layers are developed by the gentle cooking process itself, rather than a lot of effort on the cook's part. Nonetheless, I prefer starting with great ingredients, which need not be expensive. You can use a slow cooker or a pot, depending on whether you have time to pot-sit or not.
I've decided to add kidney beans to my stewed chicken for some added fibre, and I also insist on separating the dark meat from the delicate breast. The more forgiving dark meat can cook a bit longer and towards the end I add the white meat so it doesn't toughen up.
Hunter's Style Braised Chicken
Main Ingredients used (in total):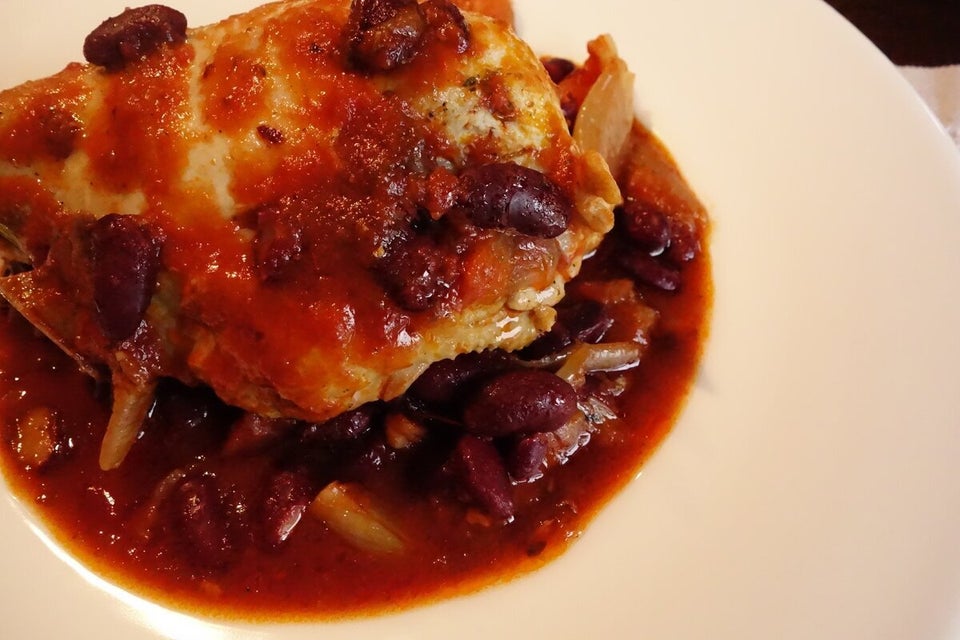 The Main Ingredients: Spring Edition (Chef's Meal 1)
•45 mL (3 tbsp) olive oil, divided
•1 whole chicken, cut into 8 pieces
•8 pearl onions, peeled and left whole
•3 cloves garlic, chopped
•500 mL (2 cups) assorted chopped mushrooms,
•2 large sprig fresh thyme
•1 sprig fresh rosemary, chopped
•5 mL (1 tsp) dried oregano
•540 mL (19 oz) can plum tomatoes
•125 mL (1/2 cup) dry red wine
•500 mL (2 cups) low-sodium chicken broth
•540 mL (19 oz) can of kidney beans, drained and rinsed
•cracked black pepper to taste
•chopped fresh parsley to taste
Preparation: In a large pot, heat half the oil on high. Season the chicken pieces with rosemary, oregano, and thyme, then brown, about 3 minutes per side, until golden. Remove pieces from pan and transfer to a plate, dividing dark meat from the breast portions and reserve. Add the remainder of olive oil to the pot, add vegetables and sauté for about 5 -7 minutes until they are golden.
Add the herbs, bay leaves, tomatoes, red wine and chicken broth. At this time, only return the dark meat to the casserole, and bring to a boil. Reserve the breast meat for later.
Cover, reduce heat and simmer on low heat for about 20-25 minutes or until chicken is tender. Add the white meat and kidney beans. Remove cover and cook until white meat is firm but not dry, about 15 minutes. Sprinkle with freshly chopped parsley just before serving.
The Verdict: My husband loves anything stewed, but he also is very particular about what goes into it. So I'm a bit skeptical of my decision to add the beans. And on cue, when I plate it for him, he asks, "Are those beans?" He knows what the answer is. What he's really asking is, "Why did you put beans in my chicken stew, Honey?" He does love the slowly-coaxed flavours of the earthy mushrooms, herbs and chicken and particularly loves soaking up the rich sauce with a nice whole grain crusty bread . Only after we finish eating does he say, "I wouldn't add the beans next time."... Whatever!
For dessert, I thought of stewing the dates, which are so meaty and rich, in some pomegranate juice and eastern spices like star anise, cinnamon stick and cloves. This syrupy sauce will be a perfect topping for lower fat plain yogurt.
Stewed dates in honey and spices
•250 mL (1 cup) pomegranate juice, unsweetened
•250 mL (1 cup) pear nectar
•12 whole dried dates, pitted
•375 mL (1 1/2 cups) Greek 2 % yogurt
•50 mL (1/4 cup) toasted, unsalted cashews, chopped
Preparation: In a medium saucepan, combine juice and pear nectar with honey and spices. Bring to a boil, then reduce heat to medium. Simmer uncovered until liquid is reduced by a third.
Remove saucepan from heat and add the dates. Reduce heat to medium and simmer saucepan mixture uncovered until poaching liquid is reduced by half.
Divide yogurt into 4 serving dishes. Top each with three dates. Sprinkle with cashews.
The Verdict: The dates are a big hit and we all love how well they transfer all the aromatic spices against the simple backdrop of the plain yogourt. At first, it tastes like our familiar Greek combination of honey and yogurt, but the more it lingers, it really takes you further east.