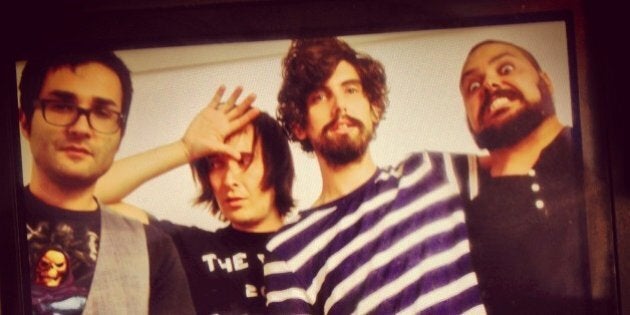 It's easy to take Toronto-­based indie rockers The Meligrove Band for granted.
After all, high school friends Mike Small, Jason Nunes and Darcy Rego along with 2009 addition Brian O'Reilly have been making music for 17 years as the Meligrove Band. In that time they've become a sort of security blanket for the scene, a spirited rock 'n' roll constant in an ever-changing music world.
But while Canadian acts like Arcade Fire, Death From Above 1979 and Fucked Up have become international stars, weird twists of fate like their old label V2 collapsing immediately after they released their 2006 masterpiece "Planets Conspire" and tours cancelled because the band caught H1N1 have continually dogged them.
The band recently released their spicy fifth album "Bones Of Things" via We Are Busy Bodies and their 2012 documentary "Ages & Stages: The Story of the Meligrove Band" will be getting a second life via Netflix soon. Oh, and they even released a free retro-8bit iPhone and Android videogame called "Bones of Things: The Meligrove Band Game."
As a means of proving how central to the Canadian music scene The Meligrove Band has been Huffington Post Canada sat down with Small and O'Reilly to discuss how, like a very much unbroken social scene, they're connected to most of the cool indie rock bands in the country.